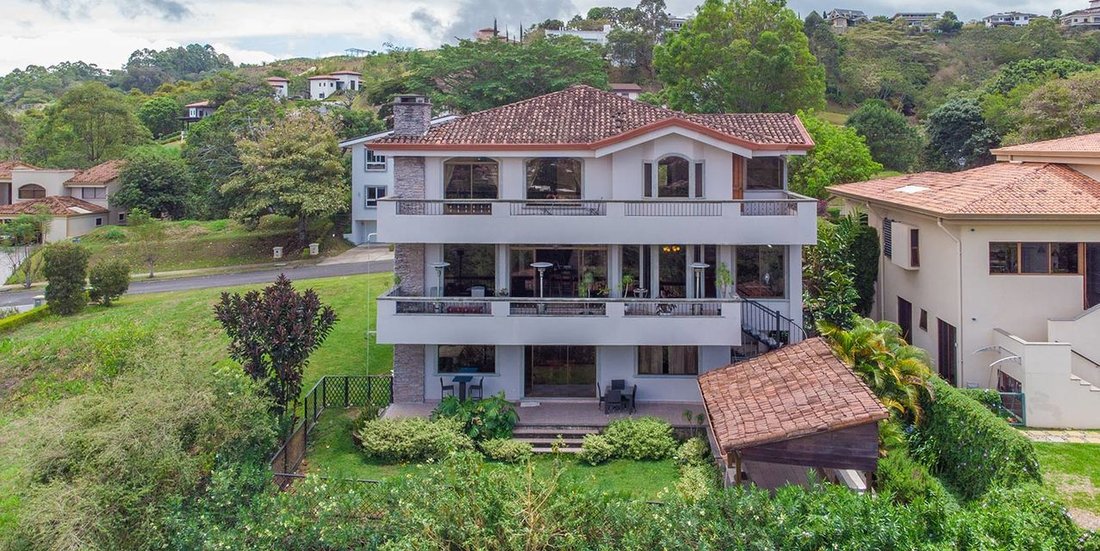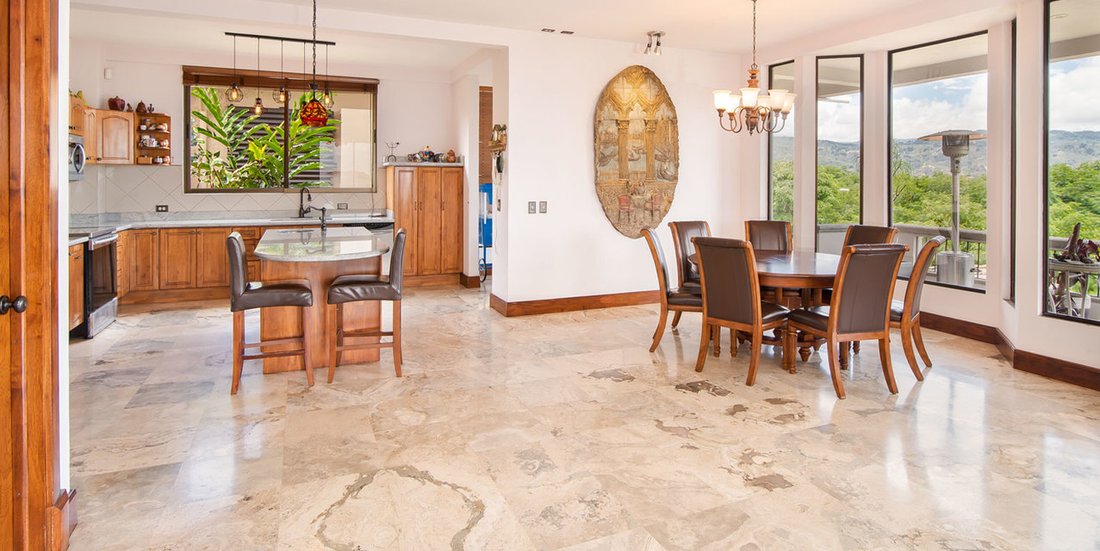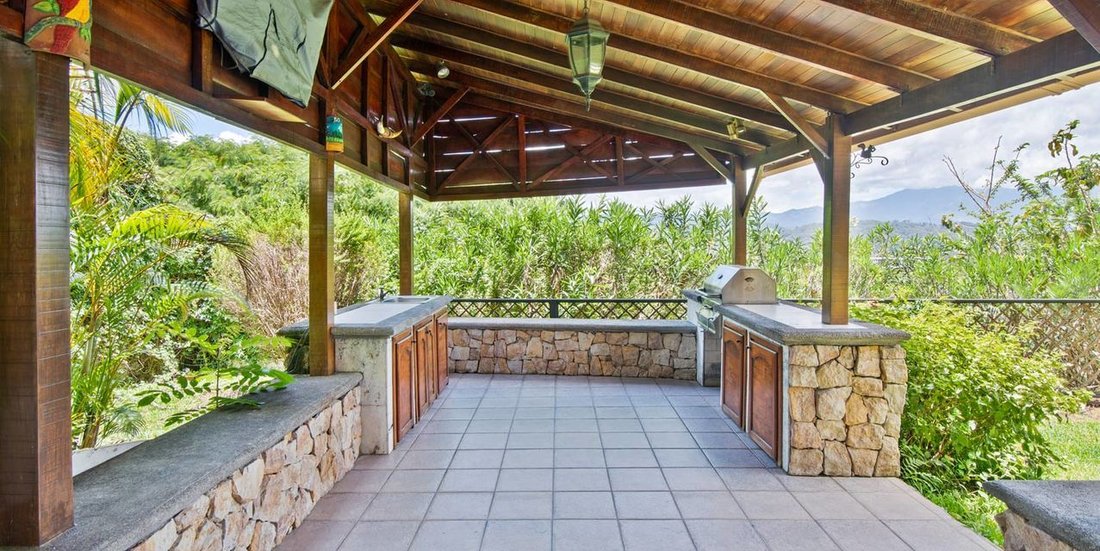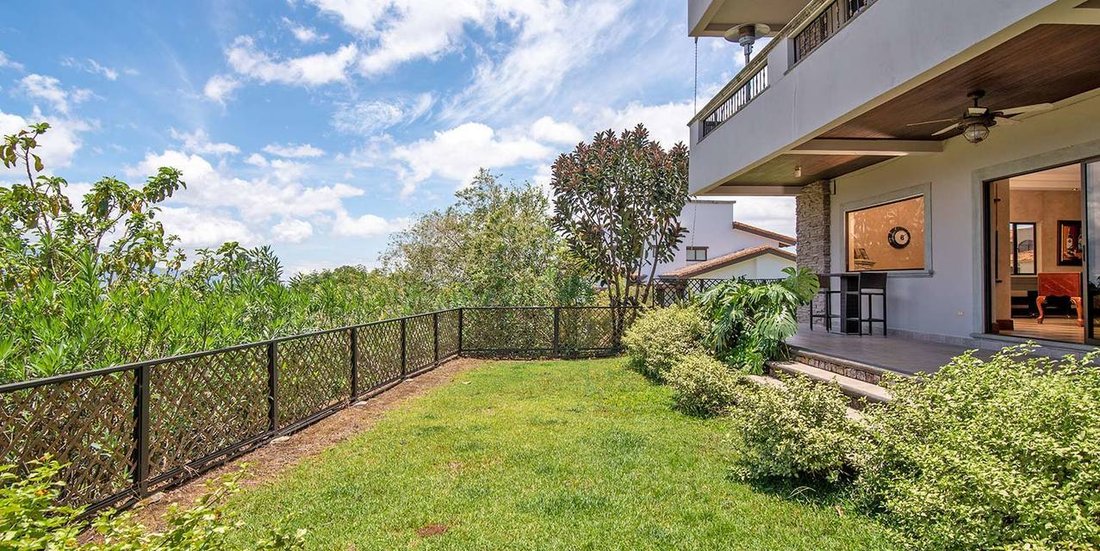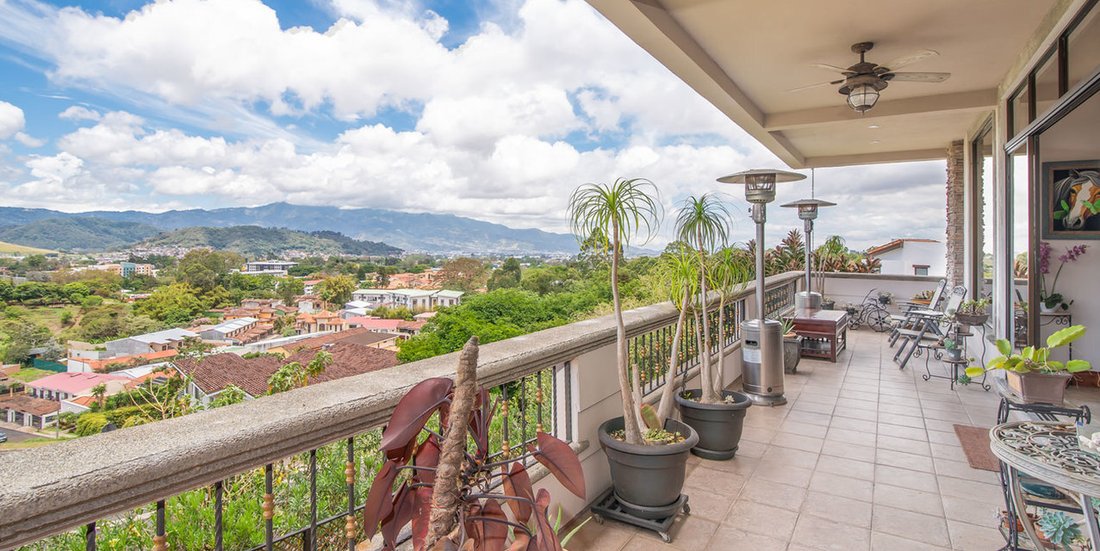 Experience Nature And Luxury At Unique View Home In El Gregal
5 Beds
7 Baths
69,514 sqft
$18/sqft
Stunning finishes in wood, stone, marble, and wrought iron add distinction to every space of this beautiful home. The enticing multi-level design of Unique View Home at Gregal maximizes space and inco
Stunning finishes in wood, stone, marble, and wrought iron add distinction to every space of this beautiful home. The enticing multi-level design of Unique View Home at Gregal maximizes space and incorporates the breathtaking views to make the most of the lot's topography. The house's distribution across multiple levels creates a sense of openness and privacy- each level offers impressive views from its windows and balconies, allowing natural light and the landscape to become part of the experience in every corner. This home is located in the exclusive residential community of El Gregal, a family-oriented and nature-filled neighborhood in the East of San José.

Situated above street level, a few steps lead us to the entrance of the house. The entrance is accentuated by an arched doorway and a small vestibule with a vaulted ceiling, as well as brick and stone details that contrast with the beautiful double wooden doors. Unique View Home at Gregal's façade design consists of various shapes and levels, with stone highlighting some of them and framing the entrance.

Upon entering the main level of Unique View Home at Gregal, the house welcomes residents with an abundance of natural light from the floor-to-ceiling windows in the living and dining areas that open up to the main terrace. The effect of light on the marble floors adds clarity and warmth, bringing refinement to every corner. The view stretches from side to side of this inviting integrated social area, which is spacious enough to enjoy various settings. Adjacent to the living room, there is a stone and marble fireplace, and a more private bar area. This area is enveloped in the elegance of carved wood from floor to ceiling, providing a unique sense of privacy and sophistication.

In the central area of the social space, wide doors open up to the stunning views that adorn and characterize this house. The mountains and the Central Valley majestically adorn the sunsets that can be enjoyed from any point in the social area.

On the left side of Unique View at Gregal, the dining area sits next to the expansive windows. The open concept kitchen features a dining area that offers a more private ambiance. The kitchen includes a spacious pantry, a central island, and wooden cabinets with granite countertops. On this level, you'll also find a guest bathroom and a spacious office.

On the lower level of Unique View at Gregal, there's a game room with a stone fireplace, a wooden bar area with granite countertops. This spacious area is perfect for entertainment, as it opens up to the terrace and garden. The garden offers privacy due to the topography of the house, and there is a fully equipped rustic pavilion with a BBQ area. This level also includes a guest bedroom with a full bathroom and the service area.

From the main level, beautiful marble and wrought iron stairs with a delicate design lead us to a half-level above to a complete room that can be used as a private bedroom or gym. It has a full bathroom and a sauna.

On the next level, you'll find the private bedrooms of Unique View at Gregal, including three secondary bedrooms, each with a full bathroom, beautiful views, and balconies facing the outside. The master bedroom is also located on this level, offering a west-facing view, allowing for beautiful vistas and stunning sunsets. The master bedroom also features a stone fireplace and a jacuzzi, and the bedroom floors are laminated wood.

The house also features two covered parking spaces and six outdoor spaces, as well as a private water source. El Gregal residential community offers a wide range of amenities, such as interconnected hiking trails though a primary forest with natural streams, two soccer fields, a playground and exercising machines. It has triple-level security and a great location with access from Pinares or Concepción. Unique View at Gregal is a true gem on the East side of San José, awaiting for a family to live a unique experience!
Get in Touch
Please provide the agent with the necessary listing details.
Ref no. 1a67684f-8ecf-40e6-bb48-1559126e1763
Curridabat, San José Province, Costa Rica
$1,285,000
Explore the Area
Hacienda el Gregal, Curridabat, COSTA RICA, Curridabat, San José Province, Costa Rica.
See on Google Maps
Contact agent
LX Costa Rica
You have inquired about this property
The agent will contact you soon by
Listed by
About
The LX team, led by Andrés Riggioni and Clari Vega is committed to matching buyers with extraordinary properties. L
The LX team, led by Andrés Riggioni and Clari Vega is committed to matching buyers with extraordinary properties. LX Costa Rica has been serving the needs of discerning buyers from all over the world looking to purchase in central Costa Rica since 2012. Each seller receives a customized marketing plan to ensure a timely sale. In addition, the LX team works with a select group of service providers who are focused on luxury real estate industry to ensure a smooth transaction. Many customers routinely express appreciation for the personal service and attention to detail offered by LX Costa Rica. The company was awarded the Butterfly Mark in April 2016 as a result of their active commitment towards making a positive social impact as a result of their alliance with charitable organisations and the development of local community related activities .
Registered on JamesEdition
2021
Address
24-1250 San Rafael de Escazú, 10201, San Jose, Costa Rica
Phone number
Listing Reference
1a67684f-8ecf-40e6-bb48-1559126e1763