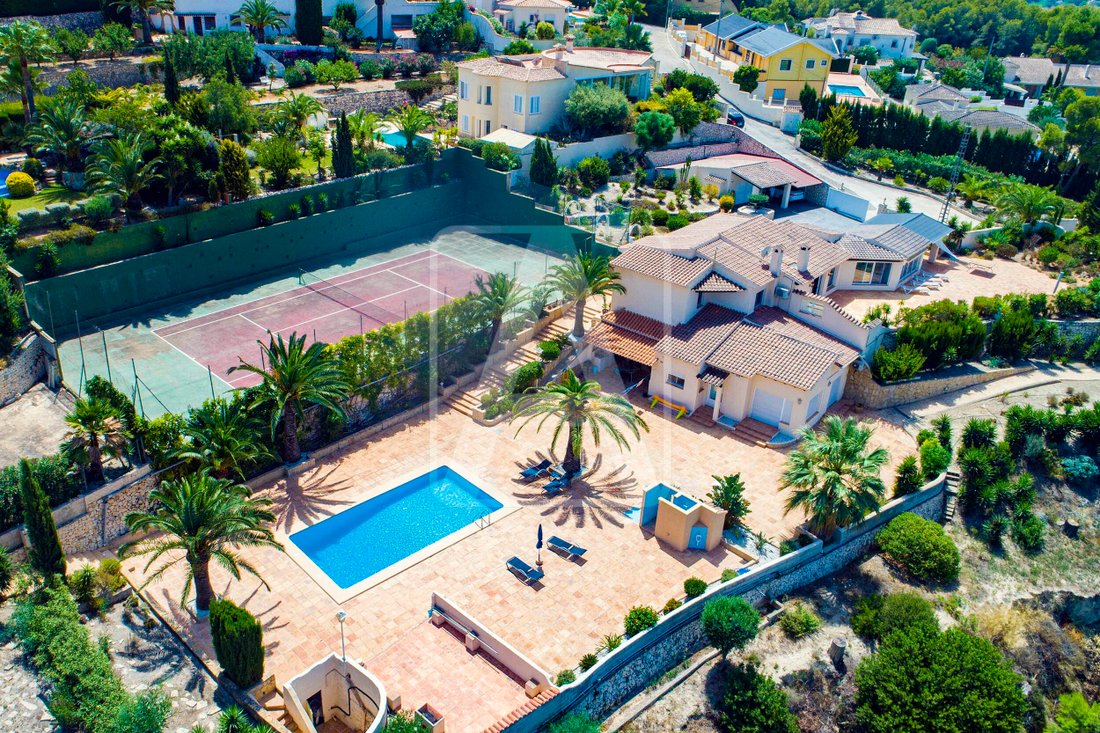 Calpe Villas / Chalets
$1,337,290
5 Beds
6 Baths
3,230 sqft
2 ac lot
$414/sqft
Villa for sale in Calpe, in Cometa urbanization, situated in a very quiet residential area (dead end street), 2,9 Km from Levante La Fosa Beach in Calpe and 3,4 Km from La Fustera Beach in Benissa. Th
Villa for sale in Calpe, in Cometa urbanization, situated in a very quiet residential area (dead end street), 2,9 Km from Levante La Fosa Beach in Calpe and 3,4 Km from La Fustera Beach in Benissa. This beautiful mediterranean style villa enjoys wonderful panoramic open views and lots of sun (Southwest orientation). It is located on a magnificent urban plot of 5.930 m2 and has a constructed area of 300 m2 distributed over 2 floors (main house + guest apartment), as follows: on the upper floor we have the main house consisting of 3 bedrooms (15 m2 + 12 m2 + 8 m2), 3 bathrooms (2 en suite), great open plan kitchen dining living room (all connected, in total 60 m2, incredible fireplace), glazed porch of 30 m2 (which serves as a dining room), and a wonderful exterior terrace of 80 m2 where we have a beautiful pergola of 20 m2. On the ground floor we have the guest apartment consisting of 2 bedrooms (15 m2 + 12 m2), 2 bathrooms (1 en suite), kitchen, dining living room of 30 m2 and porch of 15 m2. The exterior elements of this property are magnificent, highlighting the incredible outdoor terrace (made of terracotta tiles) of 200 m2, the rectangular pool of 10x5 meters and the private tennis court. In addition, there is a 25 m2 garage + 5 m2 laundry room + 1 courtesy toilet, a large 50 m2 pergola (for 2 vehicles) and a large exterior parking area for at least 6 vehicles. This property was built in 1998 and is currently in very good condition. It is equipped with underfloor heating and air conditioning (2 units, one in each living room, hot and cold). I would like to highlight that this property enjoys an urban plot that could perfectly be divided into several plots with the possibility of developing single family villa projects.

For more information on this property, please contact AREA Costa Blanca.

AREA Costa Blanca - your real estate agent for properties for sale in Calpe - Costa Blanca - Spain.

AREA Costa Blanca is proud to be one of the best real estate agencies in the Costa Blanca.

At AREA Costa Blanca we work to provide the best service advising clients when buying, selling or investing in a property. We have a professional team with a long and successful experience in the real estate industry, working with enthusiasm and seriousness. Our fundamental principle is the quality of service provided and customer satisfaction.

Our experience and attitude, your guarantee of success.

Villa en venta en Calpe, en urbanización Cometa, situada en una zona residencial muy tranquila (calle sin salida), a 2,9 Km de Playa Levante La Fosa en Calpe y a 3,4 Km de Playa La Fustera en Benissa. Esta bonita villa de estilo mediterráneo disfruta de estupendas vistas panorámicas abiertas y de mucho sol (orientación Suroeste). Está ubicada en una magnífica parcela urbana de 5.930 m2 y tiene una superficie construida de 300 m2 distribuidos en 2 plantas (vivienda principal + apartamento invitados), de la siguiente manera: en la planta alta tenemos la vivienda principal que consta de 3 dormitorios (15 m2 + 12 m2 + 8 m2), 3 baños (2 en suite), estupendo salón comedor cocina (todo abierto, 60 m2, increíble chimenea), porche acristalado de 30 m2 (que hace funciones de comedor), y estupenda terraza de 80 m2 donde tenemos una bonita pérgola de 20 m2. En la planta baja tenemos la vivienda de invitados que consta de 2 dormitorios (15 m2 + 12 m2), 2 baños (1 en suite), cocina, salón comedor de 30 m2 y porche de 15 m2. Los elementos exteriores de esta propiedad son magníficos, destacando la increíble terraza exterior (de barro) de 200 m2, piscina rectangular de 10x5 metros y pista de tenis. Además, hay un garaje de 25 m2 + lavadero 5 m2 + 1 aseo de cortesía, gran pérgola de 50 m2 (para 2 vehículos) y amplia zona de aparcamiento exterior para mínimo 6 vehículos. Esta propiedad ha sido construida en el año 1998 y en la actualidad se encuentra en muy buen estado. Está equipada con suelo radiante y con aire acondicionado (2 splits, uno en cada salón, calor y frío). Me gustaría destacar que esta propiedad disfruta de una parcela urbana que perfectamente se podría dividir en varias parcelas con posibilidad de desarrollar proyectos de villas unifamiliares.

Para recibir más información sobre esta propiedad, póngase en contacto con AREA Costa Blanca.

AREA Costa Blanca - su agente para propiedades en venta en Calpe - Costa Blanca - España.

AREA Costa Blanca está orgullosa de ser una de las mejores agencias inmobiliarias en la Costa Blanca.

En AREA Costa Blanca trabajamos para ofrecer el mejor servicio asesorando a nuestros clientes en la compraventa de propiedades inmobiliarias. Contamos con un equipo profesional de larga experiencia en el sector inmobiliario. Nuestro principio fundamental es la calidad del servicio prestado y la satisfacción del cliente.

Nuestra experiencia y actitud, su garantía de éxito.

Villa zum Verkauf in Calpe, in der Urbanisation Cometa, in einer sehr ruhigen Wohngegend (Sackgasse), 2,9 Km vom Strand Levante La Fosa in Calpe und 3,4 Km vom Strand La Fustera in Benissa entfernt. Diese wunderschöne Villa im mediterranen Stil genießt einen herrlichen offenen Panoramablick und viel Sonne (Südwestausrichtung). Es befindet sich auf einem herrlichen Stadtgrundstück von 5.930 m2 und hat eine bebaute Fläche von 300 m2 verteilt auf 2 Etagen (Haupthaus + Gästeapartment), wie folgt: Im Obergeschoss haben wir das Haupthaus bestehend aus 3 Schlafzimmern (15 m2 + 12 m2 + 8 m2), 3 Badezimmer (2 en suite), tolle Wohnküche (alle offen, 60 m2, unglaublicher Kamin), 30 m2 verglaste Veranda (die als Esszimmer dient) und eine wunderschöne Terrasse von 80 m2, wo wir eine schöne Pergola von 20 m2 haben. Im Erdgeschoss haben wir das Gästehaus bestehend aus 2 Schlafzimmern (15 m2 + 12 m2), 2 Bädern (1 en suite), Küche, 30 m2 Wohnzimmer und 15 m2 Veranda. Die Außenelemente dieses Anwesens sind großartig und heben die unglaubliche 200 m2 große Außenterrasse (Terra cotta), den rechteckigen 10x5 Meter großen Pool und den Tennisplatz hervor. Darüber hinaus gibt es eine 25 m2 große Garage + 5 m2 Waschküche + 1 Gästetoilette, eine große 50 m2 Pergola (für 2 Fahrzeuge) und einen großen Außenparkplatz für mindestens 6 Fahrzeuge. Diese Immobilie wurde 1998 erbaut und befindet sich derzeit in einem sehr guten Zustand. Es ist mit Fußbodenheizung und Klimaanlage (2 Splits, einer in jedem Zimmer, warm und kalt) ausgestattet. Hervorheben möchte ich, dass diese Immobilie über ein städtisches Grundstück verfügt, das sich perfekt in mehrere Grundstücke aufteilen lässt, mit der Möglichkeit, Einfamilienvillenprojekte zu entwickeln.

Für weitere Informationen zu diesem Objekt, kontaktieren Sie bitte AREA Costa Blanca.

AREA Costa Blanca - Ihr Makler für Immobilien zum verkauf in Calpe - Costa Blanca - Spanien.

AREA Costa Blanca ist stolz darauf, einer der besten Immobilienmakler an der Costa Blanca zu sein.

In AREA Costa Blanca arbeiten wir, um den besten Service der Beratung von Mandanten in den Kauf und Verkauf von Immobilien an zu bieten. Wir haben ein professionelles Team mit einen langjährige und erfolgreiche Erfahrung in der Branche und wir Arbeiten mit Begeisterung und Ernsthaftigkeit. Unser Grundprinzip ist Qualität, Dienstleistung und Kundenzufriedenheit.

Unsere erfahrung und Einstellung, Ihre Erfolgsgarantie.

Villa à vendre à Calpe, dans l'urbanisation Cometa, située dans un quartier résidentiel très calme (cul de sac), à 2,9 Km de la plage de Levante La Fosa à Calpe et à 3,4 Km de la plage de La Fustera à Benissa. Cette belle villa de style méditerranéen bénéficie d'une magnifique vue panoramique dégagée et de beaucoup de soleil (orientation Sudouest). Il est situé sur un magnifique terrain urbain de 5.930 m2 et a une superficie construite de 300 m2 répartis sur 2 étages (maison principale + appartement d'invités), comme suit: à l'étage supérieur, nous avons la maison principale composée de 3 chambres (15 m2 + 12 m2 + 8 m2), 3 salles de bain (2 en suite), grand salon cuisine (tous ouverts, 60 m2, cheminée incroyable), porche vitré de 30 m2 (qui sert de salle à manger), et une magnifique terrasse de 80 m2 où nous avons une belle pergola de 20 m2. Au rez de chaussée, nous avons la maison d'hôtes composée de 2 chambres (15 m2 + 12 m2), 2 salles de bains (1 en suite), cuisine, salon de 30 m2 et porche de 15 m2. Les éléments extérieurs de cette propriété sont magnifiques, mettant en valeur l'incroyable terrasse extérieure (terre cuits) de 200 m2, la piscine rectangulaire de 10x5 mètres et le court de tennis. De plus, il y a un garage de 25 m2 + buanderie de 5 m2 + 1 WC de courtoisie, une grande pergola de 50 m2 (pour 2 véhicules) et un grand parking extérieur pour au moins 6 véhicules. Cette propriété a été construite en 1998 et est actuellement en très bon état. Il est équipé du chauffage au sol et de la climatisation (2 splits, un dans chaque pièce, chaud et froid). Je tiens à souligner que cette propriété bénéficie d'un terrain urbain qui pourrait parfaitement être divisé en plusieurs parcelles avec la possibilité de développer des projets de villas unifamiliales.

Pour plus d'informations sur cette propriété, se il vous plaît contacter AREA Costa Blanca.

AREA Costa Blanca - votre agent immobilier pour les biens à vendre à Calpe - Costa Blanca - Espagne.

AREA Costa Blanca est fier d'être l'un des meilleurs agences immobiliers de la Costa Blanca.

AREA Costa Blanca offre à son aimable clientèle un service de très haute qualité dans le secteur résidentiel. Notre grande expérience dans ce domaine est un atout pour nos clients exigeants. L'essentiel de notre Société est d'apporter un service de qualité auprès de notre clientèle.

Notre expérience et notre savoir-faire sont là pour vous guider.

Villa te koop in Calpe, in de urbanisatie Cometa, gelegen in een zeer rustige woonwijk (doodlopende straat), op 2,9 Km van het strand van Levante La Fosa in Calpe en op 3,4 Km van het strand van La Fustera in Benissa. Deze prachtige villa in mediterrane stijl heeft een prachtig open panoramisch uitzicht en veel zon (oriëntatie op het Zuidwesten). Het is gelegen op een prachtig stedelijk perceel van 5.930 m2 en heeft een bebouwde oppervlakte van 300 m2 verdeeld over 2 verdiepingen (hoofdgebouw + gastenappartement), als volgt: op de bovenverdieping hebben we het hoofdhuis bestaande uit 3 slaapkamers (15 m2 + 12 m2 + 8 m2), 3 badkamers (2 en suite), grote woonkamer keuken (allemaal open, 60 m2, mooie open haard), 30 m2 glazen veranda (die dienst doet als eetkamer), en een prachtig terras van 80 m2 waar we een pergola hebben van 20 m2. Op de begane grond hebben we het gastenverblijf bestaande uit 2 slaapkamers (15 m2 + 12 m2), 2 badkamers (1 en suite), keuken, 30 m2 woonkamer en 15 m2 veranda. De exterieure elementen van dit pand zijn magnifiek en benadrukken het enorme 200 m2 (terra cotta) buitenterras, 10x5 meter rechthoekig zwembad en een privé tennisbaan. Daarnaast is er een garage van 25 m2 + wasruimte van 5 m2 + 1 gasten toilet, een grote pergola van 50 m2 (voor 2 voertuigen) en een grote buitenparkeerplaats voor minstens 6 voertuigen. Deze woning is gebouwd in 1998 en verkeert momenteel in zeer goede staat. Het is uitgerust met vloerverwarming en airconditioning (2 splits, één in elke kamer, warm en koud). Ik wil graag benadrukken dat dit pand een stedelijk perceel heeft dat perfect kan worden verdeeld in verschillende percelen met de mogelijkheid om eengezinsvillaprojecten te ontwikkelen.

Voor meer informatie over deze woning, neem dan contact op met AREA Costa Blanca.

AREA Costa Blanca - uw onroerend goed makelaar in Calpe en omgeving - Costa Blanca - Spanje.

AREA Costa Blanca is er trots op een van de beste onroerend goed makelaars aan de Costa Blanca te zijn.

Bij AREA Costa Blanca werken wij ernaar om u de beste service aan te bieden, bij het adviseren van zowel aan en verkoop van onroerend goed. We zijn een professioneel team met een lange en succesvolle ervaring in de sector en werken met enthousiasme en verantwoordelijkheid. Ons motief is een kwalitatieve dienstverlening en streven naar klanttevredenheid. 

Onze ervaring en bereidwilligheid, uw garantie tot succes.

Вилла в Кальпе, в урбанизации Комета, расположенная в очень тихом жилом районе (тупиковая улица), в 2,9 км от пляжа Леванте Ла Фоса, Кальпе и в 3,4 км от пляжа Ла Фустера, Бенисса. Эта красивая вилла в средиземноморском стиле имеет прекрасный панорамный вид и много солнца (ориентация на юго-запад). Дом расположен на великолепном участке площадью 5930 м2 и имеет построенную площадь 300 м2, распределенную на 2 этажах (главный дом + гостевая квартира), а именно: на верхнем этаже есть главный дом, состоящий из 3 спален (15 м2 + 12 м2 + 8 м2), 3 ванных комнат (2 в спальнях), отличная кухня-гостиная открытого плана (все соединено, 60 м2, невероятный камин), застекленная веранда 30 м2 (которая служит столовой), и прекрасная внешняя терраса 80 м2, где есть красивая беседка 20 м2. На нижнем этаже есть гостевая квартира, состоящая из 2 спален (15 м2 + 12 м2), 2 ванных комнат (1 в спальне), кухни, гостиной 30 м2 и веранды 15 м2. Внешние элементы этой виллы великолепны, выделяя невероятную открытую террасу (из терракотовой плитки) 200 м2, прямоугольный бассейн 10x5 метров и частный теннисный корт. Кроме этого, есть гараж 25 м2 + прачечная 5 м2 + 1 туалет, большой навес 50 м2 (на 2 машины) и большая внешняя парковка для не менее 6 автомобилей. Эта недвижимость была построена в 1998 году и в настоящее время находится в очень хорошем состоянии. Дом оборудован теплыми полами и кондиционером (2 блока, по одному в каждой гостиной, тепло/холод). Хотелось бы подчеркнуть, что эта недвижимость имеет участок, который можно идеально разделить на несколько участков с возможностью постройки проектов вилл.

Для получения дополнительной информации об этом объекте, пожалуйста, свяжитесь с AREA Costa Blanca.

AREA Costa Blanca - Ваш агент по операциям с купли-продажи недвижимости в Кальпе - Коста Бланка - Испания.

AREA Costa Blanca имеет честь быть одним из лучших агентств недвижимости на Коста Бланка.

В AREA Costa Blanca мы работаем, чтобы предоставить клиентам самое лучшее обслуживание, при покупке, продаже или вкладывание капитала в недвижимость. Мы – профессиональная команда с многолетним опытом работы в отрасли, работающая с энтузиазмом, серьезно и ответственно.

Наш основной принцип – самое высокое качество предоставляемых услуг и самое полное удовлетворение потребностей наших клиентов.

Наш опыт и серьезное отношение это гарантия Вашего успеха!
Features
Lot
Indoor
Gas Stovetop
Laundry Room
Price Insights
Property price
Price per sqft
You have inquired about this property
The agent will contact you soon by
Listed by
Registered on JamesEdition
2021
Phone number
Listing Reference
VCA0596