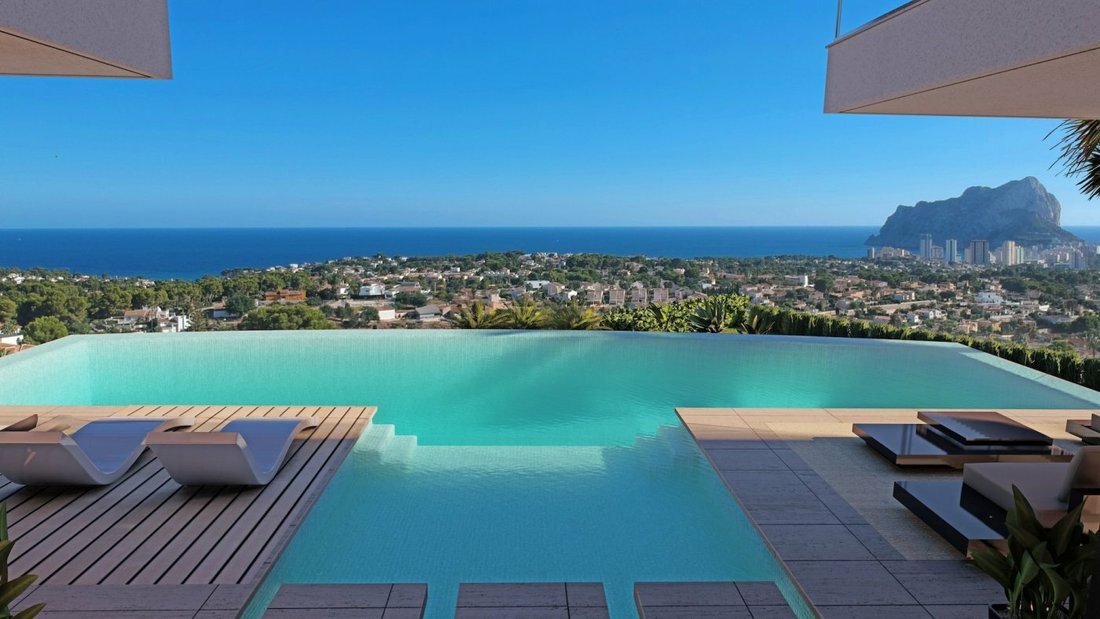 Calpe Villa
$3,382,252
5 Beds
7 Baths
7,471 sqft
13,681 sqft lot
$452/sqft
LUXURY NEW BUILD VILLA IN CALPE WITH SEA VIEW

An amphitheatre layout with a seven-metre high glass façade with panoramic sea views ensures that the magical location is fully utilised, while a
LUXURY NEW BUILD VILLA IN CALPE WITH SEA VIEW

An amphitheatre layout with a seven-metre high glass façade with panoramic sea views ensures that the magical location is fully utilised, while a two-storey infinity pool brings the outdoors inside. With this project we have created a space that connects with nature and enhances the views and sensations of the local environment, blend-ing in with its surroundings and maintaining the beauty of the landscape...

From the macro, the architecture of the building and the design of the garden, to the micro, the painting of the walls, the pool tiles, the lighting and even the door handles, all the elements have been chosen or elaborated under the supervision of our team of specialists who make up the Signature Projects family.

If privacy is the new luxury, this five-bedroom super villa is a new high water mark. It features three independent but interconnected suites with their own bathrooms and dressing rooms, plus two further bedrooms with their own individual bathrooms. The property's exceptional facilities include a huge terrace with panoramic sea views, dif-ferent living areas, a private gym and spa with gym, sauna and indoor heated pool, a cinema room, a wine cellar with bar and lounge, landscaped gardens and a domotic system that allows us to control the entire property and create automatic scenes.

Calpe, one of the towns of La Marina Alta, lies on the northern coast of the province of Alicante, surrounded by the towns of Altea, Benidorm, Teulada-Moraira, Benissa.

Fishing village of Calpe now transformed into a tourist magnet, the town sits in an ideal location, easily accessed by the A7 motorway and the N332 that runs from Valencia to Alicante; its approximately 1 hour drive from the airport at Alicante.

Calpe has a wonderful mixture of old Valencian culture and modern tourist facilities. It is a great base from which to explore the local area or enjoy the many local beaches. Calpe alone has three of the most beautiful sandy beaches on the coast.

VILLA DE LUJO DE OBRA NUEVA EN CALPE CON VISTAS AL MAR

Una disposición de anfiteatro con una fachada de cristal de siete metros de altura con vistas panorámicas al mar permite aprovechar al máximo el mágico emplazamiento, mientras que una piscina infinita de dos plantas lleva el aire libre al interior. Con este proyecto hemos creado un espacio que conecta con la naturaleza y potencia las vistas y las sensaciones del entorno local, mimetizándose con su entorno y manteniendo la belleza del paisaje...

Desde lo macro, la arquitectura del edificio y el diseño del jardín, hasta lo micro, la pintura de las paredes, los azulejos de la piscina, la iluminación e incluso los pomos de las puertas, todos los elementos han sido elegidos o elaborados bajo la supervisión de nuestro equipo de especialistas que conforman la familia Signature Projects.

Si la privacidad es el nuevo lujo, esta súper villa de cinco dormitorios es una nueva marca de agua. Cuenta con tres suites independientes pero interconectadas con sus propios baños y vestidores, además de otros dos dormitorios con sus propios baños individuales. Las excepcionales instalaciones de la propiedad incluyen una enorme terraza con vistas panorámicas al mar, diferentes zonas de estar, un gimnasio y spa privado con gimnasio, sauna y piscina cubierta climatizada, una sala de cine, una bodega con bar y salón, jardines paisajísticos y un sistema de domótica que permite controlar toda la propiedad y crear escenas automáticas.

Calpe, uno de los pueblos de La Marina Alta, se encuentra en la costa norte de la provincia de Alicante, rodeado por los pueblos de Altea, Benidorm, Teulada-Moraira, Benissa.

El pueblo pesquero de Calpe ahora se ha transformado en un imán turístico, la ciudad se encuentra en una ubicación ideal, de fácil acceso por la autopista A7 y la N332 que va desde Valencia a Alicante; su aproximadamente 1 hora en coche desde el aeropuerto de Alicante.

Calpe tiene una maravillosa mezcla de antigua cultura valenciana y modernas instalaciones turísticas. Es una gran base desde la que explorar la zona local o disfrutar de las numerosas playas locales. Sólo Calpe tiene tres de las más bellas playas de arena de la costa.

LUXURIÖSE NEUBAU-VILLA IN CALPE MIT MEERBLICK

Ein Amphitheater-Grundriss mit einer sieben Meter hohen Glasfassade mit Panoramablick auf das Meer sorgt dafür, dass die magische Lage voll ausgenutzt wird, während ein zweistöckiger Infinity-Pool die Natur ins Innere bringt. Mit diesem Projekt haben wir einen Raum geschaffen, der sich mit der Natur verbindet und die Ausblicke und Empfindungen der lokalen Umgebung aufwertet, indem er sich in die Umgebung einfügt und die Schönheit der Landschaft bewahrt...

Von der Makroebene, der Architektur des Gebäudes und der Gestaltung des Gartens, bis zur Mikroebene, dem Anstrich der Wände, den Fliesen des Pools, der Beleuchtung und sogar den Türgriffen, wurden alle Elemente unter der Aufsicht unseres Spezialistenteams, das die Familie Signature Projects bildet, ausgewählt oder ausgearbeitet.

Wenn Privatsphäre der neue Luxus ist, dann ist diese Super-Villa mit fünf Schlafzimmern ein neuer Höchstwert. Sie verfügt über drei unabhängige, aber miteinander verbundene Suiten mit eigenen Bädern und Ankleideräumen sowie zwei weitere Schlafzimmer mit eigenen Bädern. Zu den außergewöhnlichen Einrichtungen des Anwesens gehören eine riesige Terrasse mit Panoramablick auf das Meer, verschiedene Wohnbereiche, ein privater Fitness- und Wellnessbereich mit Fitnessraum, Sauna und beheiztem Innenpool, ein Kinoraum, ein Weinkeller mit Bar und Lounge, angelegte Gärten und ein Domotiksystem, mit dem wir das gesamte Anwesen steuern und automatische Szenen erstellen können.

Calpe, eine der Städte von La Marina Alta, liegt an der Nordküste der Provinz Alicante, umgeben von den Städten Altea, Benidorm, Teulada-Moraira, Benissa.

Das Fischerdorf Calpe, das sich zu einem Touristenmagneten entwickelt hat, befindet sich in einer idealen Lage und ist über die Autobahn A7 und die N332, die von Valencia nach Alicante führt, leicht zu erreichen.

Calpe bietet eine wunderbare Mischung aus alter valencianischer Kultur und modernen touristischen Einrichtungen. Es ist ein idealer Ausgangspunkt, um die Gegend zu erkunden oder die vielen Strände zu genießen. Allein in Calpe gibt es drei der schönsten Sandstrände an der Küste.

NOUVELLE VILLA DE LUXE À CALPE AVEC VUE SUR LA MER

Une disposition en amphithéâtre avec une façade en verre de sept mètres de haut offrant des vues panoramiques sur la mer permet de profiter pleinement de ce lieu magique, tandis qu'une piscine à débordement sur deux étages permet de profiter de l'extérieur à l'intérieur. Avec ce projet, nous avons créé un espace qui se connecte avec la nature et met en valeur les vues et les sensations de l'environnement local, en se fondant dans son environnement et en maintenant la beauté du paysage...

Du macro, l'architecture du bâtiment et la conception du jardin, au micro, la peinture des murs, les carreaux de la piscine, l'éclairage et même les poignées de porte, tous les éléments ont été choisis ou élaborés sous la supervision de notre équipe de spécialistes qui composent la famille Signature Projects.

Si l'intimité est le nouveau luxe, cette super villa de cinq chambres à coucher est un nouveau point culminant. Elle comprend trois suites indépendantes mais reliées entre elles, avec leurs propres salles de bains et dressings, ainsi que deux autres chambres avec leurs propres salles de bains individuelles. Les installations exceptionnelles de la propriété comprennent une immense terrasse avec vue panoramique sur la mer, différents espaces de vie, une salle de sport et un spa privés avec gymnase, sauna et piscine intérieure chauffée, une salle de cinéma, une cave à vin avec bar et salon, des jardins paysagers et un système domotique qui nous permet de contrôler toute la propriété et de créer des scènes automatiques.

Calpe, une des villes de La Marina Alta, se trouve sur la côte nord de la province d'Alicante, entourée des villes d'Altea, Benidorm, Teulada-Moraira, Benissa.

Le village de pêcheurs de Calpe s'est transformé en un aimant à touristes. La ville bénéficie d'un emplacement idéal, facilement accessible par l'autoroute A7 et la N332 qui va de Valence à Alicante ; elle se trouve à environ une heure de route de l'aéroport d'Alicante.

Calpe est un merveilleux mélange de vieille culture valencienne et d'installations touristiques modernes. C'est un excellent point de départ pour explorer la région ou profiter des nombreuses plages locales. Calpe possède à elle seule trois des plus belles plages de sable de la côte.

LUXE NIEUWBOUW VILLA IN CALPE MET UITZICHT OP ZEE

Een amfitheater lay-out met een zeven meter hoge glazen gevel met panoramisch uitzicht op zee zorgt ervoor dat de magische locatie volledig wordt benut, terwijl een twee verdiepingen hoog overloopzwembad het buitenleven naar binnen brengt. Met dit project hebben we een ruimte gecreëerd die in verbinding staat met de natuur en die het uitzicht en de sensaties van de lokale omgeving versterkt, opgaat in de omgeving en de schoonheid van het landschap behoudt...

Van macro, de architectuur van het gebouw en het ontwerp van de tuin, tot micro, het schilderen van de muren, de tegels van het zwembad, de verlichting en zelfs de deurklinken, alle elementen zijn gekozen of uitgewerkt onder toezicht van ons team van specialisten die samen de Signature Projects familie vormen.

Als privacy de nieuwe luxe is, dan is deze supervilla met vijf slaapkamers een nieuw hoogtepunt. Het beschikt over drie onafhankelijke maar onderling verbonden suites met hun eigen badkamers en kleedkamers, plus nog eens twee slaapkamers met hun eigen individuele badkamers. De uitzonderlijke faciliteiten van het pand omvatten een enorm terras met panoramisch uitzicht op zee, verschillende woonruimtes, een eigen fitnessruimte en spa met fitnessruimte, sauna en verwarmd binnenzwembad, een bioscoopzaal, een wijnkelder met bar en lounge, aangelegde tuinen en een domotica-systeem waarmee het hele pand kan worden bestuurd en automatische scènes kunnen worden gecreëerd.

Calpe, een van de steden van La Marina Alta, ligt aan de noordkust van de provincie Alicante, omringd door de steden Altea, Benidorm, Teulada-Moraira, Benissa.

Het vissersdorp Calpe is nu omgetoverd tot een toeristische trekpleister. De stad ligt op een ideale locatie, gemakkelijk bereikbaar via de snelweg A7 en de N332 die van Valencia naar Alicante loopt; het is ongeveer 1 uur rijden van de luchthaven van Alicante.

Calpe heeft een prachtige mix van oude Valenciaanse cultuur en moderne toeristische faciliteiten. Het is een prima uitvalsbasis om de omgeving te verkennen of te genieten van de vele plaatselijke stranden. Calpe alleen al heeft drie van de mooiste zandstranden aan de kust.

РОСКОШНАЯ НОВАЯ ВИЛЛА В КАЛЬПЕ С ВИДОМ НА МОРЕ

Планировка амфитеатром с семиметровым стеклянным фасадом с панорамным видом на море обеспечивает полное использование волшебного места, а двухэтажный бассейн-инфинити переносит открытый воздух внутрь. В этом проекте мы создали пространство, которое соединяется с природой и улучшает виды и ощущения от местной среды, сливаясь с окружением и сохраняя красоту ландшафта...

От макро-, архитектуры здания и дизайна сада, до микро-, покраски стен, плитки для бассейна, освещения и даже дверных ручек - все элементы были выбраны или разработаны под руководством нашей команды специалистов, составляющих семью Signature Projects.

Если уединение - это новая роскошь, то эта супервилла с пятью спальнями - новая высокая отметка. Здесь есть три независимых, но соединенных между собой сьюта с собственными ванными комнатами и гардеробными, а также две дополнительные спальни с отдельными ванными комнатами. Исключительные удобства включают огромную террасу с панорамным видом на море, различные жилые зоны, частный спортзал и спа-центр с тренажерным залом, сауной и крытым бассейном с подогревом, кинозал, винный погреб с баром и гостиной, ландшафтные сады и систему domotic, которая позволяет контролировать всю недвижимость и создавать автоматические сцены.

Кальпе, один из городов Ла Марина Альта, расположен на северном побережье провинции Аликанте, в окружении городов Альтеа, Бенидорм, Теулада-Морайра, Бенисса.

Рыбацкая деревушка Кальпе сейчас превратилась в туристический магнит. Город расположен в идеальном месте, до него легко добраться по автомагистрали A7 и шоссе N332, которое идет из Валенсии в Аликанте; примерно 1 час езды от аэропорта в Аликанте.

В Кальпе прекрасно сочетаются старая валенсийская культура и современные туристические удобства. Это прекрасная база, откуда можно исследовать местность или насладиться многочисленными местными пляжами. Только в Кальпе есть три самых красивых песчаных пляжа на побережье.
Price Insights
Property price
Price per sqft
Ask a Question
Petra Hönig Estate Agents
Petra Hönig Estate Agents
You have inquired about this property
The agent will contact you soon by
Listed by
Registered on JamesEdition
2019
Address
Quesada – Rojales
Phone number
Listing Reference
00-13310