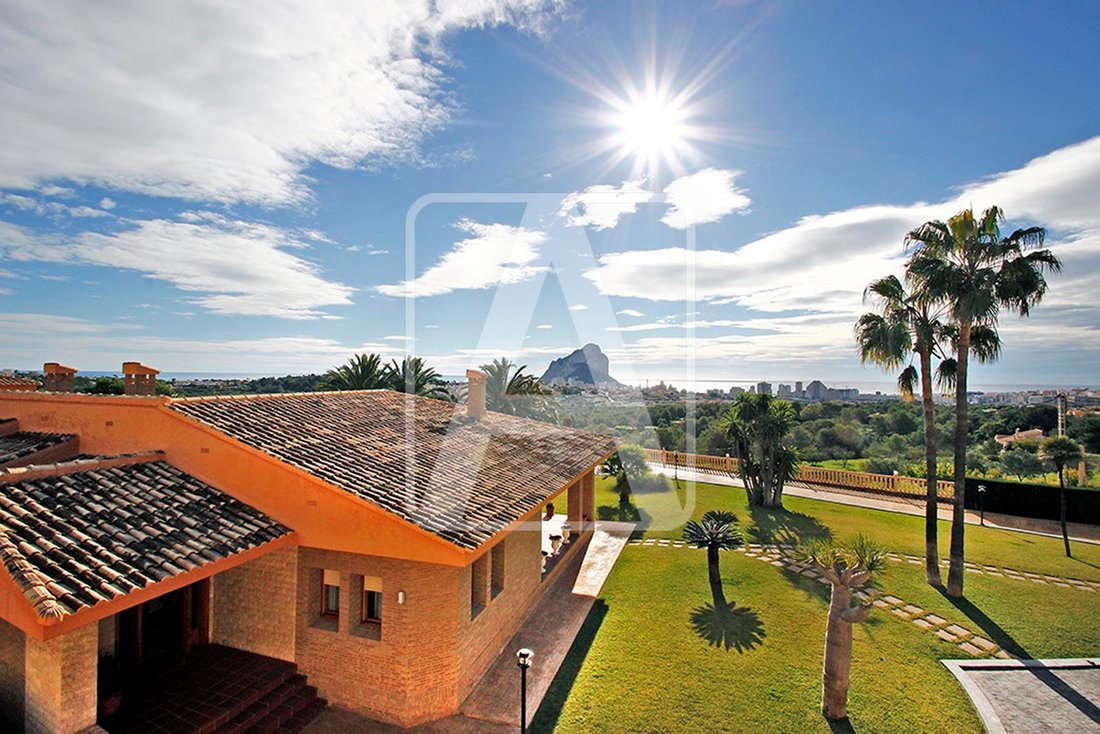 Calpe Fincas
$1,873,247
5 Beds
6 Baths
4,844 sqft
3 ac lot
$386/sqft
Luxury villa for sale in Calpe, in urbanization Garduix, Colina del Sol. This incredibly villa enjoys spectacular panoramic views to the sea and the Peñón de Ifach. It is located in an amazing plot of
Luxury villa for sale in Calpe, in urbanization Garduix, Colina del Sol. This incredibly villa enjoys spectacular panoramic views to the sea and the Peñón de Ifach. It is located in an amazing plot of 12.000 m2 and has a total area of 450 m2 distributed in 1 floor as follows: 5 large bedrooms (master bedroom has 40 m2 + bathroom with Jacuzzi + large dressing room), 5 bathrooms (4 en suite), 1 guest toilet, laundry, storage room, kitchen of 30 m2, (with large pantry), large living room of 80 m2 with fireplace and porch of 80 m2, (partially glazed with Lumon system). This villa enjoys more than 300 m2 of terraces, where we also find a superb heated pool 10x5 meters (salt system). The pool is built into a deck construction of 160 m2 where we also find a fitness area and a bathroom. This luxury villa Californian style stands out for its high quality finishes, the spaciousness and privacy. It is equipped with central heating and air conditioning (hot and cold). The garden is amazing and surrounds the whole plot. It also has ample parking areas for several vehicles and a double garage (independent doors) of 50 m2 with direct access to the house.

*This information may be subject to errors and does not form part of any contract, (it is neither contractual nor binding). This offer may be changed or withdrawn without notice. The price does not include the purchase costs.

For more information on this property, please contact AREA Costa Blanca.

AREA Costa Blanca - your real estate agent for properties for sale in Calpe - Costa Blanca - Spain.

AREA Costa Blanca is proud to be one of the best real estate agencies in the Costa Blanca.

At AREA Costa Blanca we work to provide the best service advising clients when buying, selling or investing in a property. We have a professional team with a long and successful experience in the real estate industry, working with enthusiasm and seriousness. Our fundamental principle is the quality of service provided and customer satisfaction.

Our experience and attitude, your guarantee of success.

Villa de lujo en venta en Calpe, en urbanización Garduix, Colina del Sol. Esta villa disfruta de unas espectaculares vistas panorámicas al mar y al Peñón de Ifach. Está ubicada en una increíble parcela de 12.000 m2 y tiene una superficie total de 450 m2 distribuidos en 1 sola planta de la siguiente manera: 5 amplios dormitorios, (dormitorio principal tiene 40 m2, + baño en suite con jacuzzi + amplio vestidor), 5 baños completos, (4 en suite), 1 aseo de invitados, lavadero, trastero, cocina de 30 m2, (con amplia despensa), amplio salón comedor de 80 m2 con chimenea y porche de 80 m2, (parcialmente acristalado sistema Lumon). Esta villa disfruta de más de 300 m2 de terrazas, donde también encontramos una bonita piscina climatizada de 10x5 metros, (sistema de sal). La piscina se encuentra integrada en una construcción cubierta de 160 m2 con zona de gimnasio y baño completo. Esta villa de lujo de estilo californiano destaca por sus acabados de gran calidad, por la amplitud de sus espacios y por su privacidad. Está equipada con calefacción central y con aire acondicionado, (calor y frío). El jardín es increíble y envuelve toda la parcela. Cuenta con amplias zonas de parking para varios vehículos y con un garaje doble cerrado de 50 m2 con acceso directo a la vivienda.

*Esta información puede estar sujeta a errores y no forma parte de ningún contrato, (no tiene carácter ni contractual ni vinculante). La oferta puede ser modificada o retirada sin previo aviso. El precio no incluye los gastos de la compra.

Para recibir más información sobre esta propiedad, póngase en contacto con AREA Costa Blanca.

AREA Costa Blanca - su agente para propiedades en venta en Calpe - Costa Blanca - España.

AREA Costa Blanca está orgullosa de ser una de las mejores agencias inmobiliarias en la Costa Blanca.

En AREA Costa Blanca trabajamos para ofrecer el mejor servicio asesorando a nuestros clientes en la compraventa de propiedades inmobiliarias. Contamos con un equipo profesional de larga experiencia en el sector inmobiliario. Nuestro principio fundamental es la calidad del servicio prestado y la satisfacción del cliente.

Nuestra experiencia y actitud, su garantía de éxito.

Luxusvilla in Calpe, in der Urbanisierung Garduix, Colina del Sol. Diese Villa genießt einen spektakulären Panoramablick auf das Meer und den Peñon de Ifach. Befindet sich in einer erstaunlichen 12.000 m2 Grundstück und hat eine Fläche von 450 m2 aufgeteilt auf eine Etage wie folgt: 5 Schlafzimmer (Master Schlafzimmer hat 40 m2 + Badezimmer En Suite mit Whirlpool + großer Ankleideraum), 5 Bäder (4 En Suite), 1 WC für Gäste, Waschküche, Speicher Raum, Küche 30 m2, (mit großer Speisekammer), geräumiges Wohnzimmer 80 m2 mit offenem Kamin und Veranda von 80 m2 (teilweise verglasten System Lumon). Diese Villa bietet Ihnen mehr als 300 m2 Terrassen, wo wir auch einen schönen beheizten Pool 10x5 Meter, (Salz System) finden. Der Pool ist ein 160 m2 überdachten Baugebiet mit Fitnessraum und Badezimmer integriert. Luxusvilla California Stil zeichnet sich durch seine hohe Qualität Oberflächen, die Amplitude der Räume und Ihre Privatsphäre. Es ist ausgestattet mit Zentralheizung und Klimaanlage (Hitze und Kälte). Der Garten ist erstaunlich und umhüllt das gesamte Grundstück. Es hat ausreichend Parkplätze für mehrere Fahrzeuge und eine Doppelgarage von 50 m2 mit Zugang zu Wohnraum.

*Für eventuelle Fehler können wir keine Haftung übernehmen, diese sind nicht Vertragsbestandteil und unverbindlich. Diese Anzeige kann ohne vorherige Ankündigung geändert oder zurückgezogen werden. Der Preis beinhaltet nicht die Kosten für den Kauf.

Für weitere Informationen zu diesem Objekt, kontaktieren Sie bitte AREA Costa Blanca.

AREA Costa Blanca - Ihr Makler für Immobilien zum verkauf in Calpe - Costa Blanca - Spanien.

AREA Costa Blanca ist stolz darauf, einer der besten Immobilienmakler an der Costa Blanca zu sein.

In AREA Costa Blanca arbeiten wir, um den besten Service der Beratung von Mandanten in den Kauf und Verkauf von Immobilien an zu bieten. Wir haben ein professionelles Team mit einen langjährige und erfolgreiche Erfahrung in der Branche und wir Arbeiten mit Begeisterung und Ernsthaftigkeit. Unser Grundprinzip ist Qualität, Dienstleistung und Kundenzufriedenheit.

Unsere erfahrung und Einstellung, Ihre Erfolgsgarantie.

Villa de luxe à vendre à Calpe, à urbanisation Garduix, Colina del Sol. Cette villa bénéficie d'une vue panoramique spectaculaire sur la mer et le Peñon de Ifach. Est situé dans un incroyable parcelle de 12.000 m2 et a une superficie totale de 450 m2 répartis sur 1 etage, comme suit: 5 chambres, (chambre à coucher principale a 40 m2 + salle de bain avec jacuzzi + grand dressing), 5 salles de bains (4 en suite), 1 WC invités, buanderie, rangement chambre, cuisine 30 m2, (avec grand garde manger), spacieuse salle de séjour de 80 m2 avec cheminée et véranda de 80 m2 (partiellement vitrée système Lumon). Cette villa se vante de plus de 300 m2 de terrasses, où on trouve aussi une belle piscine chauffée 10x5 mètres, (système au sel). La piscine est intégrée dans une zone de 160 m2 couverts de bâtiment avec salle de gym et salle de bains. Villa de luxe de style californien se distingue par ses finitions de grande qualité, de l'amplitude des espaces et de votre vie privée. Il est équipé du chauffage central et climatisation (chaud et froid). Le jardin est incroyable et enveloppe la parcelle entière. Il a un grand parking pour plusieurs véhicules et un double garage de 50 m2 avec accès à un logement.

*Nous ne pouvons être tenus responsables d'éventuelles erreurs, celles-ci ne font pas partie d'un contrat et ne sont pas contractuelles. Cette annonce peut être modifiée ou retirée sans préavis. Le prix ne comprend pas les frais d'achat.

Pour plus d'informations sur cette propriété, se il vous plaît contacter AREA Costa Blanca.

AREA Costa Blanca - votre agent immobilier pour les biens à vendre à Calpe - Costa Blanca - Espagne.

AREA Costa Blanca est fier d'être l'un des meilleurs agences immobiliers de la Costa Blanca.

AREA Costa Blanca offre à son aimable clientèle un service de très haute qualité dans le secteur résidentiel. Notre grande expérience dans ce domaine est un atout pour nos clients exigeants. L'essentiel de notre Société est d'apporter un service de qualité auprès de notre clientèle.

Notre expérience et notre savoir-faire sont là pour vous guider.

Luxevilla te koop in Calpe, in de urbanisatie Garduix, Colina del Sol. Deze villa biedt een spectaculair panoramisch uitzicht op de zee en de Peñon de Ifach. Het huis bevindt zich op een verbazingwekkend perceel van 12.000 m2 en heeft een totale oppervlakte van 450 m2 verdeeld over 1 verdieping als volgt: 5 slaapkamers (waarvan de master slaapkamer 40 m2 is, met en suite badkamer met jacuzzi + grote dressing), 5 badkamers (4 en suite), 1 WC voor gasten, wasruimte, opslag kamer, keuken 30 m2, (met grote bijkeuken), ruime woonkamer van 80 m2 met open haard en terras van 80 m2 (gedeeltelijk ingeglaasd met het Lumon systeem). Deze villa beschikt over meer dan 300 m2 aan terrassen, waar we ook een prachtig verwarmd zwembad van 10x5 meter vinden. Het zwembad is  voorzien van zout systeem en is geïntegreerd in een gebouw van 160 m2 met fitnessruimte en badkamer. Deze Californië stijl luxevilla onderscheidt zich door zijn hoge kwaliteit in de afwerking, de grote ruimtes en de privacy. Het is uitgerust met centrale verwarming en airconditioning (warmte en koude). De tuin is geweldig en omhult het hele perceel. Het heeft ruime parkeergelegenheid voor verschillende voertuigen en een dubbele garage van 50 m2 met toegang tot de huisvesting.

*Wij kunnen niet verantwoordelijk gesteld worden voor mogelijke fouten, deze maken geen deel uit van een contract en zijn niet bindend. Deze advertentie kan zonder voorafgaande kennisgeving worden gewijzigd of ingetrokken. De prijs is exclusief aankoopkosten.

Voor meer informatie over deze woning, neem dan contact op met AREA Costa Blanca.

AREA Costa Blanca - uw makelaar voor onroerend goed te koop in Calpe - Costa Blanca - Spanje.

AREA Costa Blanca is er trots op een van de beste makelaars in onroerend goed aan de Costa Blanca te zijn.

Bij AREA Costa Blanca werken wij ernaar om u de beste service aan te bieden, bij het adviseren van klanten voor aan en verkoop van onroerend. We zijn een professioneel team met een lange en succesvolle ervaring in de sector en werken met enthousiasme en verantwoordelijkheid. Ons fundamenteel principe is een kwalitatieve dienstverlening en klanttevredenheid. 

Onze ervaring en bereidwilligheid, uw garantie tot succes.

Роскошная вилла в Кальпе, в урбанизации Garduix, Colina del Sol. Она обладает захватывающим панорамным видом на море и скалу Peñón de Ifach. Дом расположен на удивительном земельном участке 12.000 м2 и имеет общую площадь 450 м2, распределенных на одном этаже следующим образом: 5 прекрасных спален (большая 40 м2 с ванной с джакузи и большой раздевалкой), 5 ванных, туалет, прачечная, чулан, кухня 30 м2 (с большой кладовой), просторная гостиная 80 м2 с камином и верандой 80 м2. Эта вилла обладает террасами более чем 300 м2, на одной из которых также находится превосходный отапливаемый бассейн 10x5 м (с соленой водой). Также имеется зона фитнеса и ванная. Этот роскошный уютный дом с калифорнийским дизайном, построен с материалов высшего качества и безупречным выполнением строительных работ. Он оборудован центральным отоплением и кондиционированием воздуха (тепло холод). Сад удивительный, он окружает весь участок. На территории также есть большая стоянка для нескольких транспортных средств и двойной гараж 50 м2 с прямым доступом к дому.

*Эта информация может содержать ошибки и не является частью какого-либо контракта (она не является ни договорной, ни обязывающей). Предложение может быть изменено или отозвано без предварительного уведомления. Цена не включает расходы на покупку.

Для получения дополнительной информации об этом объекте, пожалуйста, свяжитесь с AREA Costa Blanca.

AREA Costa Blanca - Ваш агент по операциям с купли-продажи недвижимости в Кальпе - Коста Бланка - Испания.

AREA Costa Blanca имеет честь быть одним из лучших агентств недвижимости на Коста Бланка.

В AREA Costa Blanca мы работаем, чтобы предоставить клиентам самое лучшее обслуживание, при покупке, продаже или вкладывание капитала в недвижимость. Мы – профессиональная команда с многолетним опытом работы в отрасли, работающая с энтузиазмом, серьезно и ответственно.

Наш основной принцип – самое высокое качество предоставляемых услуг и самое полное удовлетворение потребностей наших клиентов.

Наш опыт и серьезное отношение это гарантия Вашего успеха!
Features
Indoor
Laundry Room
Stone Countertops
Washer Dryer
Price Insights
Property price
Price per sqft
You have inquired about this property
The agent will contact you soon by
Listed by
Registered on JamesEdition
2021
Phone number
Listing Reference
VCA0397