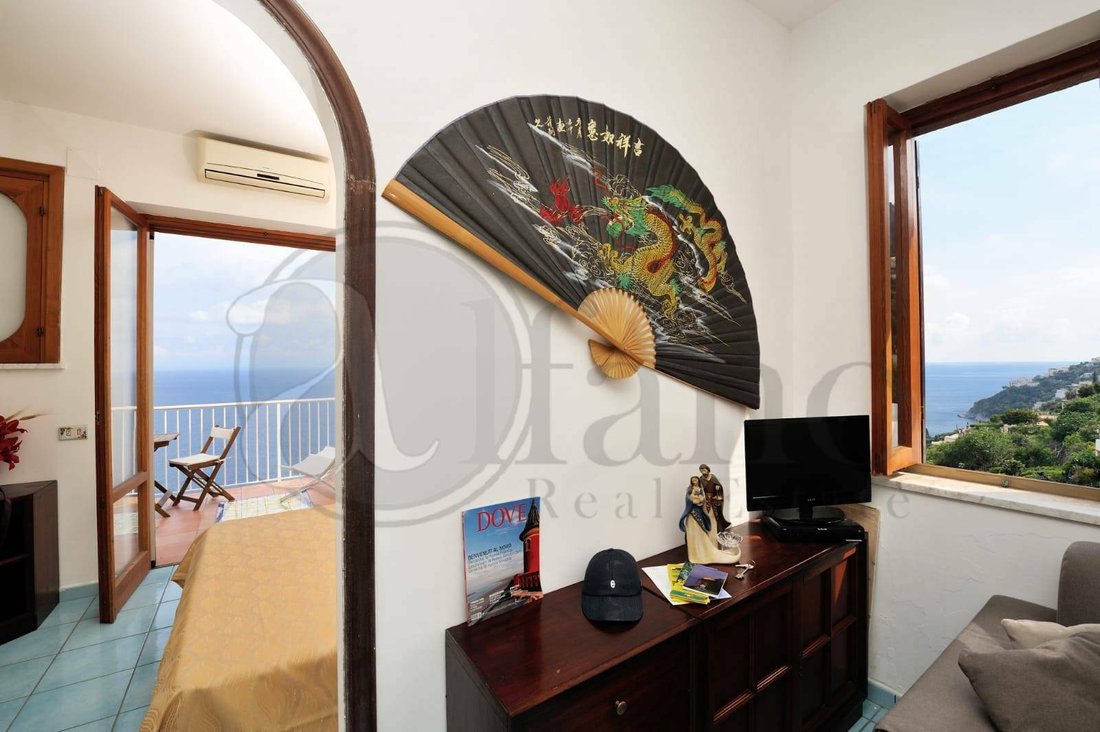 Flat For Sale In Amalfi
$992,637
1 Beds
1 Baths
539 sqft
$1,844/sqft
THE PEARL OF AMALFI
In one of the most particular landscape scenarios in the world, the Amalfi coast, a pleasant place with the most breathtaking views of Italy, we offer for sale a precious and u
THE PEARL OF AMALFI
In one of the most particular landscape scenarios in the world, the Amalfi coast, a pleasant place with the most breathtaking views of Italy, we offer for sale a precious and unique two-room apartment with a panoramic terrace overlooking the Gulf of Amalfi.
The apartment is located within a park of about 5,000 square meters of Mediterranean scrub in a panoramic area of Amalfi called "Vettica" between the provincial road of Agerola and the SS163 Amalfitana.
At the foot of the park, on the SS163 Amalfitana there is an area used as a condominium parking area of about 300 square meters.
The property consists of 2 rooms with independent entrance, living area, kitchen, bathroom with tub and large panoramic terrace overlooking the sea and views of citrus planted terraces.
About 300 meters away you can access the artists' beach.
The property is located in an area of the highest quality about 2 km from the center of Amalfi between luxurious hotels such as the "Santa Caterina" and "Hotel Saraceno".
From the terrace you can admire the wonderful cove of Santa Croce, Villa Ponti and the Hotel Convento Santa Rosa.
The garage, which is rare and / or impossible to find on the coast, is conveniently located in front of the park entrance and allows the parking of a medium-sized car belonging to the property.
The parking area consists of an automatic gate with a lawn for water drainage, a pergola and a video surveillance system (still to be completed given the strict rules in force on the coast), estimated time around 3 months.
The apartment complies with cadastral data, the electrical system is up to standard and is not equipped with a heating system but with heat pump air conditioners.
The delightful apartment is furnished in a typically Amalfi style with warm colors that refer to Amalfi citrus fruits and
local pottery. It enjoys a quiet and very sunny position. The terrace, decidedly large for a large table, is suitable for spending intense moments of relaxation immersed in the undisputed charm of the Neapolitan sea, caressed by a light sea breeze. The sight of sunrises and sunsets from this position remains a unique emotion.
Having a home in this corner of paradise remains a privilege of a few today.
Videos and other photos of the property are available on request.
For info and / or visits: Claudia
To Speak English [hidden information]
Features
Features
Lot
Indoor
Outdoor
About the Building
Floors

0

Property type

Apartment
Contact agent
Alfano Real estate
You have inquired about this property
The agent will contact you soon by
Listed by
About
Alfano Real Estate is a "glocal" real estate agency who has been successfully dealing with real estate business in
Alfano Real Estate is a "glocal" real estate agency who has been successfully dealing with real estate business in Lazio region since more than 39 years, thanks to qualified work and continuous updating with respect to market trends and needs.

It is precisely our ability to keep up with the times that distinguishes us from competing companies in terms of seriousness and reliability, as well as the quality of services offered to clients.

Our proven track record is due to the group of real estate professionals who have combined and refined their skills over the years, and thanks to a collaborative and proactive work environment, it enables us to fully promote and enhance the value of the entrusted properties.

In fact, the approach to the assignments takes place with a careful and never superficial work, with the careful choice of the topics to be proposed to buyers, advising the sellers in the best possible way, and thus allows us to present the same property in the best possible way, accompanied by accurate information and a set of images of the highest quality and reliability.

We know how "emotional" the purchase of a property is, especially when you think of it for your family or for pleasant moments of common life or complete relaxation.

We are not just talking about a tangible asset, but about an authentic dream (hence our motto Your Dream Your Home) that over the years each of us has cultivated in our souls. This is why our salespeople are so attentive in listening to you, understanding your desires and analyzing all those multiple vibrations that will enable us to propose the ideal home for you. We also offer you the utmost discretion and confidentiality.

The new challenges we are facing involve an open vision and a strong presence in the international market, so that we can offer maximum visibility and listing to the former, and the widest choice to the latter.

In this, too, Alfano Real Estate continues to distinguish itself from traditional real estate agencies, taking you beyond the concept of home as dwelling, but rather to the realization of your dreams: Your Dream, Your Home.

Alfano real estate is your perfect choice for your italian dream home!


Registered on JamesEdition
2019
Address
Via Alessandro Magliari 17, 03033, Arpino (FR), 03033, Arpino, Italy
Phone number
Listing Reference
157201001821