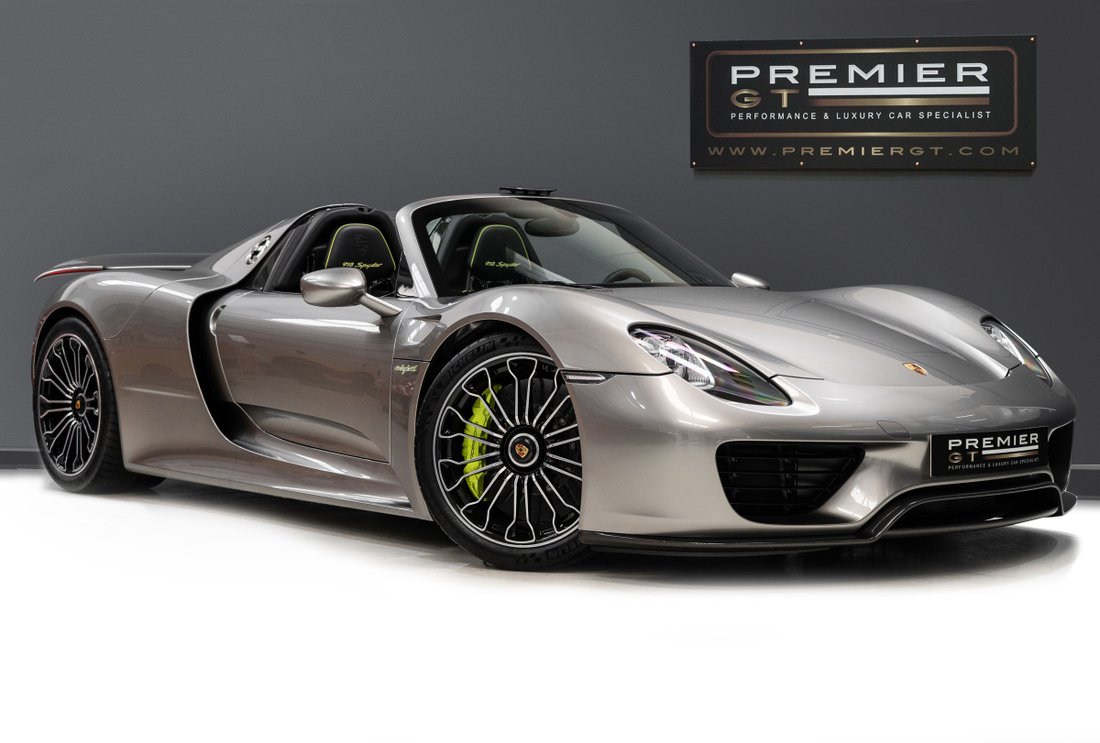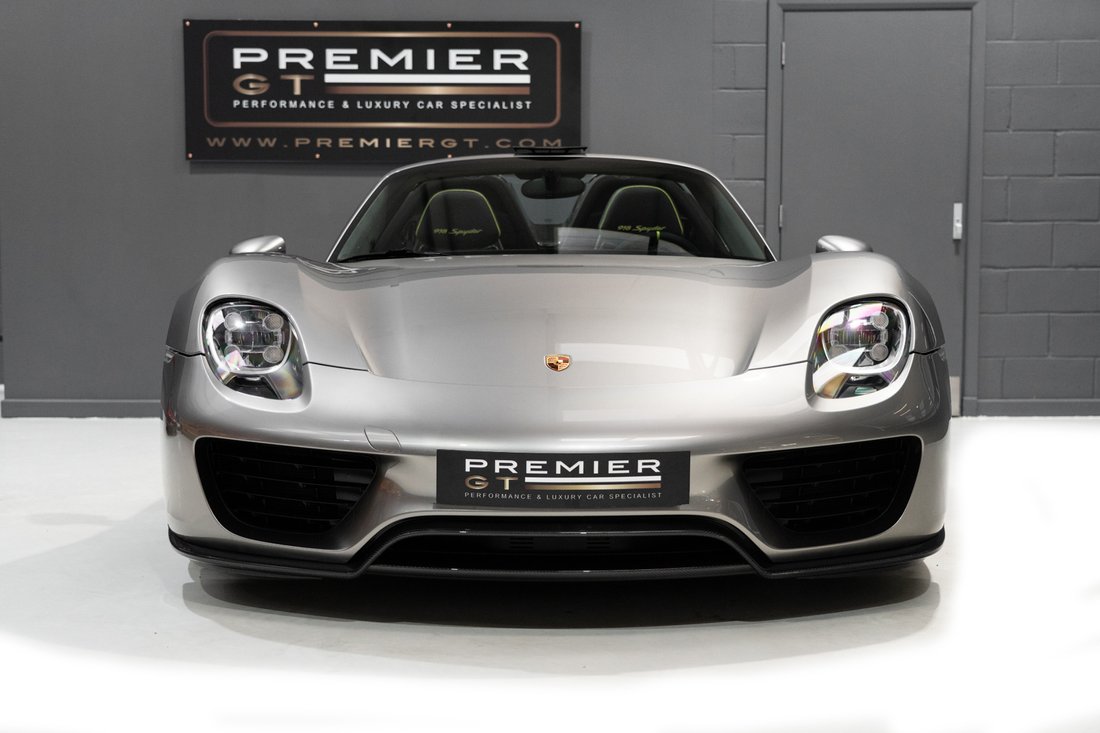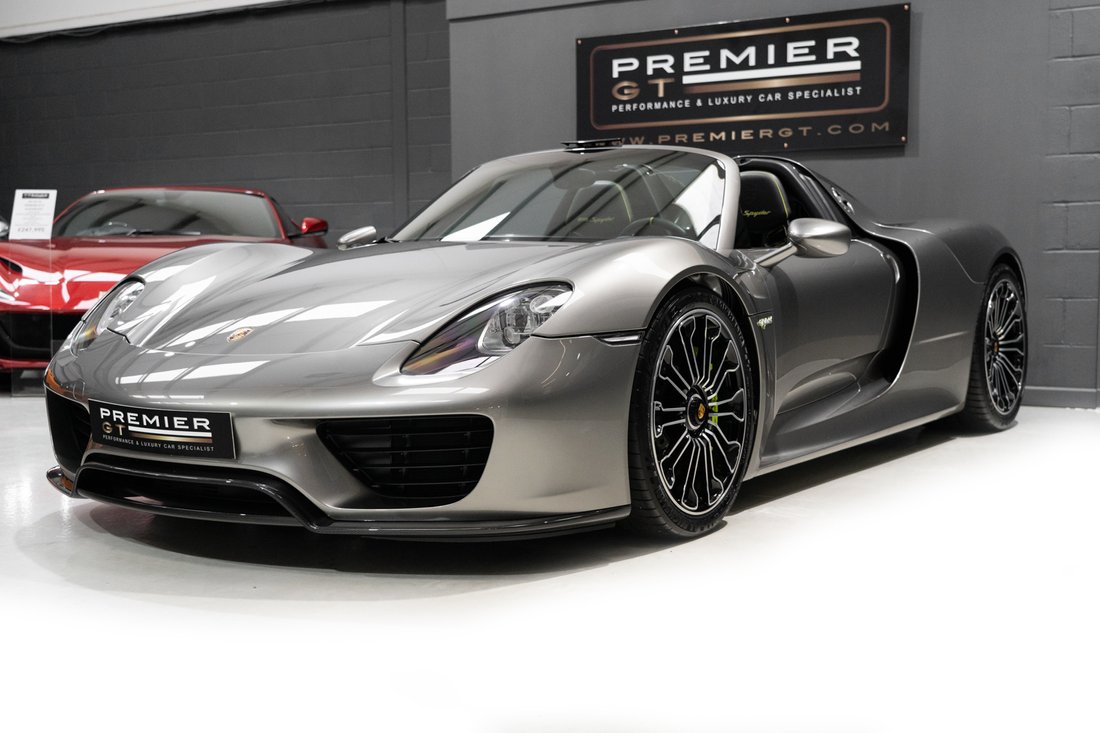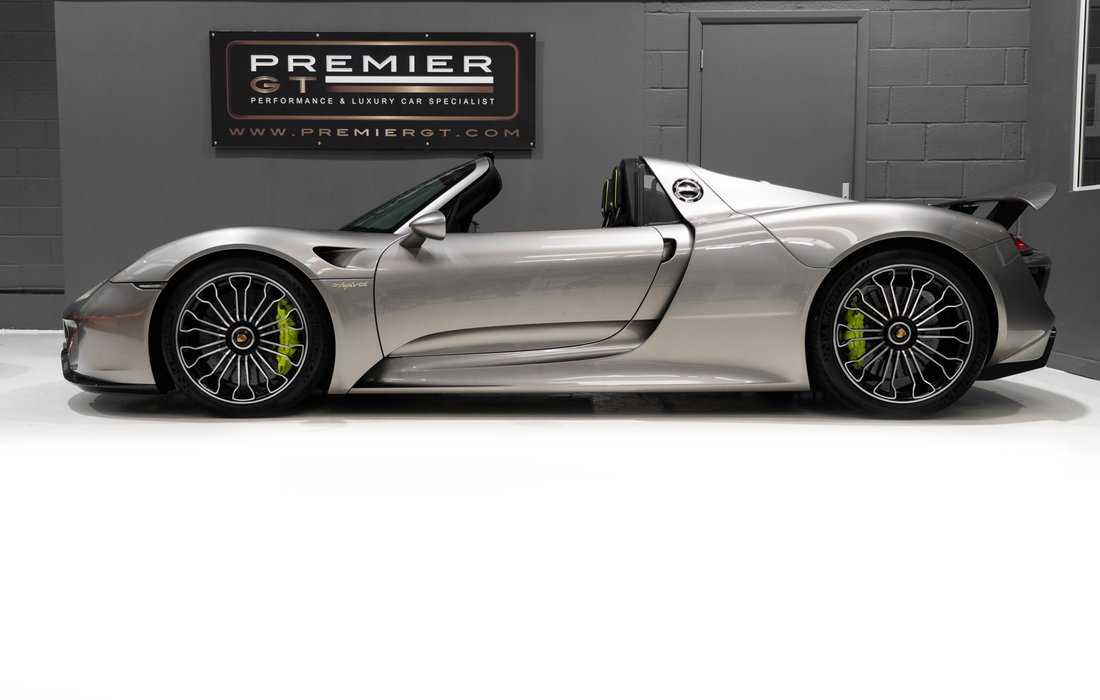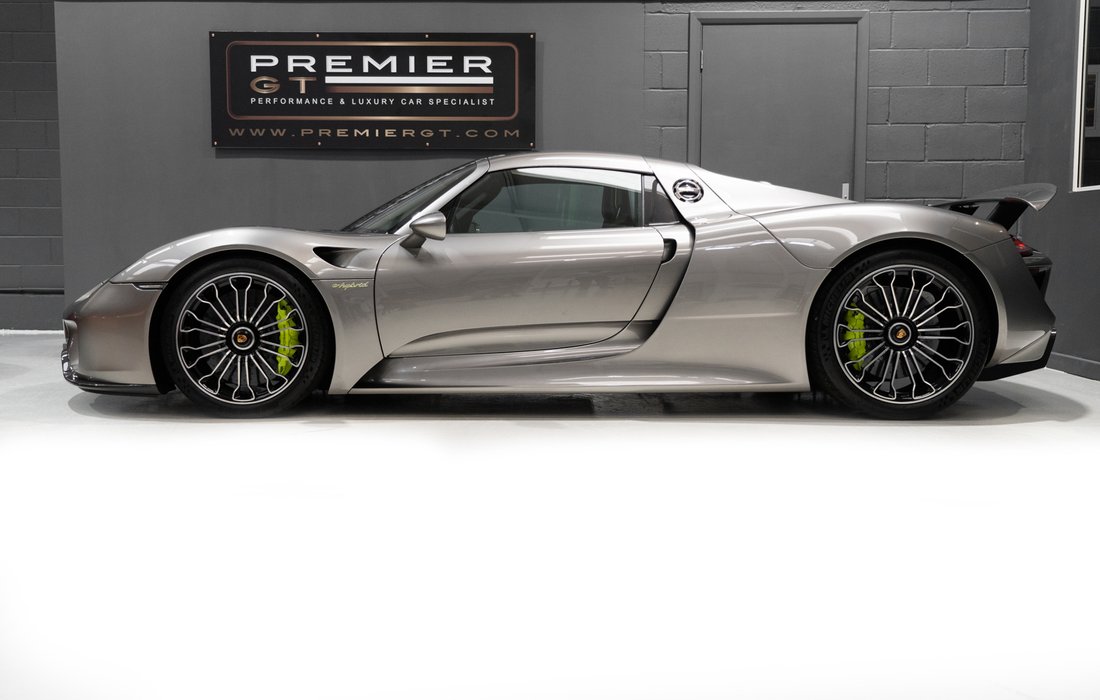 2015 Porsche 918
Price On Request
Pulborough, United Kingdom
About This Car
Achingly beautiful, painstakingly powerful and the undeniable future of the hypercar. Aging eternally gracefully, with a head and shoulders above the competition, the Porsche 918 Spyder is Stuttgart's
Achingly beautiful, painstakingly powerful and the undeniable future of the hypercar. Aging eternally gracefully, with a head and shoulders above the competition, the Porsche 918 Spyder is Stuttgart's royalty – not to mention one of the most complete cars to ever be created. With just 918 examples to leave the production line, they are also incredibly rare.

Developed from the ground up and first unveiled to us in 2010 at the Geneva Motor Show, the Porsche 918 Spyder has a thirst for supreme performance that's supported by an undeniably beautiful design and some clever active aerodynamics. Power comes in the form of a 4.6L Naturally Aspirated V8 flat-plane crank engine (making 608BHP) that's mated to a selection of Electric motors that together bring an additional 285BHP. Total output is a staggering 887BHP!

Future proofed way ahead of its time, this phenomenal hypercar gets a clever hybrid powertrain that not only amounts to extra performance, but also makes it one of the cleanest too. There's no cost to tax this car on UK roads and when driven in complete electric mode, you'll get somewhere in the region of 18 miles of range. Pretty impressive for a car that can also lap the Nuburgring in under 7 minutes.

We are absolutely thrilled to be able to offer you this 2015 (15) Porsche 918 Spyder, which has covered just 836 miles from new with only 2 registered owners. It is no. 533 of the 918 created. Bound with an incredible specification, it's optional extras list exceeds £93,000. Included in that, is the highly desirable £48,000 Liquid Silver paintwork. This car presents itself as a remarkable investment opportunity.

The Carbon Fibre chassis of this car is housed by that previously mentioned Liquid Silver body work which is fully protected by a coating of Topaz Paint Protection film. The classic 918 Spyder wheels sit perfectly against this colour, with a complement of Acid Green on the brake callipers. The top-mounted exhausts sit just behind your head on this car and dramatise the sense of occasion indefinitely – they are epic. The removable roof comes out in two pieces and stows neatly in the front storage compartment – surrounded by gloss Carbon Fibre.

The cabin of this car is perhaps the party piece to end all party pieces and was a design that was way ahead of its time upon its release. Overall, this example gets the interior carbon fibre package, Lightweight Bucket Seats, Six Point Racing harnesses and an 11-speaker Burmester Surround Soundsystem.

The authentic leather throughout is finished in Onyx Black which is contrasted by piping in Acid Green. It's a very well put together combination and perhaps the most desirable colour combination. Down the centre of the car sits a touch screen infotainment system that is home to over 800 different functions and whilst it not only looks great, it is also very intuitive to use too.

Porsche have created a masterpiece with the 918 Spyder, and in the words of Richard Hammond "they have used hybrid technology to save the supercar for tomorrow." That was relevant in 2014, it's even more relevant today. We believe you'd be hard pressed to find another car like this one available in today's market.
Car Details
Year
2015
Location
Pulborough, United Kingdom
Address
Pulborough RH20 3GR, UK
Mileage
836 mi (1345 km)
Power
887 ps (661 kw)
Condition
New
Color
Silver
Interior color
Black
You have inquired about this listing
The seller will contact you soon by
For Sale by
About
At Premier GT, luxury and performance cars are not just our business, they are also our passion and every vehicle
At Premier GT, luxury and performance cars are not just our business, they are also our passion and every vehicle we offer has been meticulously hand picked to ensure it meets our exceptionally high standards and yours. At our stunning and modern showroom in Washington, West Sussex, our extensive range on offer includes some of the most prestigious marques in the motor industry such as Lamborghini, Ferrari, McLaren, Maserati, Porsche, Roll's Royce, Bentley, Aston Martin, Mercedes AMG and Range Rover. With over 45 years of experience in the motor industry, every single car we buy has to meet our exacting requirements in terms of provenance, history and quality. And, whilst we are fanatical about detail, we also ensure that each of our cars has something special about it, whether that be an exquisite colour combination or an incredible specification. We believe if we are excited about a car, you will be too. Not one of our vehicles will leave our showroom without first being prepared to the highest standard both cosmetically and mechanically. So, whether you are purchasing a luxury Range Rover or a high-performance Lamborghini, you can be confident that you are buying one of the best examples of its kind. And, if we don't have exactly what you have in mind, we offer a sourcing and brokerage service where we can find that perfect vehicle for you. We are always looking to buy high-quality luxury and performance cars. So, if you are thinking of selling, please contact us for a chat where we will be more than happy to buy your car for cash transfer or sell it for you offering you a better return. We pride ourselves on looking after our clients as carefully as we do our cars. We are confident that any purchase or sale you make with us will only be the start of an on-going relationship. 
Registered on JamesEdition
2020
Address
Unit C1, Rock Business Park, The Hollow, Washington, West Sussex, RH20 3GR, Pulborough, United Kingdom
Phone number