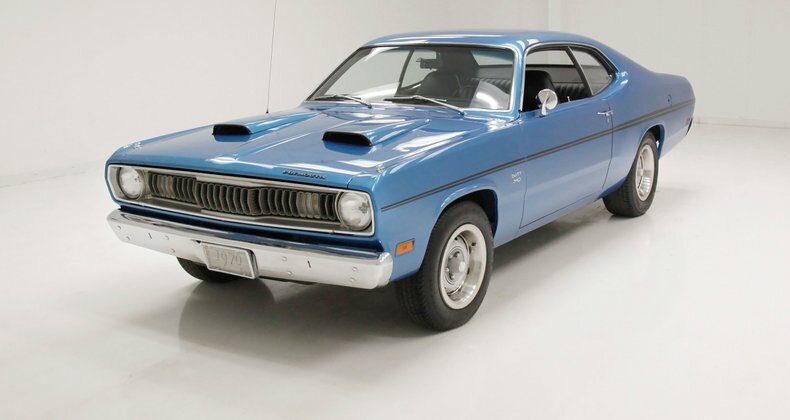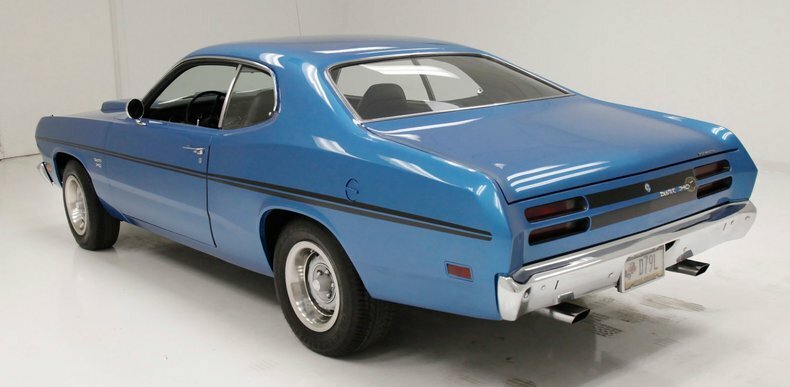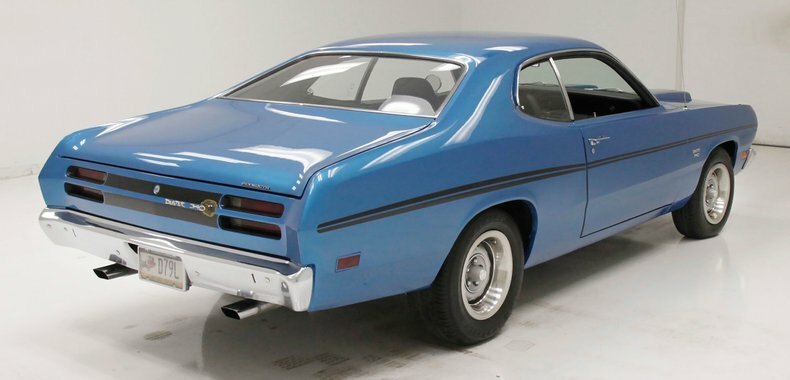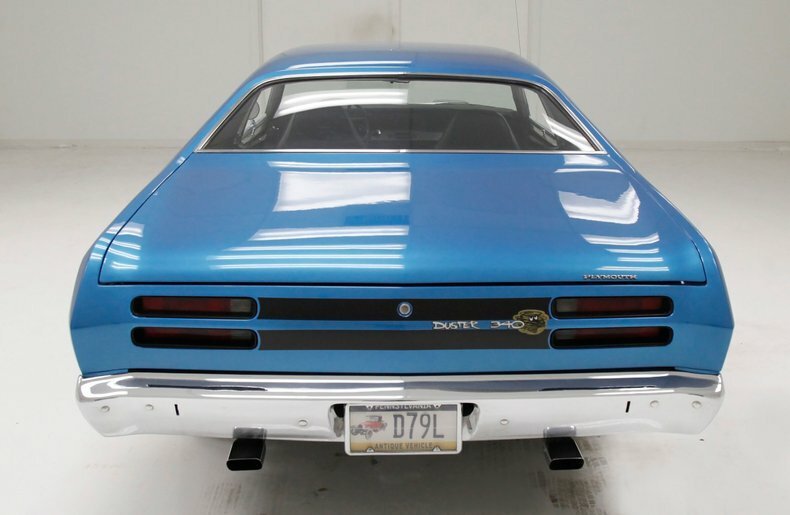 1970 Plymouth Duster 340
$35,900
Morgantown, United States
About This Car
1970 Plymouth Duster 340
The Plymouth Duster debuted in late 1969 as a 1970 model and was a sporty version of the Plymouth Valiant. The Duster featured curvy exterior styling and a round
1970 Plymouth Duster 340
The Plymouth Duster debuted in late 1969 as a 1970 model and was a sporty version of the Plymouth Valiant. The Duster featured curvy exterior styling and a rounded fastback look for the rear. The front end was the same as the Valiant. The interior was pure Valiant. The Duster was available with a variety of engines, ranging from two slant six-cylinder engines to either a 318 V8 or a high performance 340 V8 rated at 275 bhp. It was the 340 V8, coupled with the Duster's extremely low price, that made it a hit. The base price was a mere $2,172 (only a little more than the 1960 Valiant) and included just the 198 Slant Six, a column mounted three speed manual transmission, and manual brakes and steering. However, any performance buyer would go straight to the 340 V8 option. For a mere $400, this option added the 340 V8 with four-barrel carb, dual exhausts, floor mounted three-speed manual transmission, a 3.23:1 rear axle, a heavy-duty suspension with larger diameter torsion bars, extra leaf springs, front stabilizer bar, front disc brakes, and a unique instrument panel that included a tachometer and 150 mph speedometer. At a total price of just $2,547, the Plymouth Duster 340 was much cheaper than either a Plymouth Road Runner ($2,900) or Mustang Mach I ($3,300).
For consignment a fully restored Duster 340 right out of 1970. This is a turnkey, mildly upgraded car for a Mopar fanatic who wants to get into the muscle car game for a very reasonable price. B5 blue paint will attract lots of eyeballs, and the combination of the numbers matching 340ci V8 and the 3.91 Suregrip rear axle will keep you ahead of the competition.
Exterior

This car bathed in Bright Blue Metallic for the Plymouth, (B5 Blue for the numbers gurus out there), appears in overall very nice condition with only very minor rust bubbling on the lower rockers and driver's rear lower quarter panel. Sculpted body panels, which add an unmistakable 70s flavor to the car's vintage design, are detailed with an upgrade from 1971/72 in the form of a non functional twin scooped hood and shark's tooth grille. Correct flush mount marker lights are on the front fenders and rear quarter panels and just above those marker lights, bold twin black stripes combine with slick fender mounted turn signal indicators to perfectly complement the traditional chrome door handles and a stylish driver's mirror. And at the back of the car, a B5 Blue valence hangs a right offset "DUSTER 340" script between broad oval taillights, a second original bumper and traditional stainless exhaust tips are down below. 15" Mopar Rallye wheels with polished trim rings are seen all around and are wrapped in staggered width blackwall rubber.
Interior

A swing of the doors reveals simple horizontally stitched black vinyl door panels topped with black steel frames, Duster badging and chrome for the cranks and releases. A luxury vinyl split bench seat with fully separate backs emulating high back buckets stretches from paneled door to door and has a fold down center armrest. A rear bench is seen behind, and all seats are firm to the touch and show very little wear. True black carpeting floods the floors and shows slight fading, particularly on the hump. The factory 3 spoke black plastic steering wheel front the silver insert and wood veneer dash and houses near perfect circular rally gauges with a factory tachometer in the center, the original AM radio and temperature controls. This veneer stretches to the glovebox, and down below is deep dark black steel with an auxiliary tachometer and oil pressure gauges below. The upper padded dash is very clean, and no cracks are seen. Lastly the headliner is pretty much showroom condition with only a few wrinkles and the trunk presents with a very nice liner, and black paint for the steel, all rust free.
Drivetrain

A number matching 340ci V8 sits in a beautiful engine bay, and sports ribbed and polished Mopar Performance valve covers and a Mopar Performance air cleaner with a black wrinkle paint finish. Correct Hemi Orange paint covers the block which has been fitted with a mild performance camshaft and for you numbers guys and gals this a casting number [hidden information]ci V8 non AAR/TA), and a stamping date of 3120, (Wednesday, February 11th 1970), which coincides with the February 19th, 1970 build date on the fender tag. A 4bbl carburetor feeds air and fossils to the mills and on the back is a numbers matching A727 Torqueflite 3-speed automatic with a consignor-stated 3600rpm stall converter. Bringing up the tail end is an 8 1/4" rear axle with a 3.91 SureGrip gearset.
Undercarriage

Very clean, rust proofed and rust free with what appears to be a new fuel tank and upgraded dual Turbo muffler exhaust. Manual disc brakes are reserved for the front end as is an independent torsion bar suspension and in the back are manual drum brakes with a leaf spring suspension. And a thorough examination of all the car's bushings, lines and hoses ensures it has road going reliability to match its eyeball-popping curb appeal.
Drive-Ability

A nice smooth driver with easy manual steering, great acceleration, and bias free panic stopping. The AM radio does work, but I like the sound of the engine pumping out that HP! Ripped it...

As charming as it is cool, this clean classic wraps an original 340ci V8 drivetrain in Bright Blue Metallic aesthetics that are guaranteed to turn heads. It's the perfect way for any enthusiast to grab a neat old car and enjoy every aspect of the hobby!
VIN DECODE

VS29H0R217999

V-Plymouth Valiant/Duster

S-Special Price Class

29-2 Door Sports Hardtop

H-340ci V8 4bbl 275hp

0-1970

R-Windsor, Ontario, Canada Assy Plant

217999-Sequential Unit Number
FENDER TAG

E55-340 4 Barrel

D32-HD A727 TorqueFlite

VS29

V-Plymouth Valiant / Duster

S-Special

29-2 Door Sports Hardtop

H0R

H-340 275hp 4bbl V8

0-1970

R-Windsor, ONT, CAN

217999-Sequence Number '217999'

EB5

Paint Code-Bright Blue Metallic

D2X9

Trim Grade/Style/Color

D-Deluxe

2-Vinyl Bench

X9-Black

TX9-Upper Door Frame: Black / Black Velvet

21-Date Built: 2 / 19 / 1970

095054-Order Number: 095054

EB5-Roof Type OR Color: Bright Blue Metallic

M21-Roof Drip Rail Moldings

N41-Dual Exhaust w/o Tips

R11-Music Master Radio AM

V5X-Black - Moldings - Protective Insert Body Side

V8X-Transverse Stripe - Black

Y05-Built to U.S. Specifications

END-End of Codes
Classic Auto Mall is a 336,000-square foot classic and special interest automobile showroom, featuring over 650 vehicles for sale with showroom space for up to 1,000 vehicles. Also, a 400 vehicle barn find collection is on display.

This vehicle is located in our showroom in Morgantown, Pennsylvania, conveniently located just 1-hour west of Philadelphia on the I-76 Pennsylvania Turnpike. The website is [hidden information] and our phone number is [hidden information]. Please contact us anytime for more information or to come see the vehicle in person.
Car Details
Year
1970
Location
Morgantown, United States
Mileage
121660 mi (195793 km)
Engine
8 Cylinder
Gearbox
Automatic
Car type
Sedan
Fuel type
Petrol
Condition
Used
VIN
VS29H0R217999
Color
Blue
Interior color
Black
Internal Reference
4123_4032
You have inquired about this listing
The seller will contact you soon by
For Sale by
About
Classic Auto Mall is a 336,000-square foot classic and special interest automobile showroom, featuring over 600 ve
Classic Auto Mall is a 336,000-square foot classic and special interest automobile showroom, featuring over 600 vehicles for sale with showroom space for up to 1,000 vehicles. Also, a 400 vehicle barn find collection is on display. Conveniently located on the Pennsylvania Turnpike just an hour west of Philadelphia and an hour east of Hershey and Carlisle. 
Registered on JamesEdition
2019
Address
6180 Morgantown Road, 19543, Morgantown
Phone number
Listing Reference
4123_4032