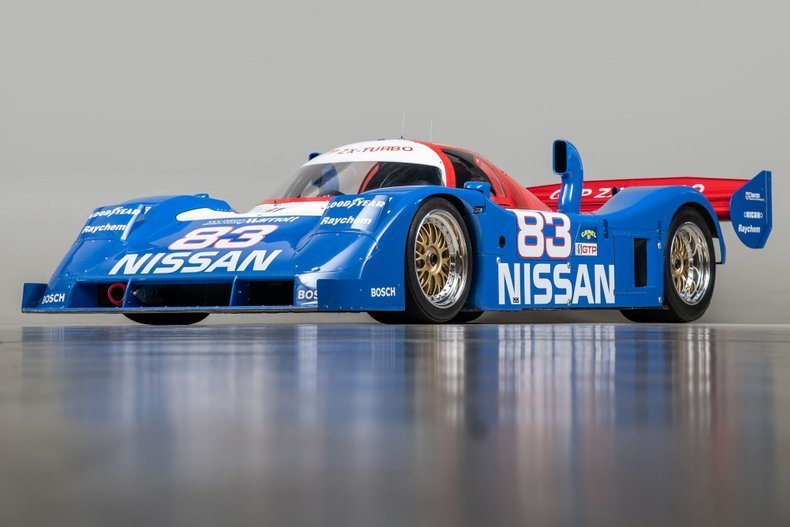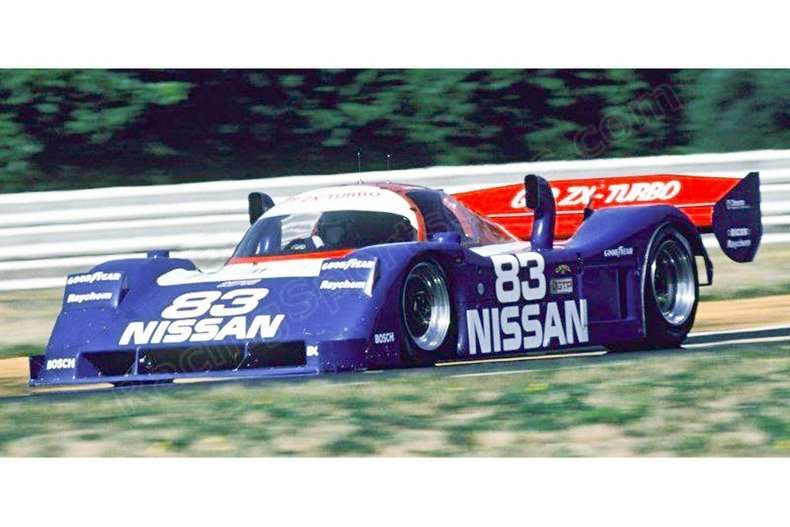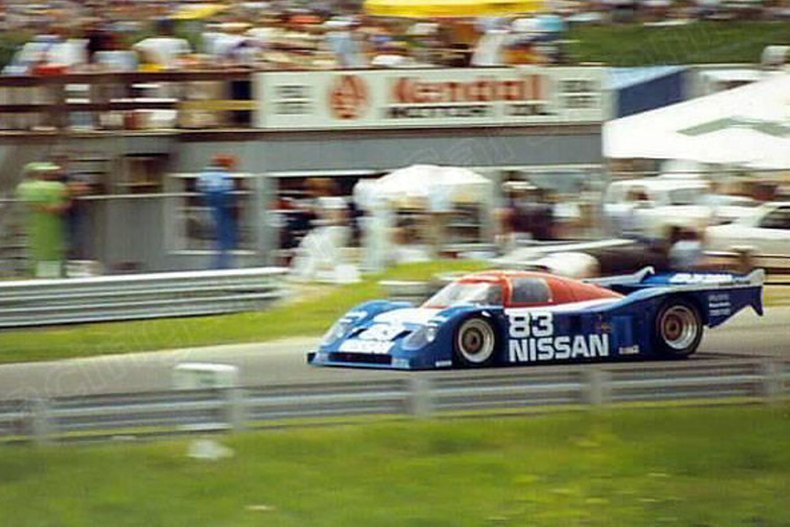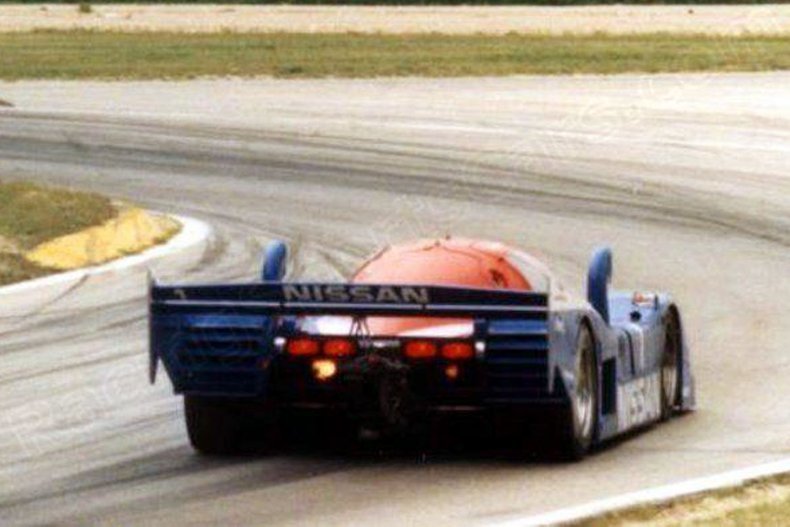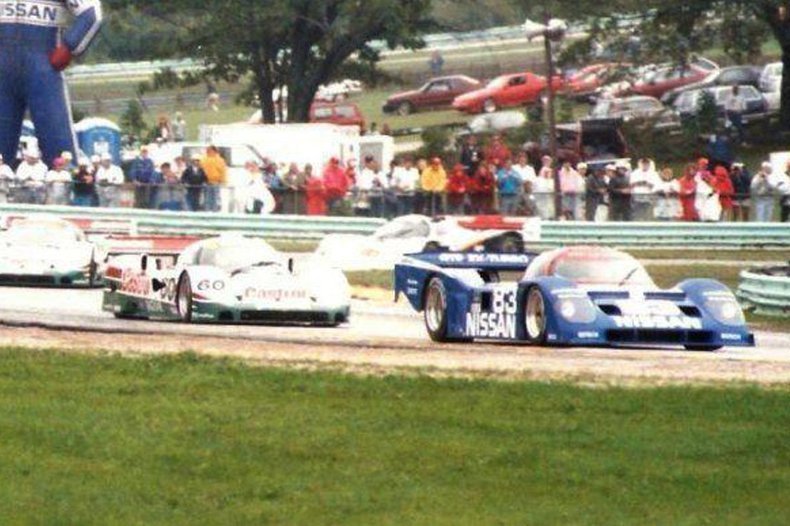 1990 Nissan NPT-90
Price On Request
Scotts Valley, United States
About This Car
View high resolution photos
Three 1st place finishes, seven 2nd place finishes, and five 3rd place finishes

The first of 6 chassis produced for racing by Nissan Performance Tech
View high resolution photos
Three 1st place finishes, seven 2nd place finishes, and five 3rd place finishes

The first of 6 chassis produced for racing by Nissan Performance Technology Incorporated

Driven by 4-time GTP championship winner Geoff Brabham, along with Chip Robinson, Bob Earl, and Derek Daly

Original with original components as raced, complete, and extremely well preserved

Upgraded in 1992 during racing season to latest racing specifications and components

First of a completely new design by legendary car designer Trevor Harris

Twin-turbocharged 3.0-liter V6 engine with 950+ horsepower

Hewland 5-speed manual transmission

Nissan racing effort that won the IMSA GTP constructors' championship in 1990 and 1991
The story of Nissan's rise to power in the IMSA GTP series is an interesting one and shows what true determination and sheer will can do for a team. Through trials and tribulations in the early 1980s, the Electramotive team (later becoming Nissan Performance Technology Incorporated) went from a rocky start all the way to taking 4 drivers championships titles and 3 manufacturer titles. This amazing motorsport transformation was is no part just due to one singular item, but rather the constant development and determined grit of all the team members, yielding the NPT-90, one of the fastest GTP cars ever created.
To understand the success of the NPT-90 platform, it's important to know the driving force behind the team that made it happen. A past winning racer, Don Devendorf was a tenacious scientist, engineer, and racer, in 1975 designing electronic fuel management systems that many manufacturers wouldn't start using for close to a decade later. Wanting to move up in the racing, Devendorf set his eyes on the IMSA GTP series. With Lola interested in producing a chassis, Devendorf joined forces with Wes Moss and Yoshi Suzuka to create the GTP-ZXT, the precursor to the NPT-90. Through 1984 to 1990 the cars made countless upgrades and enhancements as real-world racing revealed design inspiration among the engineers and mechanics alike. By the end of the 1988 season Geoff Brabham was the GTP driver champion, and would continue to win with Nissan GTP cars for another 3 years. In order to remain ahead of the curve with its competition, the quest began to make the next generation of Nissan GTP car, the NPT-90s.
Due to the nature of racing economics, Electramotive was running on paycheck to paycheck and needed to secure funding in order to proceed at a rapid pace. In a deal with Nissan Japan, Electramotive turned into Nissan Performance Technology Incorporated (NPTI), alleviating many racing fund woes. In 1990 the team moved to a brand-new facility in Vista, CA, complete with a full engine room, wind tunnel, composite shop, and an on-site engineering and fabrication facility. Renowned race car designer Trevor Harris engineered a completely new car, named the NPT-90. While this car was built and being tested in the early part of 1990, it made its first debut at the Topeka 300km race on May 6th, 1990. It's first career finish of 8th place would not be indicative of its future success, as this car would go on to take two 1st place finishes, nine 2nd place finishes and five 3rd place finishes. The NPT-90 car design allowed Nissan to take two more manufacturer titles and secure two more driver's championship titles for Geoff Brabham. The Nissan GTP platform proved its superiority and reliability that instilled fear into all of its competitors.
This car primarily raced in the second half of the 1990 season and 1991 season, driven most races by Geoff Brabham. At the end of the 1991 season the car was intended to be retired, although due to a series of crashes that put other chassis out of commission in the middle of the 1992 season, 90-01 was completely upgraded to the latest specifications and brought back to finish out the 1992 season. It raced valiantly, taking a total of three 2nd place finishes and two 3rd place finishes. The car's final race would be on October 11th, 1992 at the 2 Hour Del Mar GTP race, taking 2nd place.
Having had the privilege of racing an NPT-90 at Laguna Seca (chassis 90-06), Bruce Canepa knew first-hand what these extremely potent race cars were capable of. Mind-boggling power, high downforce, excellent handling dynamics and extremely reliable, the NPT-90 package is a perfect storm for a GTP race car. He acquired 90-01 recently knowing of its history and significance in IMSA history, as well as Nissan's own racing heritage. This NPT-90 (chassis 01) is highly original and complete with original components as raced, upgraded to the latest specifications of Nissan Performance Technology Incorporated in 1992, and is extremely well preserved.
With Nissan's dominance undeniable from 1988 to 1991, the NPT-90 is the final iteration of the Japanese manufacturer's GTP cars. This NPT-90, the first chassis ever built, offers a rare opportunity to experience the IMSA car that inspired fear into all of the teams in the GTP series. Twin-turbocharged power, high downforce, designed by Trevor Harris, and driven to multiple wins with an exceptional career history, this NPT-90 gives the opportunity to experience a dose of championship-winning IMSA history.
Racing History
1990
May 6th- Topeka 300 Kilometers - Bob Earl/Derek Daly - 8th

May 28th - Lime Rock 150 Laps - Derek Daly - 24th (DNF)

June 3rd - Mid-Ohio 500 Kilometers - Geoff Brabham/Derek Daly - 1st

July 15th - Sears Point 300 Kilometers - Geoff Brabham - 1st

July 29th - Portland 300 Kilometers - Geoff Brabham - 15th

August 19th - Road America 500 Kilometers - Geoff Brabham - 1st

September 2nd - San Antonio 2 Hours - Geoff Brabham - 3rd
1991
March 3rd - 2 Hour West Palm Beach - Geoff Brabham - 3rd

June 2nd - Mid-Ohio 300 Kilometers - Geoff Brabham - 5th

June 16th - 2 Hour New Orleans - Geoff Brabham - 2nd

June 30th - 300 Kilometer Laguna Seca - Geoff Brabham - 2nd

July 28th - 300 Kilometer Portland - Geoff Brabham - 2nd

August 25th - Road America 300 Kilometers - Chip Robinson - 2nd

October 13th - 2 Hour Del Mar - Geoff Brabham - 3rd
1992
May 25th - 2 Hour Lime Rock - Geoff Brabham/Chip Robinson - 2nd

May 31st - Mid-Ohio 2 Hours - Geoff Brabham - 3rd

June 14th - 1 Hour 45 Minutes New Orleans - Geoff Brabham - 2nd

June 28th - IMSA GTP Watkins Glen - Geoff Brabham - 17th (DNF)

July 19th - Laguna Seca 2 Hours - Geoff Brabham - 19th (DNF)

July 26th - Portland 2 Hours - Geoff Brabham - 6th

October 4th - 2 Hour Phoenix - Geoff Brabham - 3rd

October 11th - 2 Hour Del Mar - Geoff Brabham - 2nd
Car Details
Year
1990
Location
Scotts Valley, United States
Address
CA
Engine
6 Cylinder
Gearbox
Manual
Car type
Other
Fuel type
Other
Condition
Used
VIN
90-01
Color
Custom
Interior color
Custom
Internal Reference
1839_6103
You have inquired about this listing
The seller will contact you soon by
For Sale by
Registered on JamesEdition
2013
Phone number
Listing Reference
1839_6103