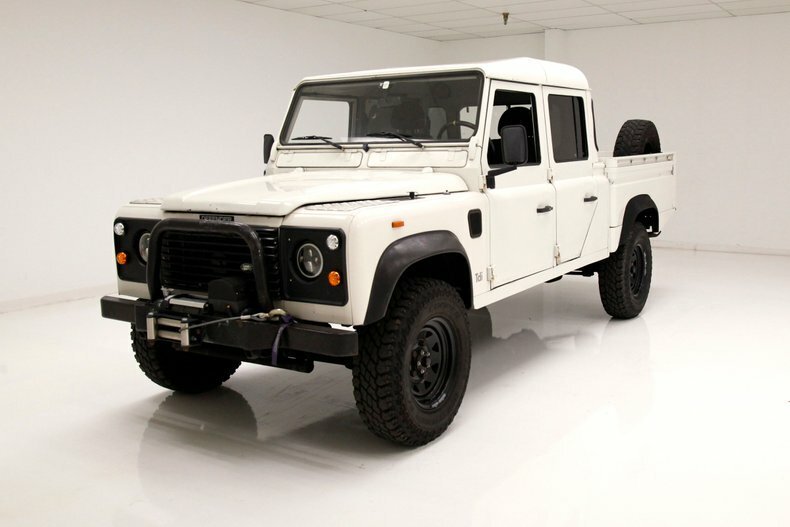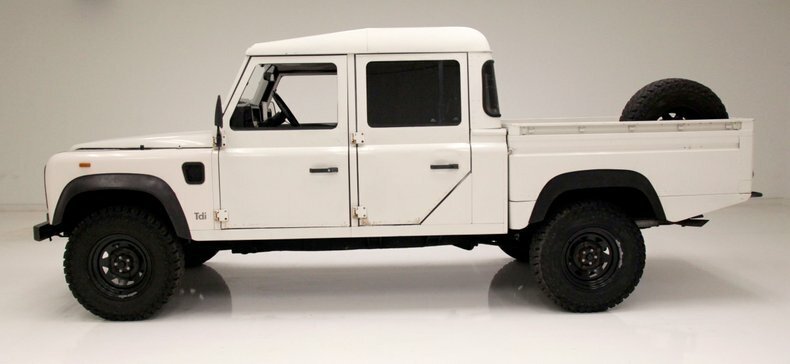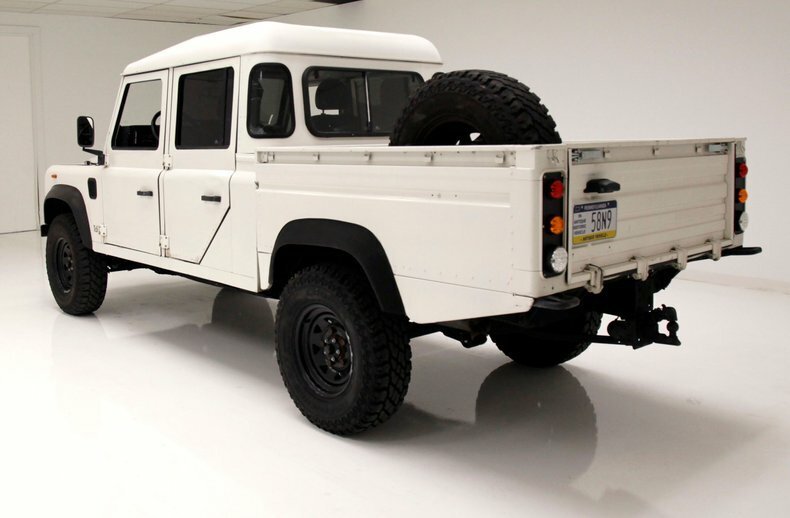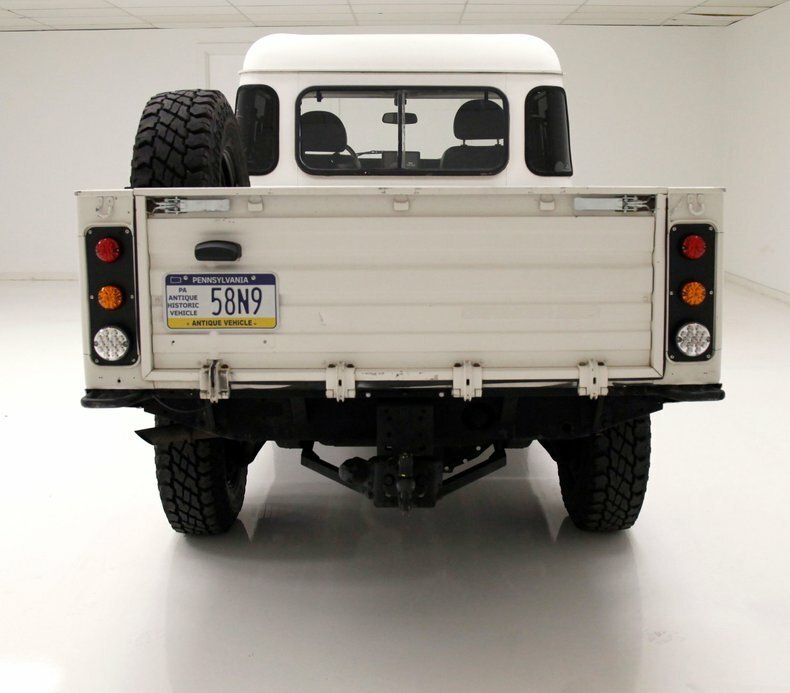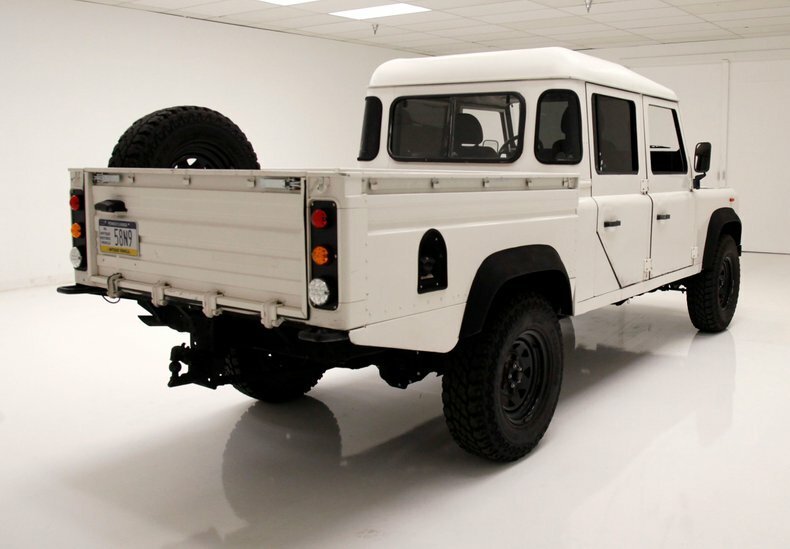 1993 Land Rover Defender 130 Pickup
$58,000
Morgantown, United States
About This Car
1993 Land Rover Defender 130 Pickup
The Land Rover Defender, (originally called simply Land Rover Ninety, and later called the Land Rover Ninety and Land Rover One Ten), is a British fou
1993 Land Rover Defender 130 Pickup
The Land Rover Defender, (originally called simply Land Rover Ninety, and later called the Land Rover Ninety and Land Rover One Ten), is a British four-wheel drive off-road vehicle developed in the 1980s from the original Land Rover series which was launched at the Amsterdam Motor Show in April 1948. The vehicle, (a British equivalent of the WWII Willys Jeep), gained a worldwide reputation for ruggedness and versatility. Using a steel ladder chassis and an aluminum alloy bodywork, the Land Rover originally used detuned versions of Rover car engines.
A true import in the sense of the word, and in real life, this Defender 130 had been shipped from the UK to the US. When it got here it underwent several upgrades like LED lights, halogen headlights. and a new touch screen display with Apple car play, Android Bluetooth, back up cam, navigation, XM radio and a new antenna. A diesel powered go through anything, it will need a set of doors as currently the ones on this truck are suffering from invasive rust.
Exterior

With its boxy shape, white paint, and black accenting it looks the part to conquer and explore the Serengeti plains. A high stance, and utilitarian boxy shape, it has the soul of a Rover but the body of a crew cab pickup. 4 doors, and a large rear bed which shows a bit of wear are all steel construction. As noted, the doors will need to be replaced as they suffer from extensive rust at their bottoms. A tow package is on, and a winch is upfront attached to the bumper. All trimmings are black, and windows are tinted. LED taillights and halogen headlights will lead the way on the darkest of moonless nights. 16-inch wheels in black no caps, are wrapped by LT235/85/16 tires with heavy mud treads on all 4 corners.
Interior

A climb inside and a feeling of power comes over you with the newfound ride height. Cloth buckets in good condition have a hookup for heated seats but are not connected. The dash is a squared off design and contains all the essential controls for every working of this truck, as well as numerous gauges to keep track of the diesel mill at all times. A big center console is between the buckets and has a large storage area attached and cup holders. Mounted in front of the console, are dual shift levers for the transmission and the other controls the 4-wheel drive. Noted is the large screen for the music, navigation, backup cam and phone connection. Entering through the smaller rear doors, you can slip into a cloth covered bench which stretches from second door to second door. Metal floors covered with rubber upfront belies the tough look of this truck.
Drivetrain

Under the hood is a deceptively small turbo diesel which is in 152.3ci configuration and a 4-cylinder. This has electronic fuel injection, and a Leyland LT77S 5-speed manual transmission. Condition of this mill is some corrosion on the bolt ons and engine bay is in unrestored original condition.
Undercarriage

With a big strong central frame and body hangers off either side to mount the cab and bed all has been sprayed with Waxoyl undercarriage spray, and presents in black. We note a few prior rust repairs on the frame and a few areas of invasive rust thru, particularly on the passenger's front section of the frame. There is also invasive rust on the round front cross member/stabilizer bar at both ends. The suspension is a 4 link with coil sprung setup on all 4 corners, and power disc brakes are there for the stoppage. All transfer cases and underneath the drive train appears to be leak free.
Drive-Ability

I fired this diesel up and it roared to life. Upon the turn of the key all the electronics came to life, including the new screen in the center. This has a convenient backup cam that aided me in getting out of the Classic Auto Mall photo studio area and on to the test track. Here it rumbled around all tight and no squeaking or complaining, has great power but will not break any speed records, but that is not its purpose. If you want to carry gear or anything for that matter, this truck does it in style, direct from Britain. All functions were working, and it handles nicely for its size.
An import in the true sense of the word, not many seen here in the US. The small 4-cylinder diesel has plenty of power for this tall vehicle, and some nice upgrades with the interior screen, LED and halogen lighting, and the big tires. I'm off to go tear up some hills and trails in Utah.
VIN DECODE

SALLDKHF8LA931685

S-UK

A-Land Rover

L-Truck

LD-Defender

K-130" Wheelbase

H-Defender High Cab

F-2.5L TDI

8-Check Digit

L-1990

A-Solihull, UK Assy Plant

931685-Sequential Unit Number
Classic Auto Mall is a 336,000-square foot classic and special interest automobile showroom, featuring over 600 vehicles for sale with showroom space for up to 1,000 vehicles. Also, a 400 vehicle barn find collection is on display.

This vehicle is located in our showroom in Morgantown, Pennsylvania, conveniently located just 1-hour west of Philadelphia on the I-76 Pennsylvania Turnpike. The website is [hidden information] and our phone number is [hidden information]. Please contact us anytime for more information or to come see the vehicle in person.
Car Details
Year
1993
Location
Morgantown, United States
Mileage
137225 mi (220842 km)
Engine
Unknown
Gearbox
Manual
Car type
Other
Fuel type
Diesel
Condition
Used
VIN
SALLDKHF8LA931685
Color
Custom
Interior color
Custom
Internal Reference
2361_2273
You have inquired about this listing
The seller will contact you soon by
For Sale by
About
Classic Auto Mall is a 336,000-square foot classic and special interest automobile showroom, featuring over 600 ve
Classic Auto Mall is a 336,000-square foot classic and special interest automobile showroom, featuring over 600 vehicles for sale with showroom space for up to 1,000 vehicles. Also, a 400 vehicle barn find collection is on display. Conveniently located on the Pennsylvania Turnpike just an hour west of Philadelphia and an hour east of Hershey and Carlisle. 
Registered on JamesEdition
2019
Address
6180 Morgantown Road, 19543, Morgantown
Phone number
Listing Reference
2361_2273