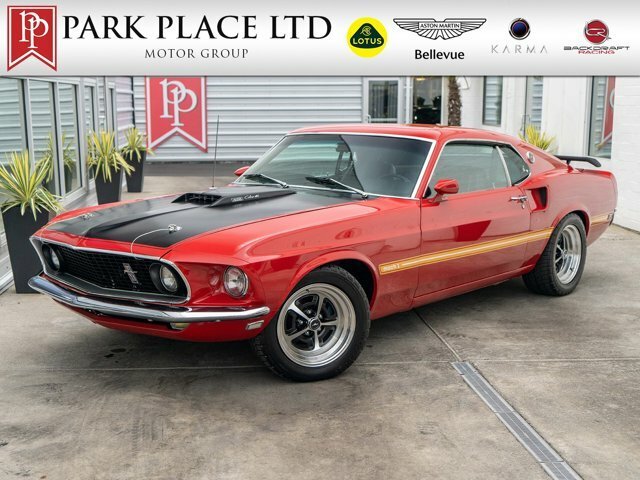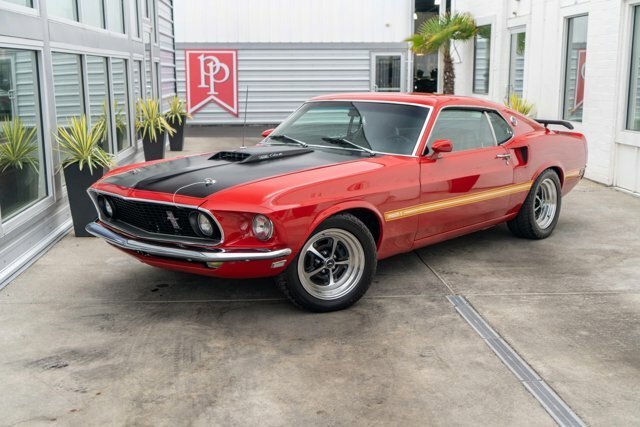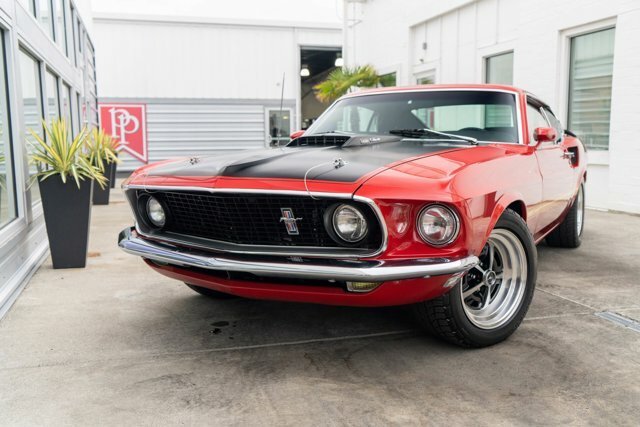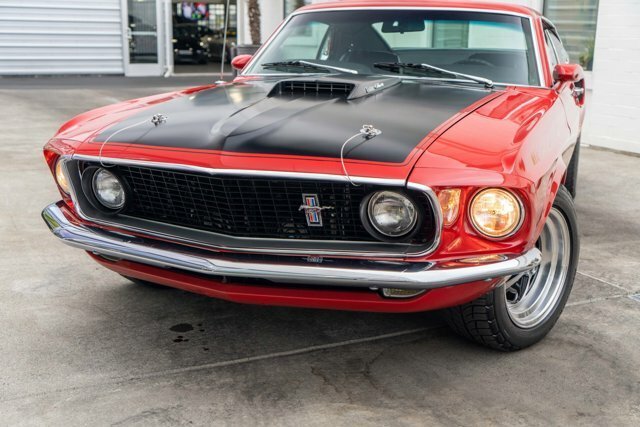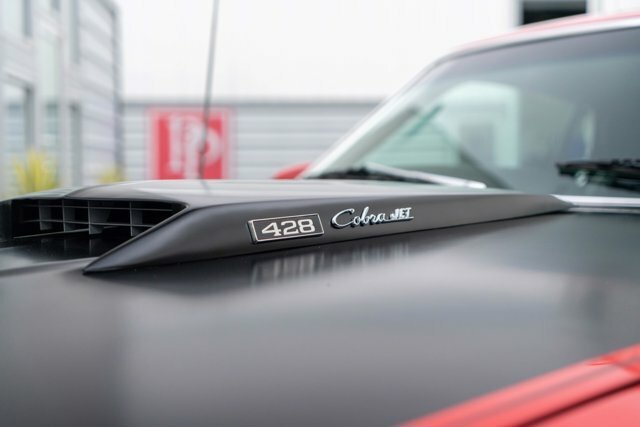 Ford Mustang Mach 1 428 Cobra Jet
$94,950
Bellevue, WA, United States
About This Car
*1969 Ford Mustang Mach 1 Cobra Jet*By 1969, the muscle car wars were in full swing between all of the American car manufacturers. Each year, the different brands were continuing to up the ante, bring
*1969 Ford Mustang Mach 1 Cobra Jet*By 1969, the muscle car wars were in full swing between all of the American car manufacturers. Each year, the different brands were continuing to up the ante, bringing out faster cars and bigger engines in an effort to one up each other. It didn't take long for certain customers to find out about Chevrolet's COPO ordering program which allowed those in the know to option their otherwise unassuming Camaros with 427ci V8s from the larger sedans and Corvette and Ford needed a response to this. 1969 saw the first major revision to the Mustang platform where it grew in length and width while the design got more muscular in the process. The Mach 1 package gave buyers the ability to get the exact car they want, a choice of axle ratios, transmissions, engines, exterior trims and colors helped buyers get the exact cars that they wanted and meant that whether you wanted to equip your Mach 1 for daily driving or drag racing, it was possible from the factory.This 1969 Mustang Mach 1 is one of the highest performing specifications available for the year. Optioned with a Q-Code 428ci Cobra Jet V8 and a C6 Automatic transmission, it was specced for drag racing and was put on the track in Florida until the mid-1970s. Under the hood, lays a Carroll Shelby designed 428 Cobra Jet V8 with a 4 barrel carburetor putting out 335 Horsepower and with gobs of low end torque for getting off the line on a drag strip. This was paired with Ford's notoriously stout C6 automatic gearbox which helped keep the times consistent and was strong enough to put up with hours at the track running the quarter mile. When this car was optioned, the first owner was still interested in having a nice car to drive back and forth to the track and chose an outstanding color combination of Candy Apple Red with a blackout hood treatment and high back bucket seats in comfort weave upholstery on the interior. According to the Marti report which is included, the car was produced 4/9/1969 and arrived to its first owner on 4/26/1969.Watch a Walkaround video here...After the Mach 1 was decommissioned from racing, it sat in storage for decades before it was purchased by a Florida based Mustang specialist in the late 1980s who had his sights set on restoration. He went through the body and added a factory air conditioning system but the project was just not getting finished and in 2017, he sold it to the current owner about 90% complete. Once the car arrived in the Pacific Northwest, the car was entirely re-restored to the highest quality and with a setup more tailored to the local region. The bodywork was carried out by Bernard's Autoworks who laid down a fantastic coat of the original shade of Candy Apple Red and all of the mechanical work was taken care of by Bel-Kirk Mustang in Bellevue, WA. As one of the oldest and most experienced vintage Mustang specialist in the country, they knew exactly what to do to set this car up perfectly to keep the original feel of the car while making it far more usable. Under the car, they stuck with the 428ci Cobra Jet V8 and C6 automatic but added composite leaf springs to give a better ride and better handling while also installing a 3.75 rear axle with posi-traction along with an aluminum driveshaft for better off the line acceleration and an easier time putting the power down. The stock air conditioning system was improved with a modern compressor and a significantly upgraded cooling system with 3 electric fans, an aluminum radiator and external transmission cooler keeps this car and the passengers happy on even the hottest days. The classic Mach 1 Magnum 500 wheels are wrapped in BFGoodrich Comp 2 Radials and what came stock as an AM radio, has now been upgraded with AM/FM Capabilities. In the world of classic Mustangs, the Mach 1 name has taken on a legend of its own and with good reason as it is one of the fastest and best looking classic Mustangs produced. This Mach 1 has been thoroughly sorted and will be happy to join you at your local car show or ripping off quarter mile pulls at the drag strip for years to come.*Additional Information* * Marti Report Included * Restoration ReceiptsView undercarriage photos here...*Optional Equipment* * 428 Cobra Jet V8 * 335 Horsepower * 4bbl Carburetor * C6 Automatic Transmission * Disc Brakes * Power Steering * Air Conditioning * Finned Aluminum Valve Covers * AM Radio * Full Instrumentation * Bucket Seats * Gold Mach 1 StripingFor more information on this 1969 Ford Mustang Mach 1 Cobra Jet or any of our 100+ high-performance sports cars always in stock, contact one of our friendly and knowledgeable sales consultants or always feel free to stop by our Bellevue, WA Park Place Ltd campus - where we have over 40,000 sq ft of indoor showrooms filled with the finest cars. As part of the Park Place Motor Group family, which includes Park Place Aston Martin and Lotus of Bellevue, we always have 150+ High-Performance, Luxury, Exotic, Sports, and Special Interest cars always in our inventory -- Nobody Has What We Have!
Car Details
VAT Type
VAT Excluded
Year
1969
Location
Bellevue, WA, United States
Address
1880 136th Place NE
Mileage
0 mi (0 km)
Engine
8 Cylinder
Gearbox
Automatic
Car type
Coupe
Drive
Lhd
Fuel type
Petrol
Condition
Used
VIN
9F02Q184285XXXXXX
Color
Red
Interior color
Black
Internal Reference
C2045
Contact agent
Park Place Ltd
You have inquired about this listing
The seller will contact you soon by
For Sale by
About
Founded in 1987, the Park Place LTD Motor Group is a locally owned and independently operated specialty auto deale
Founded in 1987, the Park Place LTD Motor Group is a locally owned and independently operated specialty auto dealership located in the heart of Bellevue, WA. The four-acre Park Place Center features the Northwest's exclusive official Aston Martin sales and service center, the Northwest's oldest and largest Lotus dealership, and the Seattle area's only official SAAB store.

Park Place LTD also offers the West Coast's premier selection of pre-owned luxury, sports and exotic vehicles, a diverse inventory of vintage and collector cars, a 15-bay Service Center, and complete Auto Salon that includes the Seattle area's only All-Hand Luxury Car Wash.

Park Place LTD Motor Group is committed to quality, excellence, and serving automotive enthusiasts the world over.

OUR MISSION To earn the trust of our customers with honesty and style. To be successful at selling fine automobiles in a unique, clean, organized and enjoyable customer driven environment. Commit to provide our customers with the highest level of service for all their automotive needs thus retaining them as customers for life.


Registered on JamesEdition
2010
Address
1880 136th Place NE, 98005, Bellevue, WA
Phone number