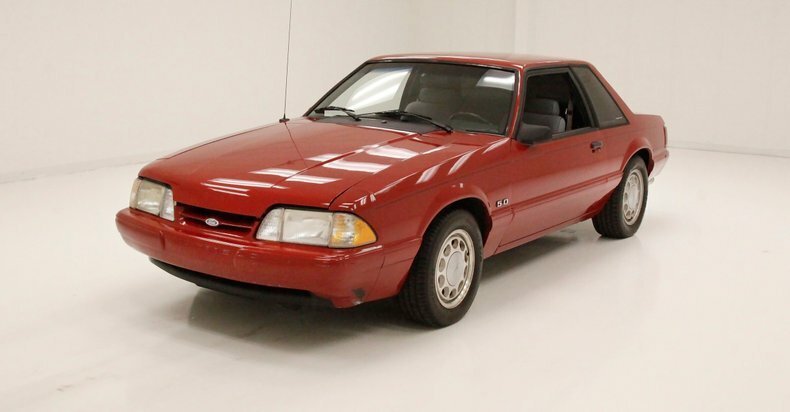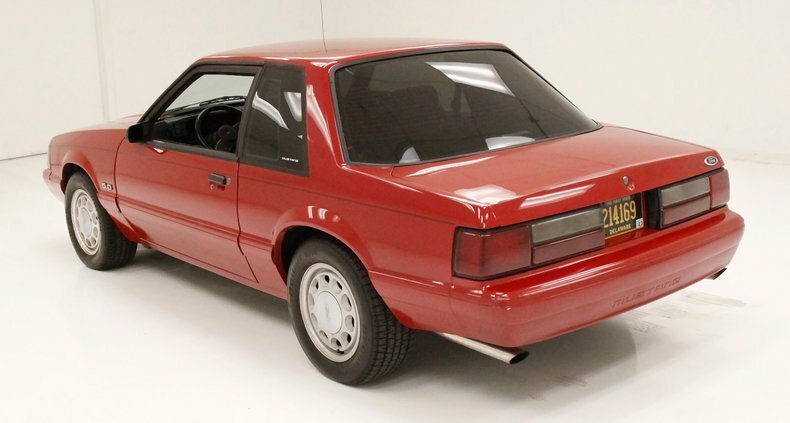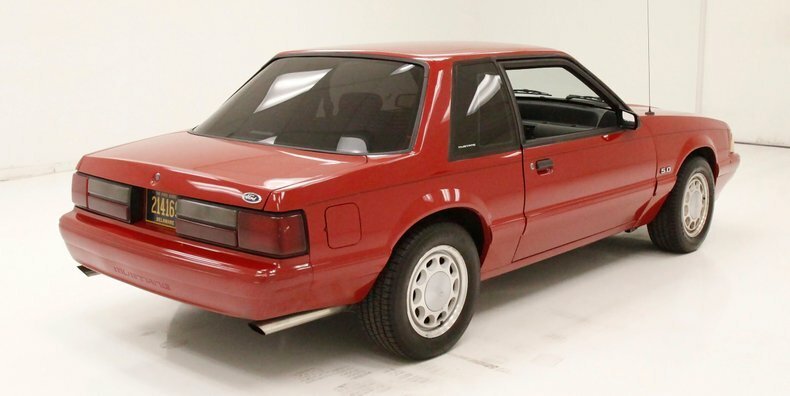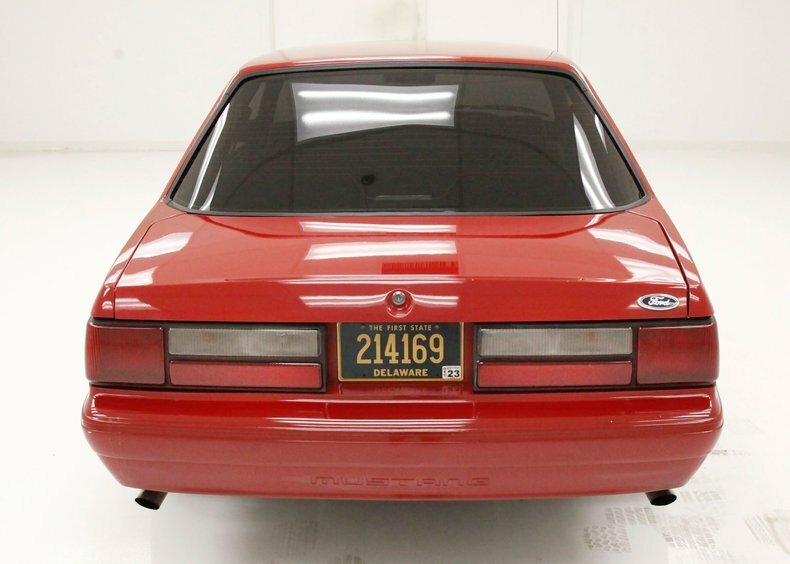 1988 Ford Mustang LX
$24,000
Morgantown, United States
About This Car
1988 Ford Mustang LX
The third generation Mustang is frequently referred to as the Foxbody Mustang since it used the new Fox platform. Foxbody Mustangs were produced between 1979 and 19
1988 Ford Mustang LX 
The third generation Mustang is frequently referred to as the Foxbody Mustang since it used the new Fox platform. Foxbody Mustangs were produced between 1979 and 1993, the longest generation of Mustang to date, though there were several significant body updates made throughout this generation. Though the Foxbody Mustangs were popular at their release, they've only gained popularity in the years since then. The Foxbody has gained a reputation as a modders dream, and with the right modifications this fox can fly.
Here at Classic Auto Mall we await with worms on our breath, (uhh bated breath actually!), to see what will come through the door next. Well every now and again we get a car that is a real gem, an uncut, 97K mile, always garaged notchback model  that runs like new with a 5-speed manual and a limited slip diff.  Shall we say sly?!
Exterior

Paint code 2D bathes this car and in layman's language this translates to Medium Scarlet.The paint is very nice in its respray format and covers straight steel and some neoprene for the bumpers and mixes with sculpted panels that create the look of this iconic iteration of the Fox bodied Mustang.  A few scrapes are noted in the finish but overall the car presents well and it does not get any better than this with excellent minded gaps, perfecto straight rust free panels, and clear plastic headlights and taillights, excellent lower body, and all factory tinted glass.  Badging denotes the 5.0 liter mill that sleeps below the hood...shhhhhhhh, you'll awaken the beast! The rear glass is larger and the roofline is longer on these notchback cars, and their sleeper power could beat most stuff out there at that time. Black accents with door handles, window surround trimmings, and lighting trim add contrast to the Scarlet, and shows off the car as it should.  Clean wrap around rear tail lighting is perfectly placed above the integrated body matching bumper. 15-inch 10 hole wheels are on all 4 corners, and have a nice dull machined looking finish. Dual shiny exhaust tips peek out from underneath the rear roll pan and give this car a menacing sound.
Interior

Gray broadcloth, and gray molded plastic along with some gray carpeting make up the door panels  which have all the button controls within a black end of the armrest. Broad cloth buckets have a slight gray pattern to the inserts, and a just a bit lighter bolster on a medium high back bucket with a headrest. A gray console races past these chairs and has an arm rest which doubles as the console storage lid. Dual cup holders and the black faced panel for the shifter housing meet the dash in the center.  Here we have the AM/FM sound system, Euro inspired temp knobs and finally turning to gray vents and a curved dash top. Extensive use of the mid 1980's square and rectangle design is reserved for the instrument cluster and various squared off buttons on either side. The dash is pristine, as are the carpets which float all seats in a perfect sea of gray thick pile comfort. Gray side panels on the rear frame a rear bench which is shoehorned into the back of the car, but is comfortable once you get there, and complete with armrests.
Drivetrain

An original 5.0 Liter V8 with EFI and cold air intake unit to feed this mill, and we are ready to take on some serious stuff.  A 5-speed manual Tremec T5 transmission is installed on the back and this pushes power back to a Ford 8.8 inch 3.08 TracLoc  rear axle.  All in all just super with factory headers and a Flowmaster exhaust.  Drop the hanky and say C-ya!
Undercarriage

Unremarkable and mostly straight unadulterated black structurally sound steel unibody, floor pans and rockers.  A like new Flowmaster exhaust system snakes its way rearward and features H piping and dual Flowmaster mufflers which are fed by headers.  Independent coil springs for the front suspension, and a 4 link with coil springs for the rear, along with power disc brakes upfront and power drums for the rear are seen underneath in this clean environment.
Drive-Ability

It's not everyday one gets the opportunity to drive notchback version, so my decoder/test dummy?!/copy editor,( now I'm in trouble), cohort and I both took the opportunity and we found a quick starter, smooth runner, and a test track ace with plenty of power, great handling, and good brakes which stopped the car in a straight line.  It also was an excellent cruiser, and produced a nice melodious sound with the exhaust.  All controls were working perfectly and the buckets grab you in a tasteful way, and not molesting you, as everything is within easy reach while seated.
A notchback with some serious power, great sound, and a cloth interior that's a 5 speed.  No match for most cars of the era and year, tinted glass, and the 10 hole wheels and we have a very sly one on our hands for consignment!
1FABP40E1JF194288
1-USA

F-Ford Motor Company

A-Passenger Car

B-Manual Belts

P40-Mustang Notchback LX

E-5.0 Liter V8 225hp

1-Check Digit

J-1988

F-Dearborn, MI Assy Plant

194288-Sequential Unit Number
Classic Auto Mall is a 336,000-square foot classic and special interest automobile showroom, featuring over 650 vehicles for sale with showroom space for up to 1,000 vehicles. Also, a 400 vehicle barn find collection is on display.

This vehicle is located in our showroom in Morgantown, Pennsylvania, conveniently located just 1-hour west of Philadelphia on the I-76 Pennsylvania Turnpike. The website is [hidden information] and our phone number is [hidden information]. Please contact us anytime for more information or to come see the vehicle in person.
Car Details
Year
1988
Location
Morgantown, United States
Mileage
97003 mi (156111 km)
Engine
8 Cylinder
Gearbox
Manual
Car type
Coupe
Fuel type
Petrol
Condition
Used
VIN
1FABP40E1JF194288
Color
Red
Interior color
Grey
Internal Reference
4526_4410
Contact agent
Classic Auto Mall
You have inquired about this listing
The seller will contact you soon by
For Sale by
About
Classic Auto Mall is a 336,000-square foot classic and special interest automobile showroom, featuring over 600 ve
Classic Auto Mall is a 336,000-square foot classic and special interest automobile showroom, featuring over 600 vehicles for sale with showroom space for up to 1,000 vehicles. Also, a 400 vehicle barn find collection is on display. Conveniently located on the Pennsylvania Turnpike just an hour west of Philadelphia and an hour east of Hershey and Carlisle. 
Registered on JamesEdition
2019
Address
6180 Morgantown Road, 19543, Morgantown
Phone number
Listing Reference
4526_4410