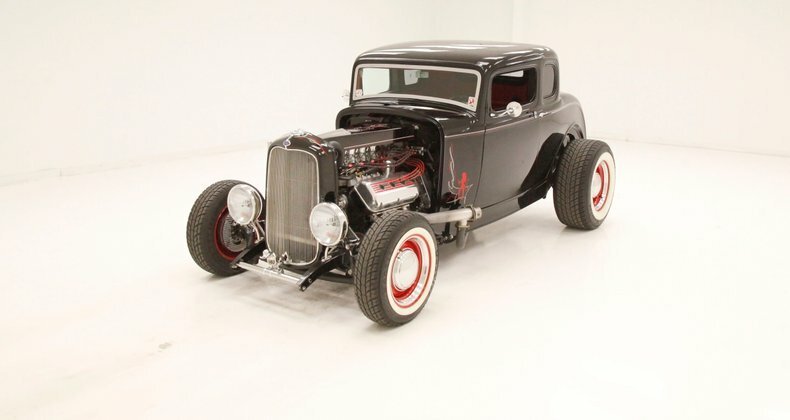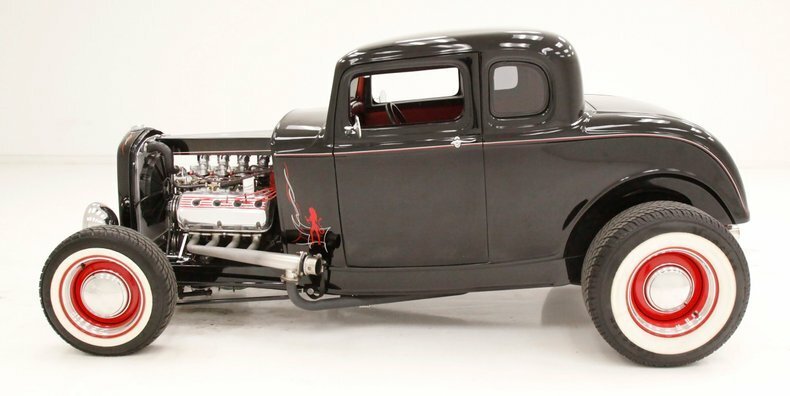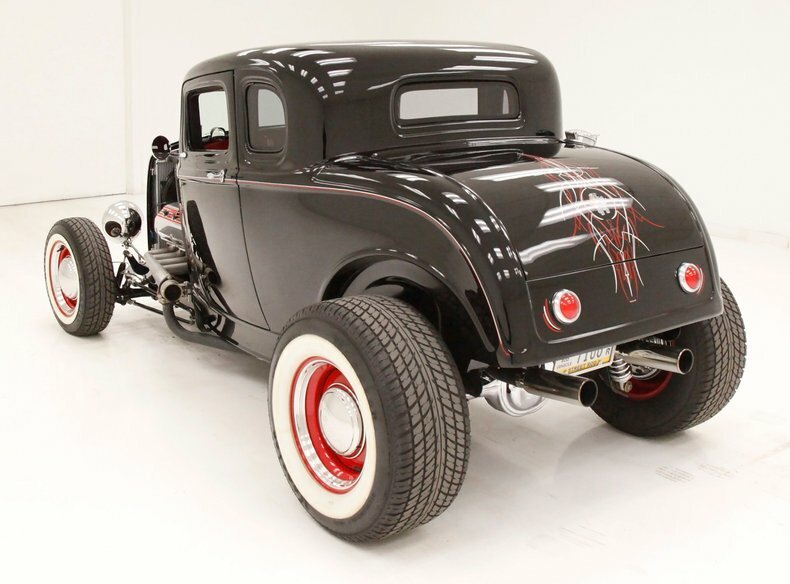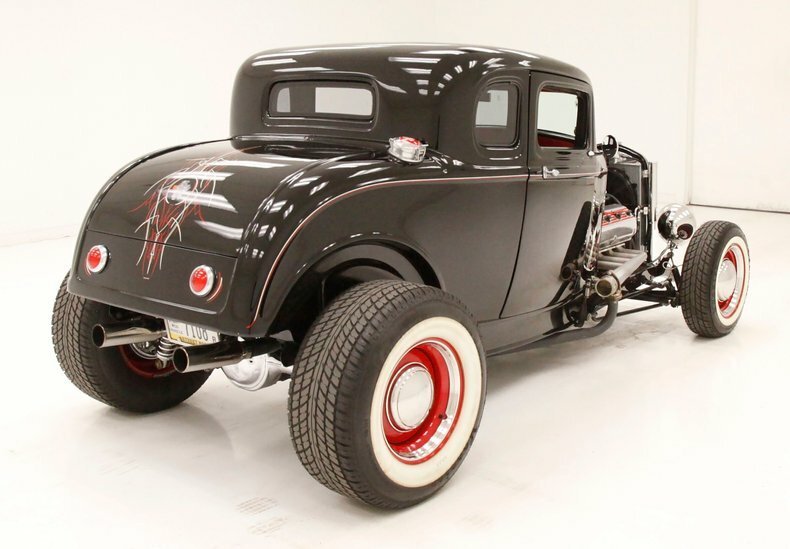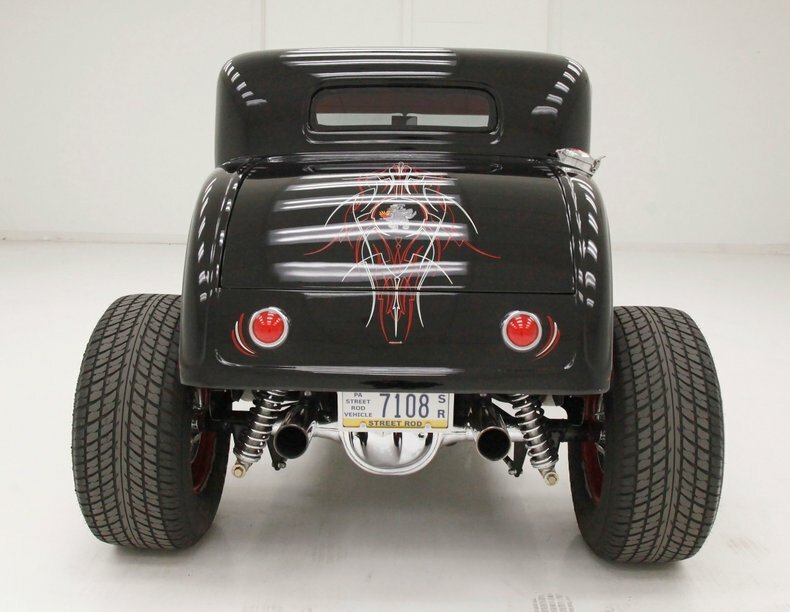 1932 Ford 5-Window Coupe
$49,900
Morgantown, United States
About This Car
1932 Ford 5-Window Coupe
They've been building cars for 71 years since Henry Ford introduced the body style that followed the Model T's 19-year run and the Model A's 4-year stretch. It
1932 Ford 5-Window Coupe
They've been building cars for 71 years since Henry Ford introduced the body style that followed the Model T's 19-year run and the Model A's 4-year stretch.  It was in production for barely a year, and yet to this day, no other car has been as popular among hot rodders as it has.  It is the car that appears more than any other in hot rod enthusiast magazines.  It is the car that has been treated to literally every conceivable form of performance and appearance modification. It is the car that appeared on the very first cover of ROD & CUSTOM.  It is the car that has appeared at least once in every issue of Hot Rod Network going back as far as anyone can remember.  It is the car practically everybody immediately thinks of when they hear the term "hot rod."  We're talking about the '32 Ford, known to you and me simply as the Deuce.
For consignment, the iconic hot rod Deuce in 5 window form.  This one is a Bee-Bop fiberglass body, with a custom "hood", steel grille shell, and a TCI chassis.  With the fiberglass kit, one can go hog wild on the customization and this one is no exception.  Our consignor didn't build this simply for show, he built it to be driven, and it's made the 2 and 4 hour trips to both York and Syracuse for the street rod shows. oink!
Please note, this vehicle is titled as a "Special Construction", the Pennsylvania Department Of Motor Vehicles does not assign a model year to special construction motor vehicles, trailers, etc. Please research with you local, county, state or provincial motor vehicle bureau to ensure that registering and titling of this vehicle is accepted in your area***
Exterior

With a chopped top and well minded gaps for the mixture of steel and fiberglass it's all showing up for the ball in tuxedo black.  A chromed front glass frame adds some highlighting to the front of the car, as do side view mirrors, headlight bezels and the open front suspension.  An open cowl does the trick for this car to show off that beautiful mill and the loads of pinstriping making appearances on the radiator corral, firewall and behind the engine bay make for just the right look and feel baby bear.  On the back a nicely curved downward rear deck has round tail lights with the chrome rear axle and suspension below.  Keeping the flourish pinstripe theme going, the truck lid has been fully decked out and even includes a fire breathing elephant, giving a nod to what lurks up front.  Fenders have been shaved for weight and now we can see 15 and 16-inch red painted steel wheels on the corners with shiny trim rings and Ford logoed dog dish caps.  Like new 7.50R15's are in front and own back for the track are 31x12.50R16LTs both courtesy of Hoosier with Atlas whitewalls.  Which way to the salt flats?
Interior

Custom to say the least with conveniences added.  Noted upfront is a black dash with brushed stainless framing and a V8 etched central insert.  Within this center insert are a 5-some of black face VDO gauges with shiny bezels.  Fronting this work of art is a tilt column from Ididit, topped with an Ididit banjo style rally steering wheel with a black padded rim.  There are power toggles for the tinted glass in the doors, for the cooling fan controller, and Vintage Air has been added. The chairs and door panels use tuck and roll pleated retina searing red colored vinyl and are looking fine and dandy.  Black carpeting floods the floors, and in the middle the parking brake handle resides within its leather boot.  Overall, a nice presentation, even in the electrically operated truck with full black carpeting.
Drivetrain

Peering into the fully exposed engine bay we soak in the totally chrome, black and red detailed 291ci Desoto Hemi V8 circa 1955.  It has an aluminum water pump from Hot Heads as well as their valve covers, distributor and ignition wires.  On top is a Vintage Speed intake and a set of 4 Stromberg carburetors right from jolly old England.  Just behind this mill is a Gearstar 700R4 transmission 4-speed automatic.  On the back is a Ford 9" rear axle that has been dipped in chrome.  Limefire headers, all chromed are on, and we note the installation of electric cutouts so you can really make some noise.  On the cooling end, a Champion aluminum radiator has been installed with a brushless variable speed cooling fan.
Undercarriage

TCI provides the frame and attached to it are Pete and Jake's 4 bar front suspension with a transverse leaf spring and in back is a ladder bar style suspension along with coilovers.  Loaded with quality parts, notable are Super Stopper front disc brakes with 4 piston calipers and drum brakes for the rear.  A glass pack style exhaust steals the exhale from the headers and throws it to the rear of the car.
Drive-Ability 

Starts right up and begins growling immediately.  Move that column shifter to D and let the horses begin to release as you put your riding boots into it.  It handles nicely, is a great cruiser, and all the conveniences added work flawlessly.  Seats are "ultra" comfortable, and this car can make some nice noise.
Meticulous build attention, some of the finest parts, great paint, many conveniences and we have one of the nicest turnkey deuce coupes that has graced our halls in a while.  Hard to find many faults on this build, and hard to resist making a solid buy that will yield years of enjoyment. This car has won plenty of awards, comes with a battery tender and a Deathproof Duck car cover and as of this moment, all it needs is you to continue the winning streak!
Classic Auto Mall is a 336,000-square foot classic and special interest automobile showroom, featuring over 650 vehicles for sale with showroom space for up to 1,000 vehicles. Also, a 400 vehicle barn find collection is on display.

This vehicle is located in our showroom in Morgantown, Pennsylvania, conveniently located just 1-hour west of Philadelphia on the I-76 Pennsylvania Turnpike. The website is [hidden information] and our phone number is [hidden information]. Please contact us anytime for more information or to come see the vehicle in person.
Car Details
Year
1932
Location
Morgantown, United States
Address
PA
Mileage
7487 mi (12049 km)
Engine
8 Cylinder
Gearbox
Automatic
Car type
Coupe
Fuel type
Petrol
Condition
Used
VIN
UTR03427
Color
Black
Interior color
Red
Internal Reference
4916_4730
Contact agent
Classic Auto Mall
You have inquired about this listing
The seller will contact you soon by
For Sale by
About
Classic Auto Mall is a 336,000-square foot classic and special interest automobile showroom, featuring over 600 ve
Classic Auto Mall is a 336,000-square foot classic and special interest automobile showroom, featuring over 600 vehicles for sale with showroom space for up to 1,000 vehicles. Also, a 400 vehicle barn find collection is on display. Conveniently located on the Pennsylvania Turnpike just an hour west of Philadelphia and an hour east of Hershey and Carlisle. 
Registered on JamesEdition
2019
Address
6180 Morgantown Road, 19543, Morgantown
Phone number
Listing Reference
4916_4730