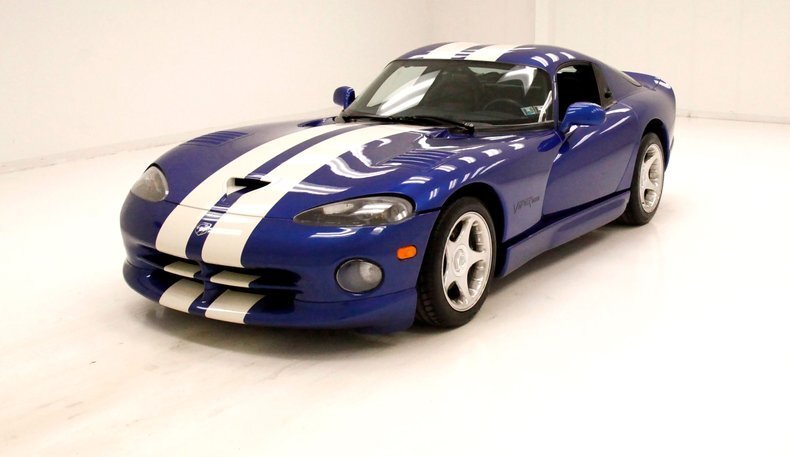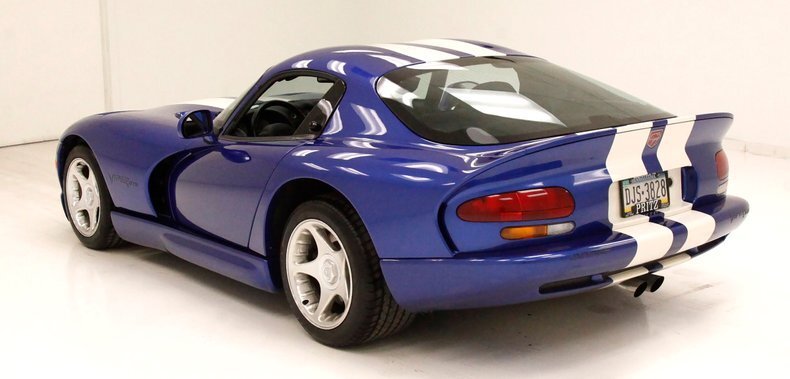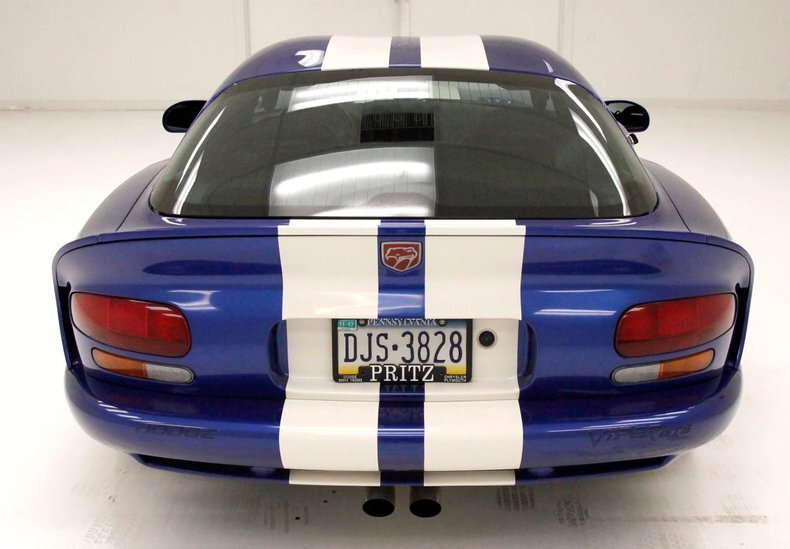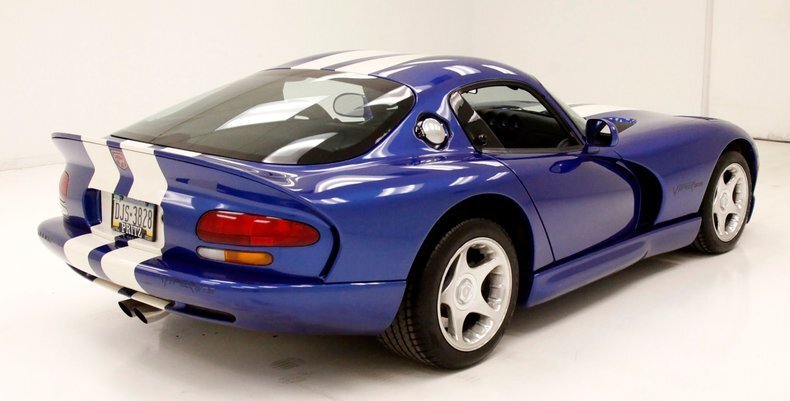 1996 Dodge Viper GTS Coupe
$137,500
Morgantown, United States
About This Car
996 Dodge Viper GTS Coupe
Consider this: Every single Dodge Viper GTS coupe that rolls out of the Conner Avenue assembly plant in Detroit comes equipped with air conditioning, leather u
996 Dodge Viper GTS Coupe 
Consider this: Every single Dodge Viper GTS coupe that rolls out of the Conner Avenue assembly plant in Detroit comes equipped with air conditioning, leather upholstery, power windows, power door locks, dual airbags, an anti-theft alarm and an in-dash CD player with six speakers.  Cushy, cushy, cushy.  Thx to Andrew BornHop from Car Culture!
For consignment, a 1996 version of the Dodge Viper in GTS form..   Meaning more horsepower, more luxury and less weight and with the V-10 it now puts out 450hp to tear up any road you may want to carve through hill and dale.  Only the same year's Porsche 911 Turbo is quicker, but this one has more luxury and features.  A mere 4,553 miles clocked on this 1 owner garage kept beauty and it's definitely like new. Read on!
Exterior

Fiberglass with reinforced plastic is sculpted to create the sexy curvaceous body which is truly all racer.  From the chin spoiler to the mid grille air dam, to the front of the car that curves upward to the long GTS hood with a small air intake in the center, aero head lighting open for all to see on either side of front quarters, along with fog lights in the round on the front corners it's all moving while standing still.  Some shark gills are on top of the front quarters  to keep the brakes  and engine cool, and a cove is created by those front quarters for the doors, just above a wide rocker which creates the thresh-holds.  A wonderfully rounded roofline melts into greenhouse glass which flies upward on the tail to make a rear spoiler.  Careful, the rear tire is right there under the B pillar which melts into the rear quarters that eventually curve around to form the back of the sports car which have the ubiquitous curved tail lighting for all Vipers from their inception.  A body matching neoprene bumper and dual central located exhaust tips under the rear roll pan peek out from under the wide stripes which are running the gamut of the car.  This model bathed in Viper Blue Pearl with white painted stripes, it's all over for the exterior, but it ends in race car greatness, as it appears ready for the track sans the number on the side.  All this rides on 17-inch polished 5 spoke wheels wrapped in the factory 275/40ZR17's in front, and 335/35ZR17's in back.
Interior

Several sacrificial animal hides are applied throughout this interior with its sporty high back curvaceous black leather buckets that are flanked by a wide center console.  The design utilizes seamless construction of this console to melt into the dash in front where climate controls, an AM/FM/CD stereo and on top a 4 count of white faced round gauges to keep your eyes on the vitals of the engine.  In front of the driver are more white faced round gauges deeply unset into a crescent molded dash top that has a few digital readout clusters of warning lights.  A leather wrapped rally style steering wheel reaches for the driver frontage of this dash.  Black carpeting floods the floors, and above is a black headliner.  The doors are completely molded for a clean sleek look and are also in black.
Drivetrain

Stuffed under the forward hinged hood is a massive red headed V-10 8.0 liter mill.  It has EFI and a T56 6-speed manual transmission.  Rear tires are spun by a 3.07 Viper rear axle.  All very clean and very powerful.
Undercarriage

Nearly like the showroom with just a few scuffs on the underside of the front fascia and just plenty of straight structural steel, and cast aluminum suspension which includes independent coil springs for front and rear.  Power disc brakes are all around, and a like new dual factory exhaust its snaking its way to the back off the car.
Drive-Ability

Very seductive, I slipped inside and popped the clutch and was off like a flash to the test track.  Here it had me falling in love with its rail-like handing, neck snapping acceleration, and ease of operation with surprising comfort and plenty of options to keep me occupied.  All in perfect working condition.  Definitely an E ticket ride.
Inspired by Peter Brock's Daytona Cobra Coupe, this GTS is a throwback to the 60's, with its twin stripped exterior, luscious curves and V10 power, right down to the gas filler cap cleverly disguised as a racing fuel filler hinged version.  1 of a mere 1166 versions built, 1 owner and low low original miles, it's worth a look, and then some as it is virtually a new car ripe for the picking from our Hallowed Halls here at Classic Auto Mall.
1B3ER69E6TV200905
1-USA

B-Dodge

3-Passenger Car

E-Manual Belts, Front Airbags

R-Viper

6-Performance Image

9-2 Door Specialty Coupe

E-8.0 Liter V10

6-Check Digit

T-1996

V-Conner Ave Assy Plant

200905-Sequential Unit Number
Classic Auto Mall is a 336,000-square foot classic and special interest automobile showroom, featuring over 850 vehicles for sale with showroom space for up to 1,000 vehicles. Also, a 400 vehicle barn find collection is on display. This vehicle is located in our showroom in Morgantown, Pennsylvania, conveniently located just 1-hour west of Philadelphia on the I-76 Pennsylvania Turnpike. The website is [hidden information] and our phone number is [hidden information]. Please contact us anytime for more information or to come see the vehicle in person.
Car Details
Year
1996
Location
Morgantown, United States
Address
PA
Mileage
4550 mi (7323 km)
Engine
10 Cylinder
Gearbox
Manual
Car type
Coupe
Fuel type
Petrol
Condition
Used
VIN
1B3ER69E6TV200905
Color
Blue
Interior color
Black
Internal Reference
5088_4869
Contact agent
Classic Auto Mall
You have inquired about this listing
The seller will contact you soon by
For Sale by
About
Classic Auto Mall is a 336,000-square foot classic and special interest automobile showroom, featuring over 600 ve
Classic Auto Mall is a 336,000-square foot classic and special interest automobile showroom, featuring over 600 vehicles for sale with showroom space for up to 1,000 vehicles. Also, a 400 vehicle barn find collection is on display. Conveniently located on the Pennsylvania Turnpike just an hour west of Philadelphia and an hour east of Hershey and Carlisle. 
Registered on JamesEdition
2019
Address
6180 Morgantown Road, 19543, Morgantown
Phone number
Listing Reference
5088_4869