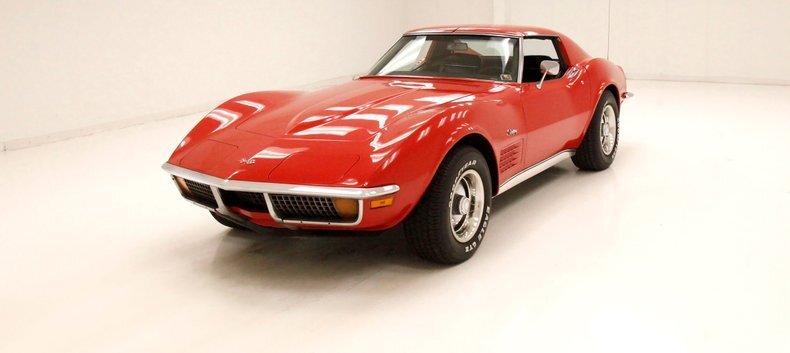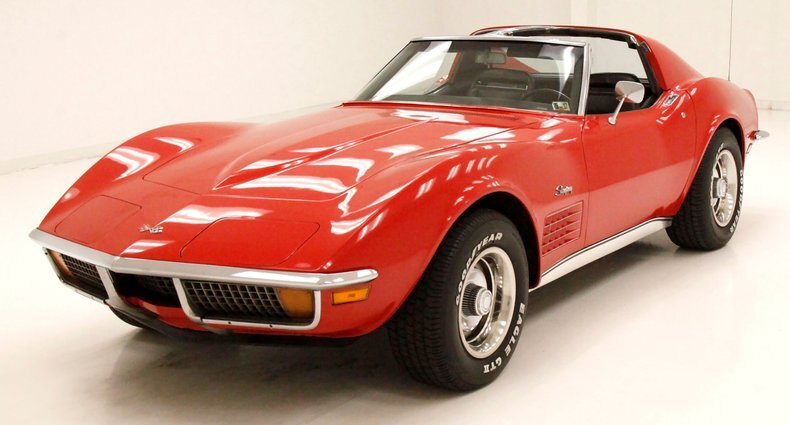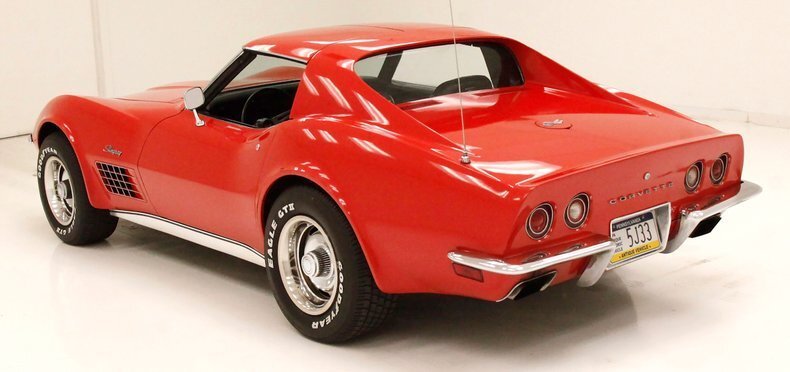 1972 Chevrolet Corvette Coupe
Morgantown, United States
About This Car
1972 Chevrolet Corvette Coupe
For consignment, a 1972 version of the C3 Corvette. This car was purchased at Corvettes at Carlisle in 1995. It underwent an engine rebuild in 1996 and
1972 Chevrolet Corvette Coupe  
For consignment, a 1972 version of the C3 Corvette.  This car was purchased at Corvettes at Carlisle in 1995.  It underwent an engine rebuild in 1996 and has approximately 15K miles on it since said rebuild and the carburetor was changed in 2006.  The car underwent an oil change every year, had a chambered exhaust put on in 08, and has new calipers and brakes installed in 2022.  At this time an electric fan was also installed.
Exterior

Bright Red adorns the exterior, and it is a respray and color change from the tagged Elkhart Green.  We note the badging is correct and the chrome appears in good condition as well.  In lieu of side pipes, we note stainless rocker covers, which add some brightness to the bottom of this car.  The egg crate covering on the air intake on the front fender has a Stingray crossed flag badge above it and is shining brightly.  Hidden headlights and more air intake venting, (gills), are on the sides of the curvaceous front fenders.  Slight body damage is noted particularly around the wheel wells on the right side front and rear.  Areas of paint chip off are seen in these spots as well as some minor cracking.  A vertical rear glass is supported by long flowing flying buttress roof pillars that melts into the flat deck lid on the back.  Wonderful shiny rear bumpers, split in their mind section frame rectangular exhaust tips peeking out from below.  Removable roof panels allow for extra air and sky viewing when removed and the seals for these as well as the chromed T top trimmings are all excellent condition.  Standard Chevrolet rally wheels with deep dish rings are wrapped by Goodyear raised white letter radial Eagle GT2 tires on all 4 corners.
Interior

A swing of the door, and we are greeted with loads of black stitched leather which mixes with some wood grained appliqué on the passenger's door and a peppering of chrome trimming for delineation between these surfaces.  Black carpeting graces the bottoms of these panels and is showing with wear, fade and tearing.  Stylized stitched seating, showing some folding, cracking, and wear off of the black leather, covers high back thin buckets.  A center console races towards the dash and has more wood appliqué surrounding the shift lever and climate control wheels.  These areas show some light dirt and fading.  As we climb up towards the center of the dash there is a Corvette radio which is an AM/FM/Cassette unit, and 5 round gauges inset to monitor all the vitals.  In front of the pilot, nice deep set round gauges are in front of an original steering wheel which is showing slight wear keeping you within the law if you choose to look down.  Note we are still in the manual window crank era, and non power door lock era, so these controls are manual.  For the passenger, no glove box, just leather pouches to store maps etc.  Clean somewhat faded black carpet covers the floors and in back, a fully carpeted rear storage area can hold the roof panels or your gear for those road trips.
Drivetrain

The numbers matching 350ci V8 is nestled into a clean engine bay.  On top, a replacement single 4-barrel carburetor handles the air and fuel mixture, (the original carb is included with your purchase).  Bolted to the back of this mill is the numbers matching Muncie M20 4-speed manual transmission.  An AW stamped 3.08 geared rear axle is reserved for turning the tires.  All numbers matching, and all very nicely presenting..applause please for the powertrain.  As noted dual chambered exhaust has been installed to aid in the exhale and an aluminum radiator with an electric fan is on to keep things cool.
Undercarriage

Straight out of 1972, this structurally sound, with very limited areas of surface rust, clean floor plans, and just plain goodness underneath.  Racy C3 independent coil spring front suspension is noted and in the back we see a frame anchored differential with a transverse leaf spring and independent suspension.  4 wheel power disc brakes are all around with new pad and calipers in 2022 brings things to a halt.  A shout out to the under of the engine emblazoned with correct Chevrolet Orange/Red..nice!
Drive-Ability

The car fired up with a mighty roar and off to the test track I went.  Here it performed nicely, had smooth acceleration, bias free braking and rail like handling.  The wipers were not working, nor was the heater blower and the oil pressure gauge was frozen.  Otherwise is was a great time behind the wheel in the last year of the full chrome bumper era Vette 
Certainly not perfect, but the last year for the chrome and a shapely design prior to the C-4.  A little spit shine and some interior cleanup and you'll be riding in Corvette style.  An American icon at the right price.  Like driving a piece of sculpture.  OOOOOHHHHH HA!
1Z37K2S502389
1-Chevrolet

Z-Corvette

37-Coupe

K-350ci V8 4bbl 200hp

2-1972

S-St. Louis, MO Assy Plant

502389-Sequential Unit Number
TRIM TAG
B17-September 17th 1971

TRIM 404-Black Leather

PAINT 946-Elkhart Green
Classic Auto Mall is a 336,000-square foot classic and special interest automobile showroom, featuring over 850 vehicles for sale with showroom space for up to 1,000 vehicles. Also, a 400 vehicle barn find collection is on display.  This vehicle is located in our showroom in Morgantown, Pennsylvania, conveniently located just 1-hour west of Philadelphia on the I-76 Pennsylvania Turnpike. The website is [hidden information] and our phone number is [hidden information]. Please contact us anytime for more information or to come see the vehicle in person.
Car Details
Year
1972
Location
Morgantown, United States
Address
PA
Mileage
106583 mi (171529 km)
Engine
8 Cylinder
Gearbox
Manual
Car type
Coupe
Fuel type
Petrol
Condition
Used
VIN
1Z37K2S502389
Color
Red
Interior color
Black
Internal Reference
5625_5353
Contact agent
Classic Auto Mall
You have inquired about this listing
The seller will contact you soon by
For Sale by
About
Classic Auto Mall is a 336,000-square foot classic and special interest automobile showroom, featuring over 600 ve
Classic Auto Mall is a 336,000-square foot classic and special interest automobile showroom, featuring over 600 vehicles for sale with showroom space for up to 1,000 vehicles. Also, a 400 vehicle barn find collection is on display. Conveniently located on the Pennsylvania Turnpike just an hour west of Philadelphia and an hour east of Hershey and Carlisle. 
Registered on JamesEdition
2019
Address
6180 Morgantown Road, 19543, Morgantown
Phone number
Listing Reference
5625_5353