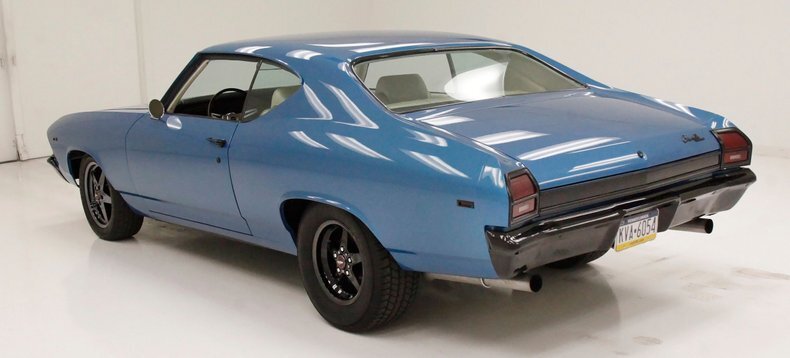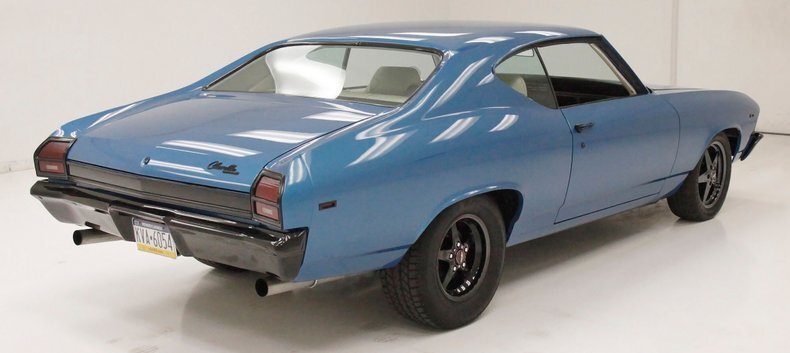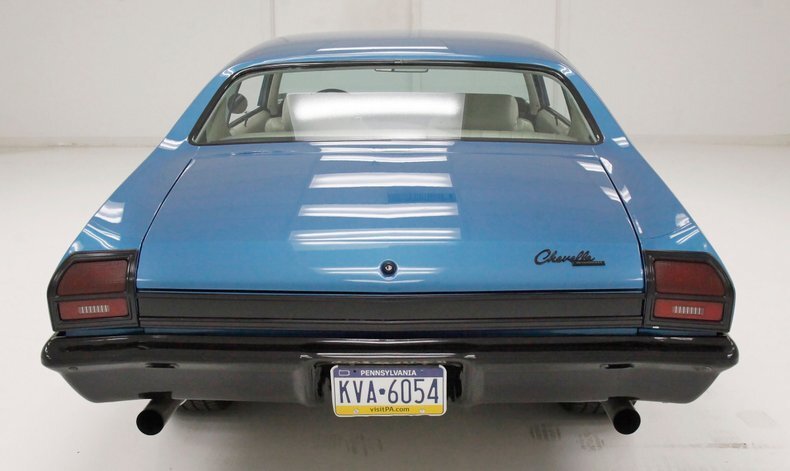 1969 Chevrolet Malibu Chevelle
Morgantown, United States
About This Car
1969 Chevrolet Malibu Chevelle
The storied Chevelle is one of those timeless designs that looks good no matter how it's built. Stock, modified, race, pro-touring, whatever; the clean li
1969 Chevrolet Malibu Chevelle
The storied Chevelle is one of those timeless designs that looks good no matter how it's built.  Stock, modified, race, pro-touring, whatever; the clean lines and balanced stance on these tough classics create a confident swagger that's universally admired.  That means, if you're looking to ride in style, you really can't go wrong with a Chevrolet A-Body.  And when you factor in this ride's big block drivetrain, tastefully restored interior and first rate, all-American sheet metal, you get the picturesque profile of an incredible muscle car!
For consignment, a Chevrolet Malibu Chevelle from 1969.  A mostly original looking car for the exterior but with a snappy engine under the hood, a beautifully contrasting interior, disc brakes, and there is now lowered suspension to provide the ride.  The beneficiary of a nearly 4 year long restoration and if you aren't totally in love with the blacked out trim, then scroll through our photos as the consignor is including all the chrome and stainless with the exception of a front bumper.  Are you ready to assume the classic role of good and evil in this Harvey Dent and "Two Face" style Chevelle? 
Exterior

A side view has this car setup with a very neutral but lowered stance, giving the car a very racy look.  To add to the effect, it is bathed in a nearly flawless coating of Lemans Blue paint which looks so good I'm almost ready to get my swimming trunks out and go for a dip in the sea of blue.  The metal is nearly perfect thanks to being a Nevada car most of it's life and what wasn't up to snuff was replaced.  NOS GM rear quarter panels and NOS front fenders were installed during the redux and the tail panel is courtesy of AMD.  A few minor chips are noted in the finish and we see a crack in the paint just below the passengers door handle, but those are about the only flaws.  Most of the side trimmings have been left off, and the ones still visible have been finished in sinister black.  A nicely curving rear glass melts seamlessly into the trunk lid and moves to the back of the car where angled inward tail lighting is seen on each corner.  Blacked out bumpers and window trimmings are looking nice and shiny, and other than the blacked out Chevelle badging on the header panel and trunk lid we are in a calm sea of blue.  Keeping with the blacked out theme is a rear filler panel, tail light bezels and the halo headlight highlighted egg crate grille.  Black chrome 17 and 15-inch Race Star Industries wheels are wrapped in 225/55R17's in front, and 275/60R15's on back for that extra smokkin'.
Interior

Nicely straight Iridescent Parchment vinyl covered door panels are on the inside of the 2 doors, along with some blacked out cranks and door actuators.  Thin strips of chrome delineate different panels and add to the allure.  Moving inside we see twin front bucket seats and a sprawling rear bench.  The seats are also covered in Iridescent Parchment vinyl and have some smooth bolsters on the seats and backs and shallow tuck and roll inserts with some dress up buttons on the backs.  The headrests are present as well on these chairs and in the back, the bench seat appears to never have been sat in.  All this seating is floating in a sea of clean and fade free black carpeting.  Racing between the buckets and covering the hump is a correct black plastic console with a small storage compartment and silver inlay around the chrome handled Hurst shifter.  The original dash styling has been retained and houses a bevy of gauges within the deeply inset larger pods and includes the speedometer, engine vital monitoring gauges and a factory tachometer.  Wedged between the 2 large gauges is a factory clock.  A black rimmed and brushed steel spoke rally style steering wheel is fronting this near flawless dash.  In addition, the factory heater slides are present in the center of the dash and just below is the opening where the factory radio once lived.  Above a Parchment headliner shows a few wrinkles and we note the dome light is working as designed.
Drivetrain

As we lift the hood we can unequivocally say "Toto we are not in Kansas Anymore!".  Here we see a very large circa 1968 427ci V8 stuffed into the engine bay that has been fitted with a forged crankshaft, Scat rods, and KB pistons.  It has cast iron cylinder heads with a full Comp roller valvetrain and is fed air and dinosaurs via single Holley 4-barrel 800cfm double pumper carburetor and an Edelbrock Performer RPM intake.   A Muncie M22 transmission in manual format with a 11-inch Ram clutch, new front bearing, bearing retainer, seals, tailshaft bushing and speedometer gear is bolted on the back and a 12-bolt rear with Positraction and 3.73 gears is now on to spin the wide rear tires.  The engine is a very nice presentation with a concerto of cast aluminum, polished valve coverings, a chrome air cleaner lid, and it's making use of all supple hoses, and clean concise wiring.  Lookin' good under this hood.
Undercarriage

A coating of black covers the undercarriage.  Floor pans, rockers, and suspension parts are involved without any surface rust to be noted.  Our consignor states that the flooring and trunk pan are factory originals.  Power disc brakes are on the front and in the rear, we have power drum brakes.  For the suspension we note an independent front coil spring arrangement with 2" drop spindles and 1" drop springs and in the rear we see a 4 link with adjustable upper control arms, boxed lower arms, and more coil springs.  The removal of spent fossils are handled by long tube headers and a pair of Black Widow Venom mufflers on the 3" dual exhaust system.  

Drive-Ability

A quick fire up, and on the test track is performed just swimmingly.  Plenty of power from that "custom engine", ability to stop on a dime for the big disc brakes now on front, and the interior is comfy with the redone bucket seats in front.  A good driver and excellent cruiser that likes to lift the front end a bit when one gets a bit goosey with their boot!  All was operating as it should during my tenure behind the wheel save for reverse lights that wouldn't light.
A nice example of the Chevrolet Malibu Chevelle with the potential to be a real Jekyl and Hyde depending on your mood.  But to be clear it's a Malibu Chevelle with a built 427ci V8, some new suspension, and lots of painstaking attention to detail in the build.  The paint is very nice, as is the interior....so the final question begs...Which version do you want to drive today?
136379Z332159
1-Chevrolet

36-Malibu V8

37-2 Door Hardtop Sport Coupe

9-1969

Z-Fremont, CA Assy Plant

332159-Sequential Unit Number
TRIM TAG
ST [hidden information] Malibu 2 Door Hardtop Sport Coupe

BDY BF155011-Fremont Body #

TR 790-Parchment Vinyl Bench

B80-Drip Rail Moldings

PNT 71E-Lemans Blue, Parchment Top

02A-1st Week February
Classic Auto Mall is a 336,000-square foot classic and special interest automobile showroom, featuring over 850 vehicles for sale with showroom space for up to 1,000 vehicles. Also, a 400 vehicle barn find collection is on display.  This vehicle is located in our showroom in Morgantown, Pennsylvania, conveniently located just 1-hour west of Philadelphia on the I-76 Pennsylvania Turnpike. The website is [hidden information] and our phone number is [hidden information]. Please contact us anytime for more information or to come see the vehicle in person.
Car Details
Year
1969
Location
Morgantown, United States
Address
PA
Mileage
18100 mi (29129 km)
Engine
8 Cylinder
Gearbox
Manual
Car type
Sedan
Fuel type
Petrol
Condition
Used
VIN
136379Z332159
Color
Blue
Interior color
Green
Internal Reference
5624_5352
Contact agent
Classic Auto Mall
You have inquired about this listing
The seller will contact you soon by
For Sale by
About
Classic Auto Mall is a 336,000-square foot classic and special interest automobile showroom, featuring over 600 ve
Classic Auto Mall is a 336,000-square foot classic and special interest automobile showroom, featuring over 600 vehicles for sale with showroom space for up to 1,000 vehicles. Also, a 400 vehicle barn find collection is on display. Conveniently located on the Pennsylvania Turnpike just an hour west of Philadelphia and an hour east of Hershey and Carlisle. 
Registered on JamesEdition
2019
Address
6180 Morgantown Road, 19543, Morgantown
Phone number
Listing Reference
5624_5352