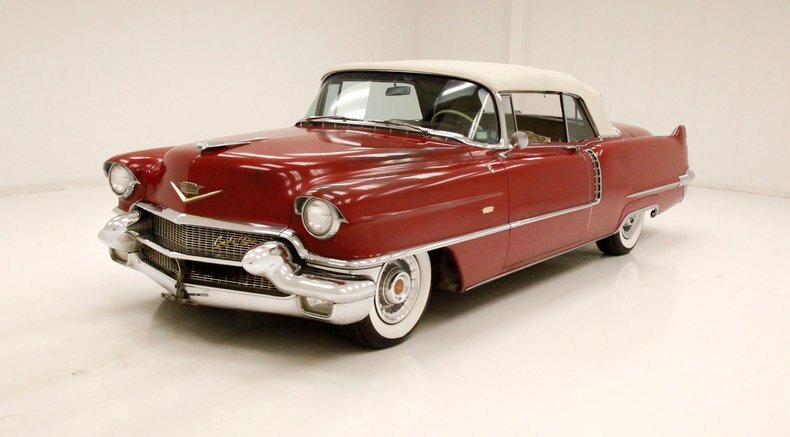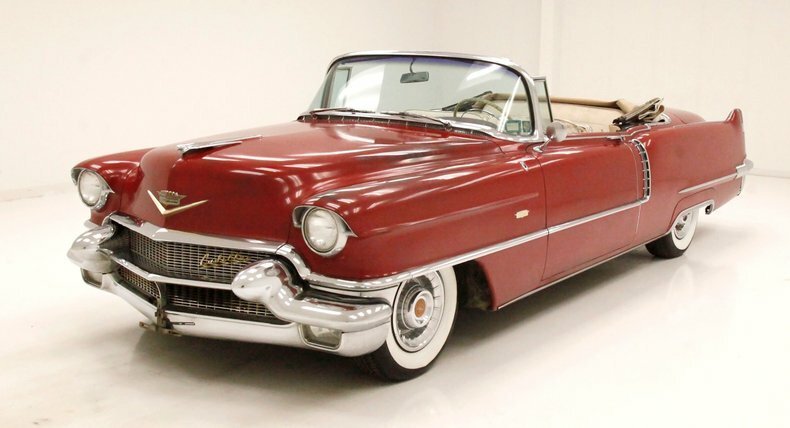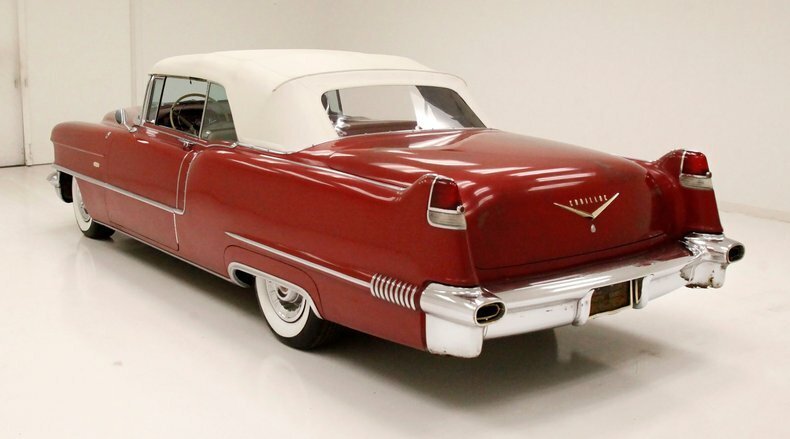 1956 Cadillac Series 62 Convertible
$54,900
Morgantown, United States
About This Car
1956 Cadillac Series 62 Convertible
There is nothing like being behind the wheel of a 1950's Cadillac. This is at a time when the designers at GM were spot on, and they almost could pr
1956 Cadillac Series 62 Convertible 
There is nothing like being behind the wheel of a 1950's Cadillac.  This is at a time when the designers at GM were spot on, and they almost could predict with sharpshooter accuracy what the public wanted, and they delivered.  Making use of plenty of steel, even more chrome, and luxurious top notch materials, and throwing in more conveniences than you can shake a stick at, the gig is up.  Anyone with some cash in their pocket that showed up to a dealership and saw one of these land yachts would plunk down the cash and the status would begin.  Welcome to the 1950's excess.
For consignment, a true survivor that has more eye ogle factor than a centerfold, more chrome than Carter has liver pills, and more luxury than the average present day 5 star hotel.  It comes to us in the form of a 1956 Series 62 Convertible.  It sports its original factory paint, and interior, has a new convertible top, and has more consignor stated matching numbers than the Mega Millions lotto.  All given the recent once over for the mechanicals, rebuilding the entire drivetrain, and various systems, just hop in, turn the key and show.
Exterior

The original Mandan Red paint is covering huge steel panels with fairly well minded gaps.  There are some signs of age particularly in the trunk lid, hood and other panels exposed to the sun for 66 years.  A few scratches on the lower end, but given its age, amazingly preserved.  This red serves as a backdrop for chrome that just says holy sh*!.  On the rotund hood leading the way is the gold V with the cloisonné  Caddy crest in its center.  Just above a hood goddess looks over the road, and gives the driver a visual cue on how close to come to the curb when parallel parking this beast.  A chromed cellular front grille resides between the outward V shaped bumpers that have massive DD size dagmars, all in chrome, protecting the grille and lower bumper.  A Cadillac badge in your grandmother's handwriting and in gold is seen on the drivers side within the front cells.  Single headlights have baseball cap visors above, and flank the grille on either side.  Starting mid grille and extending to just past the doors a chromed trim spear runs rearward and makes a vertical turn upward just prior to the rear quarter bump up, and sports some pitot tube-esque trimmings.  On the rear quarter, trimmed fender skirts have another spear just above that ends in vertical ribs just prior to the massive rear bumper.  Just above are the fin tips which have the tail lighting on their edges and within that big chrome bumper are oval exhaust tips.  The white convertible top is new and presents as such with a clear plastic rear window.  This car floats on wide white 235/75R15's on all 4's, and these have turbine style central badged chrome wheel coverings.  The car's low ride height is emphasized by the wheel wells and fender skirts covering half the tires.
Interior

A swing of the doors and again originality is the key here which has plenty of patina painted metal, white and red leather and chromed levers and cranks.  Power window toggles reside here as well.  Going across the threshold we feel like celebs on the red carpeting as the original carpeting has been replaced with new.  A full split back bench has red leather tuck and roll inserts, and white leather bolsters and backs.  The leather is showing folds with its age and the white is soiled in the corners, where stitching has come undone as well.  A large chromed trimming is at the edges of these seats.  A wrap around dash goes with the flow of the panoramic front glass, and has a red padded dash top.  Pure GM here with the horizontal crescent speedo and various other gauges below all in chromed panels for knobs and pulls, a central cell pattern in chrome from the center to the passenger where the radio and clock reside.  Below is another rounded over steel panel which has the ash receptacles and glovebox and is bathed in white.  The white steering wheel is showing some cracking but has a full circle horn ring in its crested badged center hub.  Very nice wraparound dash which greets the door panels seamlessly and makes you feel like you are in Buck Rogers capsule headed towards the moon. Lest we forget the spacious red and white rear bench in the matching pattern as the front format.  This has been nicely preserved and shows less wear on the leather.  Chromed ash receptacles and window toggles are here for the taking for the passengers who will reside in back.
Drivetrain

A lift of the giant hood reveals a consignor stated original numbers matching 364ci V8 mill.  It has a single 4 barrel carb on top, and a correct 4-speed Hydramatic automatic transmission on back.  This throws power to a 3.07 rear axle.  As noted this entire mechanical system has been rebuilt and shows nice patina and originality and not too much bling as to any resprays.
Undercarriage

More patina undercoating and some surface rusting on the usual suspects.  The underside of the rear bumper has some invasive rust rotting through the chrome, mainly at the exhaust go throughs.  Newer stock dual exhaust snakes its way past the surface rusted X framing, and patina undercoated stamped steel floor pans.  In front we see some heavier surface rust, along with independent coil springs and on back leaf springs.  Power drum brakes are on each corner.  Noted new brakes, shoes, wheel cylinders, hardware, and hoses are now making up this stopping system, and help bring this chromed freight train to a stop with ease.
Drive-Ability

Fit for a king and the ride is beautifully executed with the big sculpted artwork of iron trudging down the test track, lumbering around turns that my lucky passenger did not even realize I was taking!  Solid bias free braking, snappy acceleration for a big car, and the top moved up and down with ease electronically.  I noticed the wipers did not move, but all else worked swimmingly.
A real survivor which is worth more now than if you would pour the cash into it making it perfect, as its ORIGINAL!  It's a SURVIVOR.  It's a CADILLAC.  ELVIS is in the house!
[hidden information]
56-1956

62-Series 62

015788-Sequential Unit Number
TRIM TAG
STYLE NO 56 6267X-1956 Series 62 Convertible

BODY NO FW1109-Fleetwood Body #

TRIM NO 28X-Red & White Leather

PAINT NO 50-Mandan Red

ACC EH

E-EZ Eye Glass

H-Heater
Classic Auto Mall is a 336,000-square foot classic and special interest automobile showroom, featuring over 650 vehicles for sale with showroom space for up to 1,000 vehicles. Also, a 400 vehicle barn find collection is on display.

This vehicle is located in our showroom in Morgantown, Pennsylvania, conveniently located just 1-hour west of Philadelphia on the I-76 Pennsylvania Turnpike. The website is [hidden information] and our phone number is [hidden information]. Please contact us anytime for more information or to come see the vehicle in person.
Car Details
Year
1956
Location
Morgantown, United States
Address
PA
Mileage
58560 mi (94243 km)
Engine
8 Cylinder
Gearbox
Automatic
Car type
Cabriolet
Fuel type
Petrol
Condition
Used
VIN
5662015788
Color
Red
Interior color
Red
Internal Reference
4685_4541
Contact agent
Classic Auto Mall
You have inquired about this listing
The seller will contact you soon by
For Sale by
About
Classic Auto Mall is a 336,000-square foot classic and special interest automobile showroom, featuring over 600 ve
Classic Auto Mall is a 336,000-square foot classic and special interest automobile showroom, featuring over 600 vehicles for sale with showroom space for up to 1,000 vehicles. Also, a 400 vehicle barn find collection is on display. Conveniently located on the Pennsylvania Turnpike just an hour west of Philadelphia and an hour east of Hershey and Carlisle. 
Registered on JamesEdition
2019
Address
6180 Morgantown Road, 19543, Morgantown
Phone number
Listing Reference
4685_4541