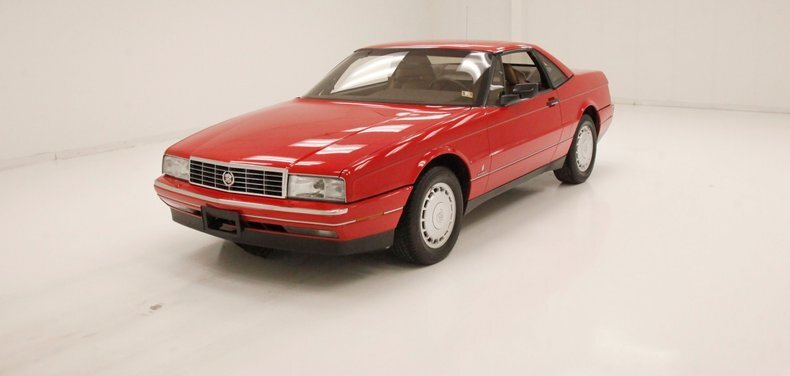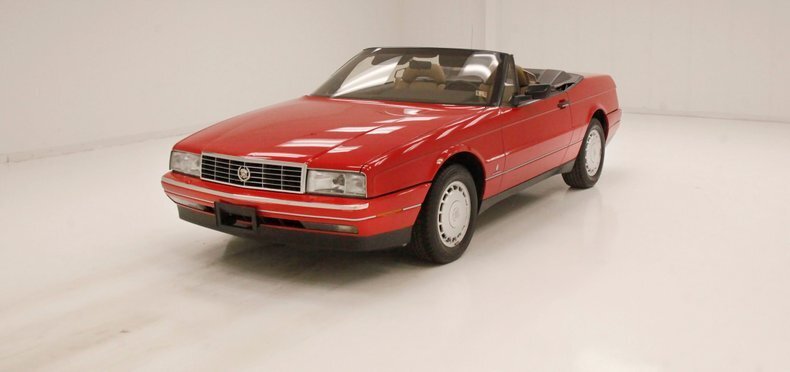 1988 Cadillac Allante Roadster
$18,400
Morgantown, United States
About This Car
1988 Cadillac Allante Roadster
Heading into the mid-1980s, then, Cadillac had to create something new if it wanted to remain competitive in the luxury car market; it needed an automobile
1988 Cadillac Allante Roadster
Heading into the mid-1980s, then, Cadillac had to create something new if it wanted to remain competitive in the luxury car market; it needed an automobile that captivated the masses and that people could aspire to–a truly world-class car.  Cadillac wanted to harness the prestige of European design and the skill of a renowned coach builder in order to compete with Mercedes and Jaguar.  Enter the Allanté.  Originally created under the code name "Callisto," the Allanté was designed and built in Turin, Italy, by noted coach builder Pininfarina.  It was a true Italian American offspring, because below its sleekly styled Italian bodywork rested an American V-8 engine and transmission as well as other reliable mechanical systems.  In all respects, the Allanté represented the best of both countries, a car imbued with an impeccable pedigree of style.
For consignment, a non-Northstar, Pininfarina design with a low 24,344 title verified original miles and a convertible top.  And if this is not enough this car comes with a matching hardtop, EFI and a litany of toggles and sliders, even the lights have their own panel!  A beautifully preserved interior, and we present a nearly new 1988 Cadillac Allante roadster.
Exterior

Brilliant Red for those of that mindset, and all in very nice condition.  Straight steel panels, although much smaller than its predecessors which were behemoth compared to this designed to compete with the euro upscale market car.  Tasteful chrome trimmings abound, and a nice shiny front grille leads the way.  Just a light peppering of chrome in small trim lines which work the sides around the beltline and the top edges of each bumper.  Black flarings jut out from the front below the grille and also adorn the rockers as a flared trim piece. This 2-seater offers up plenty of trunk space and just below the lid are a car width running cluster of rear tail lights, backup lights, and turn signals as well as parking lighting.  Standard Cadillac wheels are all around wrapped in blackwall rubber from the 3rd week of 2019.  Don't forget the convertible top, which is attached to the car permanently, and presents in black canvas with a glass rear window.  Also, the exterior matching hardtop comes with for those colder weather drives.
Interior

For the door panels a fine mixture of saddle leather, molded taupe upper panels, and finally some carpet and the stage is set for the remainder of the interior.  Gracefully aged leather in a saddle huecovers the 2 buckets.  These seats are power adjustable and offer up many ways to get it just right.  A multi-tiered center console with armrest, glovebox, and more tan plastic surrounding the leather booted shift lever that fits snugly between the buckets.  Rising out of this console is an angled taupe panel with tiers of an AM/FM/Cassette sound system, a plethora of push buttons, a digital readout of trip and timing info, fuel economy monitoring, and an exterior temp monitor.  Directly above is another tier with climate and fan controls.  In front of the driver is a square and rectangle design dash, black panels and various controls set within.  The gauge cluster is in the center and features a mix of LCD and analog gauges throughout.  The original steering wheel fronts this techno dash that will keep the driver busy for weeks.  Nice clean light gold, (tan), carpet covers the floors and is protected by plastic stick on covers.
Drivetrain

A pop of the hood, and we can see a well maintained and very shiny with no corrosion 4.1-liter V8 capable of 170hp.  This engine has EFI and on the back is a 4T80E 4-speed automatic transmission sending power to a 2.95 geared front axle.  Very nice presentation of this nifty pre-Northstar V8.
Undercarriage

No rust underneath with straight rust structural steel all over.  All is solid and fairly clean underneath.  Independent coil springs for the front suspension  and a transverse leaf spring is noted in the rear, and power disc brakes adorn all 4 corners.
Drive-Ability

This sporty Caddy fired right up and performed flawlessly on the test track.  It handled very nicely, had good acceleration, and performed with a beautiful quiet low RPM cruise.  Stopping was great, and I found all controls in working order.  The top moves up and down manually with ease and the hardtop took two of us to install, but it was done so fairly effortlessly.
Actual low miles, a smaller body style, sporty 2-seater lives up to the challenge for the euro luxury sports competition.  A convertible and hardtop are a really nice thing to have as it permits all season enjoyment of this car.  The car is in overall beautiful preserved condition, and if you like buttons and convenience controls, then look no further as this one can keep a 737 pilot busy!
1G6VR3170JU101366
1-USA

G-General Motors

6-Cadillac

VR-Allante

3-Convertible

1-Manual Belts

7-4.1L V8 170hp

0-Check Digit

J-1987

U-Hamtramck, MI Assy Plant

101366-Sequential Unit Number
Car Details
Year
1988
Location
Morgantown, United States
Address
PA
Mileage
24344 mi (39178 km)
Engine
8 Cylinder
Gearbox
Automatic
Car type
Other
Fuel type
Petrol
Condition
Used
VIN
1G6VR3170JU101366
Color
Red
Interior color
Brown
Internal Reference
5023_4814
Contact agent
Classic Auto Mall
You have inquired about this listing
The seller will contact you soon by
For Sale by
About
Classic Auto Mall is a 336,000-square foot classic and special interest automobile showroom, featuring over 600 ve
Classic Auto Mall is a 336,000-square foot classic and special interest automobile showroom, featuring over 600 vehicles for sale with showroom space for up to 1,000 vehicles. Also, a 400 vehicle barn find collection is on display. Conveniently located on the Pennsylvania Turnpike just an hour west of Philadelphia and an hour east of Hershey and Carlisle. 
Registered on JamesEdition
2019
Address
6180 Morgantown Road, 19543, Morgantown
Phone number
Listing Reference
5023_4814