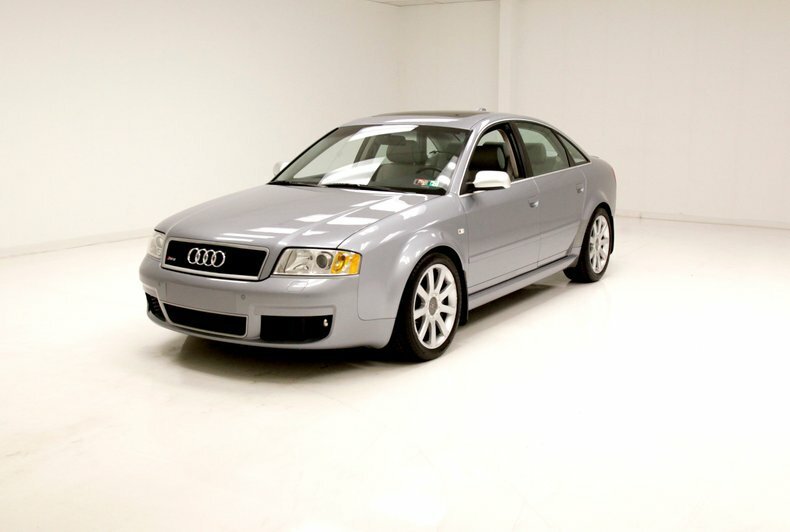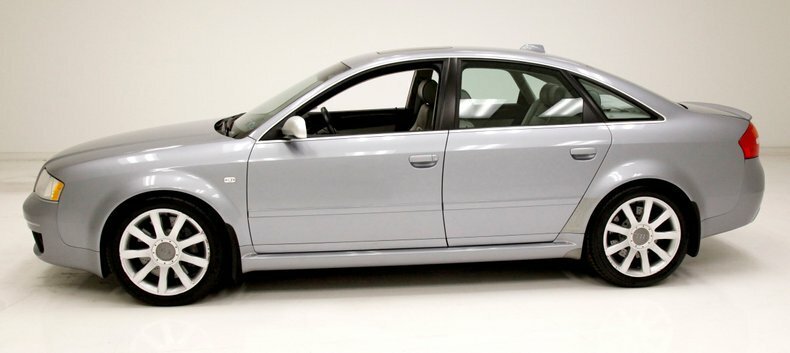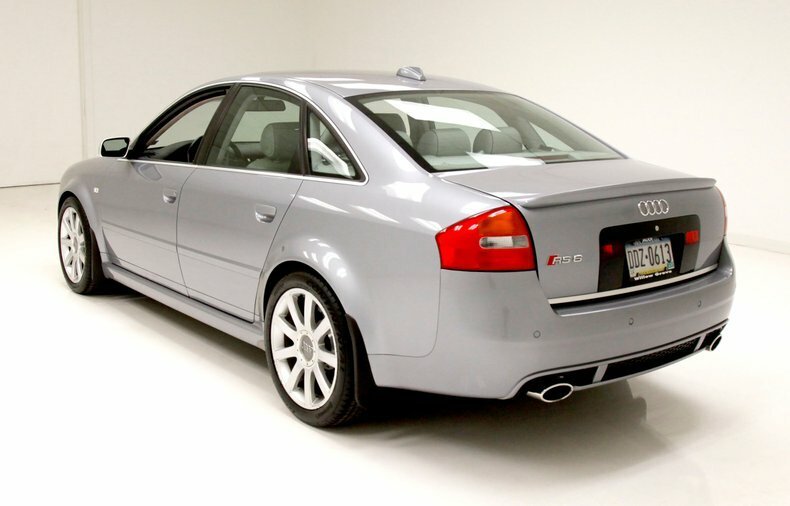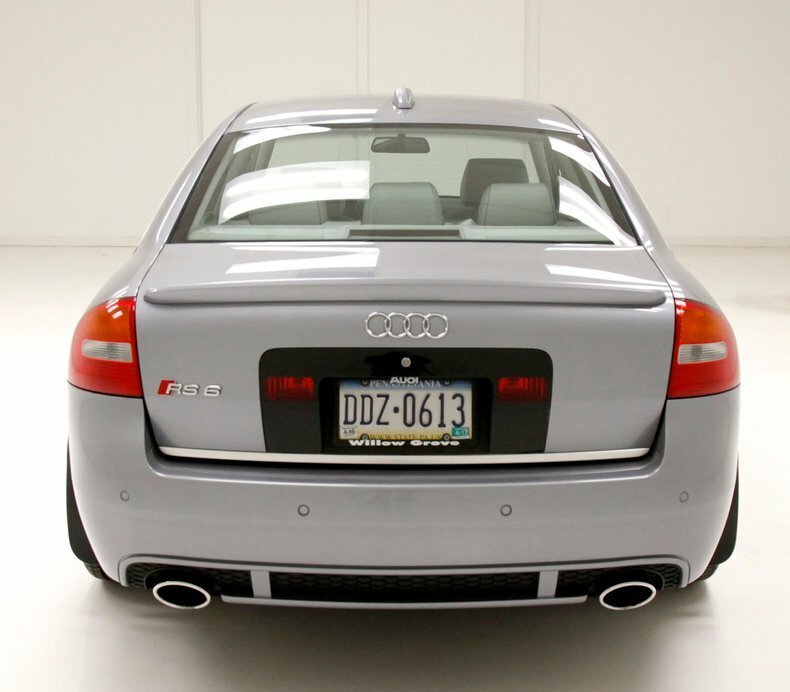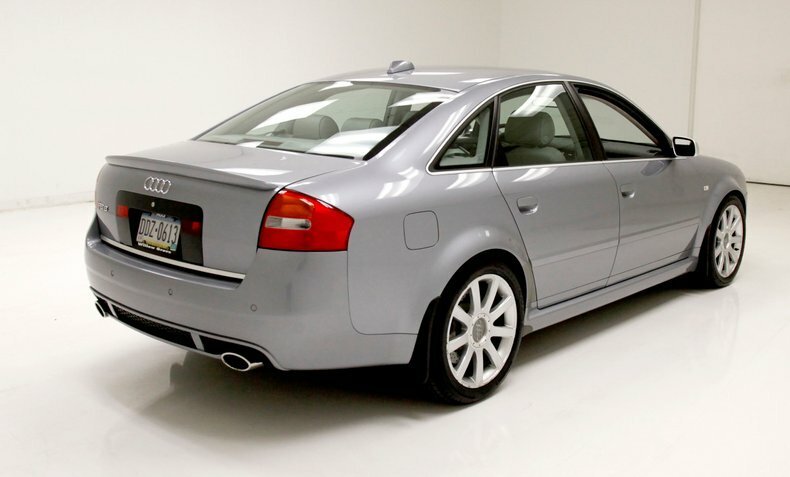 2003 Audi RS 6 Quattro AT5
$41,900
Morgantown, United States
About This Car
2003 Audi RS 6 Quattro AT5
The company name Audi is based on the Latin translation of the surname of the founder, August Horch. "Horch", meaning "listen" in German, becomes "audi" in Lat
2003 Audi RS 6 Quattro AT5
The company name Audi is based on the Latin translation of the surname of the founder, August Horch. "Horch", meaning "listen" in German, becomes "audi" in Latin. The four rings of the Audi logo each represent one of four car companies that banded together to create Audi's predecessor company, Auto Union. Audi's slogan is Vorsprung durch Technik, meaning "Being Ahead through Technology". Audi, along with fellow German marques BMW and Mercedes-Benz, are among the best-selling luxury automobile brands in the world.
For consignment, a land based rocket ship disguised as an Audi RS6 Quattro AT5. To break that name down tells us much: RS means Racing Sport, the 6 is the model designation of the V8 twin turbo engine, quattro designates all-wheel drive and AT5 designates the automatic transmission, and it is a 5-speed. Quite the car, and quite the low mileage 28,397, and very well taken care of.
Exterior

All aero European rounded over surfaces and integrated lights and door handles this car can cut through the air like a hot knife through butter. Original Avus Silver Pearl Effect bathes all the expertly fashioned exterior panels which are minding their gaps very nicely. A rounded front body matching bumper leads the way with the 4 integrated rings badging on the grille. The side panels of this car are nearly perfect and body matching handles, a small trim at the mid-section and a rocker fairing are all bathed in the Avus Silver. Black trimmings surround the glass, and a seemingly seamless sunroof is on the top. On the back a small spoiler is on top of the trunk lid, more integrated rounded taillights, and dual chromed oval shaped exhaust protruding from the lower panel just below the bumper. Large 18-inch wheels keep the rubber to the road, and when you get on the accelerator you'll need every inch of those.
Interior

Audi calls it silver, so we will go with the manufacturer, but it covers the seats, which are comfy buckets in front with some tuck and roll inserts and smooth bolsters, highlighted by a dark gray piping throughout. A rear bench is nearly showroom and may not have been sat in very often! A console topped in silver then turning black on the sides and front, races forward to the dash. Here we have a nice storage box and the top doubles as an armrest. The shifter is wrapped with a gray toned burl panel as well. Buckets are all power adjustable. Doors are a mixture of some gray toned burl panels, molded plastic and a central light gray panel where the armrest and power toggles reside. The entire dash is very clean and has more peppering of the gray toned burl along with black molded plastic all neatly rounded over not unlike the exterior. The sporty steering wheel has paddle shifters which we will get into on the Drive-ability section. Black carpeting all clean is flooding the floors and a nice light gray tight headliner in pristine condition is above. Read on!
Drivetrain

Under all those German engineered plastic coverings which their cars are famous for, is a 4.2 liter DOHC Bi Turbo V8. It sports Bosch Motronic ME 7.1.1 EFI. On back is a 5-speed Tiptronic automatic transmission with paddle shifters on the steering wheel. It is a ZF 5HP24A version with a Torson T-2 center differential to spread power to both sets of wheels. On the back is a 3.197 final drive axle. Also noted is Servotronic speed sensitive steering, and we're off!
Undercarriage

Nary even a hint of rust, all cast aluminum all independent suspension, perfect floor pans, and the dual exhaust snaking its way towards the back of the car. Power disc brakes which feature 8 piston front calipers and large rear discs help with the woah horsey aspect after you've gotten too happy with your boot.
Drive-Ability

Slipping into the supple leather one has no idea of what they are in for in this unassuming yet well-appointed interior. It fires right up and on the test track it is a thrill ride. Seemingly unlimited acceleration, paddle shifting makes it even more fun, and excellent brakes. It handles like it's on rails and with the two turbos there is plenty of power to spare. All excellent, and just a check engine light illumination which led us to check, and we got error codes PO491, and PO492 which denote secondary air injection system banks 1 and 2. With all this power you can use the K-9 radar detection system which is installed and ready to detect.
A well preserved low mileage rocket ship for the road, performance all-wheel drive German engineered, aero sports sedan to say the least. All finishes are in excellent condition and it runs like the wind, you could say a Passat, or a Jetta, or a Golf, but actually it's an Audi RS6 Quattro Bi Turbo. Schnell!
Classic Auto Mall is a 336,000-square foot classic and special interest automobile showroom, featuring over 600 vehicles for sale with showroom space for up to 1,000 vehicles. Also, a 400 vehicle barn find collection is on display.

This vehicle is located in our showroom in Morgantown, Pennsylvania, conveniently located just 1-hour west of Philadelphia on the I-76 Pennsylvania Turnpike. The website is [hidden information] and our phone number is [hidden information]. Please contact us anytime for more information or to come see the vehicle in person.
Car Details
Year
2003
Location
Morgantown, United States
Mileage
28397 mi (45701 km)
Engine
Unknown
Gearbox
Automatic
Car type
Sedan
Fuel type
Petrol
Condition
Used
VIN
WUAPV64B23N904876
Color
Custom
Interior color
Custom
Internal Reference
2808_2719
You have inquired about this listing
The seller will contact you soon by
For Sale by
About
Classic Auto Mall is a 336,000-square foot classic and special interest automobile showroom, featuring over 600 ve
Classic Auto Mall is a 336,000-square foot classic and special interest automobile showroom, featuring over 600 vehicles for sale with showroom space for up to 1,000 vehicles. Also, a 400 vehicle barn find collection is on display. Conveniently located on the Pennsylvania Turnpike just an hour west of Philadelphia and an hour east of Hershey and Carlisle. 
Registered on JamesEdition
2019
Address
6180 Morgantown Road, 19543, Morgantown
Phone number
Listing Reference
2808_2719